This is a delicious light, flaky, and buttery pie crust. This step-by-step tutorial will show you how to make this homemade pie crust in your kitchen.
Have you been looking for the perfect homemade pie crust? Check out my tutorial on how you can make the best pie crust ever. You do not have to be an experienced baker to make this.
This post may contain affiliate links. Read my disclosure policy here.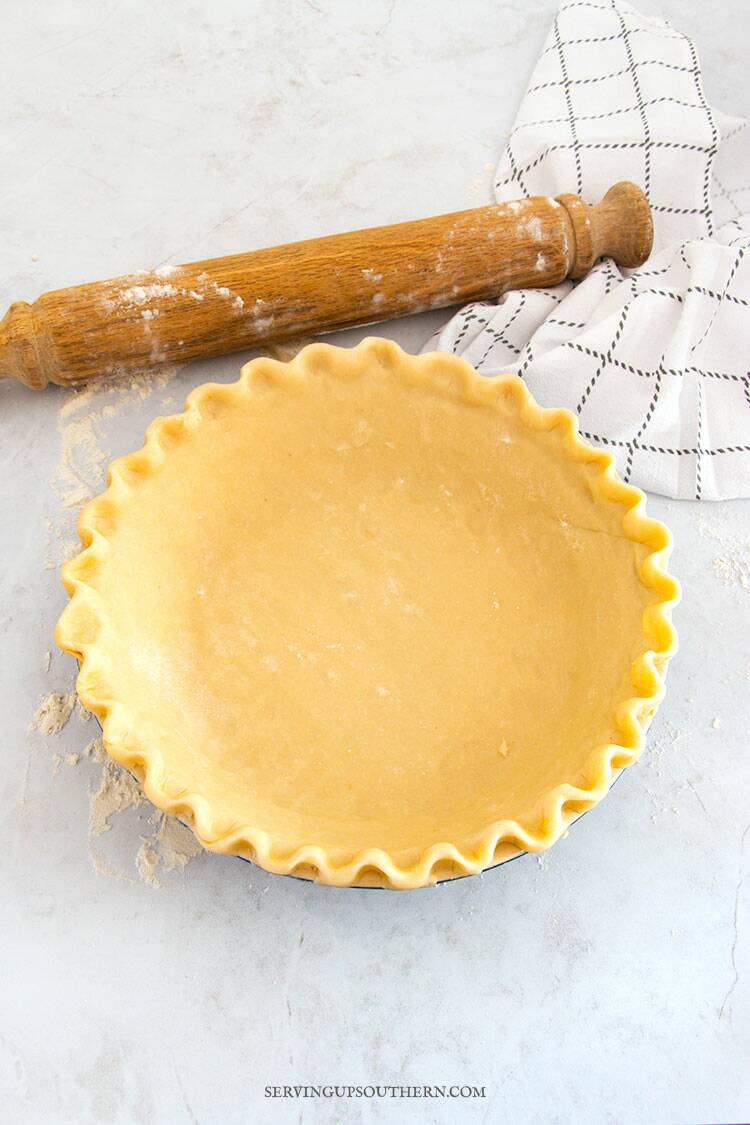 What are the characteristics of a perfect homemade pie crust?
According to America's Cookbook legend has it that if you put a fat cherry pie in front of a man, he will ask nothing better of the perfect wife. But that pie must be something special.
An excellent homemade pie crust is flaky, tender, delicate, and evenly browned. It should not be crumbly, but when prepared right and broken shows layers of flat flakes, stacked one above the other with air pockets between.
I have tried many pie crust recipes looking for the perfect one. Finally, one day, it happened. And ever since, this one has been my tried and true recipe. It all started one day while watching Ina Garten on an episode of Barefoot Contessa years ago. Want to guess what she made that day? Yep, you guessed it.
You might want to check out her recipe for this delicious looking Pumpkin Flan with Maple Caramel.
The perfect pastry is light, tender and flaky and "shatters" rather than crumbles when you bite into it. When broken, it should show layers of flat flakes, stacked one above the other with air pockets between. The surface is golden brown and will be delicately blistered, rather than smooth when it comes out of the oven.
What makes this homemade pie crust perfect?
Flour
Unsalted butter
Shortening
Sugar
Salt
Ice cold water (not shown in picture)
This recipe has both butter and shortening, which have different melting points. The butter lends the delicious buttery taste we love, and the shortening ensures stability and tenderness as it bakes.
You will want to start with very COLD butter and shortening. I always put a block of shortening in the fridge the night before I plan to make crusts.
When prepping, I cube the butter and shortening and place it in the freezer while I'm getting everything else together and measuring out the dry ingredients. This helps get it as cold as possible before starting.
How do you make a perfect pie crust from scratch, you ask?
You will be making this recipe in a food processor as opposed to using a pastry blender. Although I was unsure how I would like it, this has turned out to be my favorite method of making pie crusts. This process is fast enough that the cold ingredients stay cold. Here's what you'll do:
In a food processor, add dry ingredients and pulse a few times to blend. Then add the COLD butter, and shortening.
Pulse 8-12 times until butter pieces are the size of a pea. Some will be bigger than others.
With the machine running, slowly start adding the COLD water down the feed tube. Stop the machine as soon as you've added the water and start pulsing.
Continue to pulse until the dough begins to form a ball.
Pulsing the dough too much can cause the dough to be overworked and develop excess gluten, which will result in a tough crust.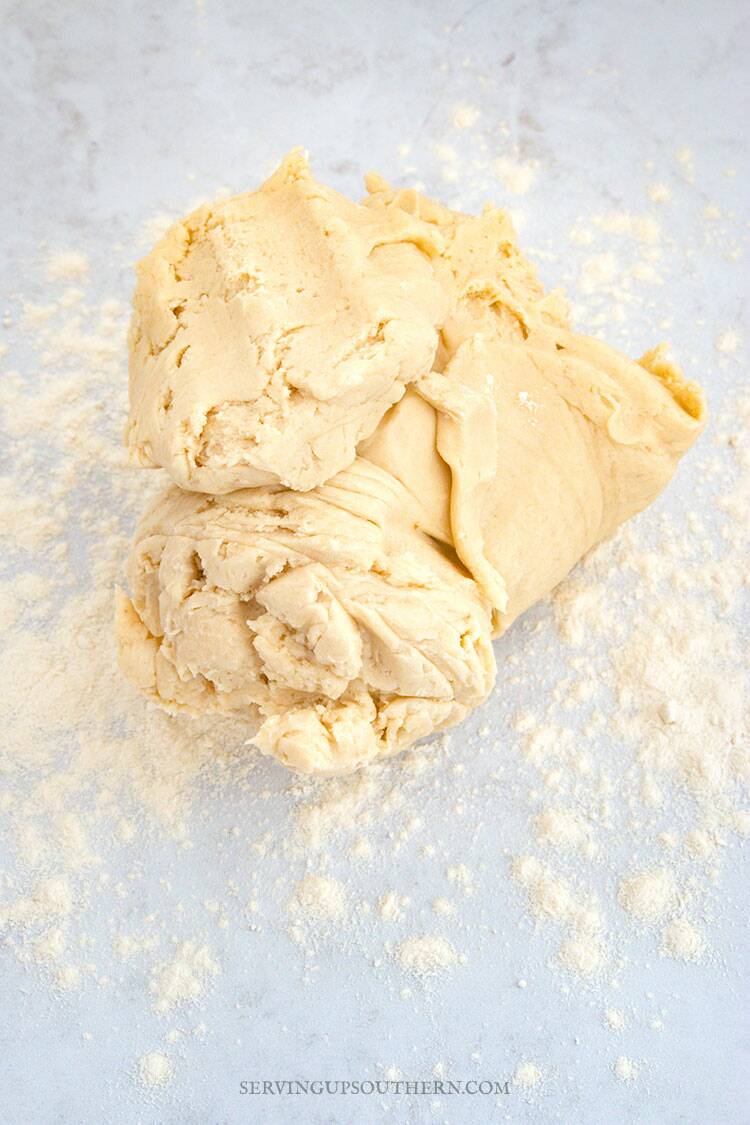 This is what the ball of dough will look like when rolled out on a floured surface.
Refrigerate the dough
Once you've rolled the dough out of the processor bowl, quickly pat it out into a round disk. I like to go ahead and half my dough at this point and wrap the two halves individually.
Quickly pat dough out into a round disk.
Divide dough into two halves.
Pat each half into a smaller disk.
Wrap the dough with plastic wrap or parchment paper and place it in the fridge.
You'll want to refrigerate the dough for at least 30 minutes before rolling out your crusts.
One batch makes two delicious light and flaky crusts – perfect for those double-crust pies and ones with lattice tops.
If you are just doing a single crust, you can freeze the extra disk for another time. Put each individually wrapped disk into a large freezer bag and freeze. When you only need one disk, you can easily take it out to thaw.
Steps to rolling out your pie crust
Place one disk of dough onto a floured surface.
Using a rolling pin, roll out the dough from center to edge to create a circle,
Turn the dough and flour the surface to keep the dough from sticking as you work.
Loosely roll the dough around the rolling pin
Lay on top of the pie plate
Carefully unroll the dough, keeping the pie plate centered beneath it.
Take the dough and gently settle it into the dish making sure it's resting against the bottom and sides.
Using a butter knife trim the excess dough, making sure to leave enough for crimping.
Using your thumb and fingers, crimp around the edge of the crust.
It's a good idea to leave a little extra dough around the edges when you trim. This helps ensure you have enough thickness to crimp.
When you're all done crimping, you are ready to fill your pie with some yummy goodness and bake.
Can you freeze an unbaked pie crust?
You can! Wrap your pie dough up tightly in plastic wrap and put the individual disks into a zip lock freezer bag, and freeze for up to three months. When you're ready to make pie crust, take what you'll need out of the freezer and let it come to room temperature before rolling out.

Homemade pie crust freezes beautifully and, when made ahead of time, makes your pie-making process fast and easy. And, if you already have some made in your freezer, you can skip over buying one of those grocery store crust.
Helpful pie-making + serving tools:
*Edited to add 1 tbsp of sugar. I overlooked it and left it out in the original post.
Ingredients
12

tbsp

unsalted butter

Very cold!

3

cups

all-purpose flour

1

tbsp

sugar

1

tsp

salt

1/3

cup

shortening

Very cold!

6-8

tbsp

water

About a 1/2 cup
Instructions
Dice the butter and shortening and return to the refrigerator (I put mine in the freezer.) while you prepare the flour mixture.

Add the dry ingredients to the bowl of a food processor and pulse a few times to blend.

Add the butter and shortening and pulse 8 – 12 times, until butter is the size of peas.

While the machine is running, slowly pour water down the feed tube. Stop the machine.

Pulse the machine until the dough begins to form a ball.

Dump out on a floured surface, roll into a ball and divide into halves.

Wrap each half in plastic wrap or parchment paper and refrigerate for at least 30 minutes.

When ready, roll each disk out onto a well-floured surface. Roll from center to edge to form a circle. Turn and flour the dough as you roll to keep it from sticking to the surface. Place in a pie plate. Repeat for top crust or for a second single crust.
Notes
Nutrition info is automatically generated. This information is provided as a courtesy and is an estimate only.
© SERVING UP SOUTHERN. Content and photographs are copyright protected. Sharing of this recipe is both encouraged and appreciated. Copying and/or pasting full recipes to any blog post or social media is strictly prohibited.