I don't usually make it a habit to indulge in hot soups during summertime, but I do make an exception with this Homemade Creamy Tomato Soup.  With summer being the time when fresh ripe, juicy tomatoes are hanging from the vines in gardens and overflowing in baskets at local farmer's markets it's hard to resist this homemade soup.  With that being said, I'd be real bad if I led you to believe that my tomato vines were hanging with juicy, ripe tomatoes because, sadly, they're not – not yet.  But I know many of you are already picking tomatoes so I wanted to share this recipe.  The truth is, I lowered my summertime standards and made this using canned tomatoes.  Not really – this Homemade Creamy Tomato Soup really is good even with canned tomatoes.  And…that my friends is what makes it good during the wintertime too.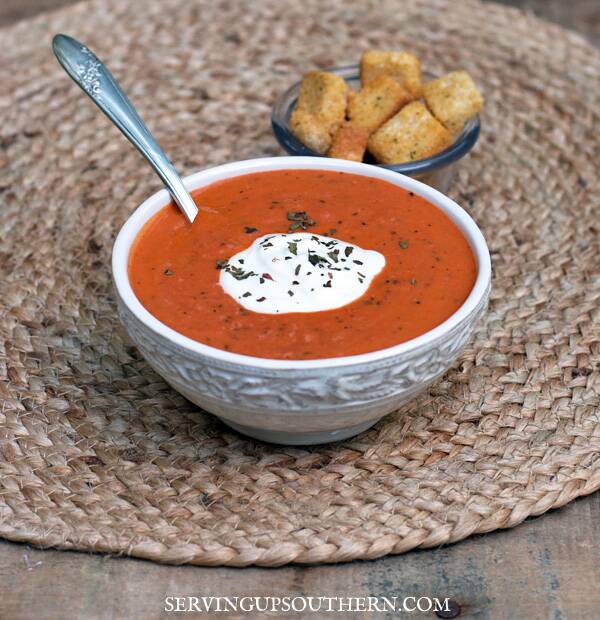 I have a spicy version and a basic (non-spicy) version that I like to make.  What you're seeing here is the spicy version of my Homemade Creamy Tomato Soup.  Either way you fix it, it comes together quite easily.  For the spicy version all you do is substitute a can of RO*TEL for a can of tomatoes.
If you make it using fresh tomatoes you will want to use 6 cups of chopped tomatoes (4 cups if you're making it spicy), juice and all.  I, highly, recommend peeling the fresh tomatoes unless you like bits of tomato peel all up in your soup.  I don't!
Homemade Tomato Soup is really good served with grilled cheese sandwiches.  We will often eat ours with peanut butter and jellies.  One of my favorite ways to eat tomato soup is with these homemade croutons.  Don't forget to add a dollop of sour cream.
Ingredients
6

cups

diced or crushed tomatoes with juice, or 3 14.5 ounce cans

4

tablespoons

butter

(I use coconut oil)

4-6

cloves

garlic

4

tablespoons

flour

3

cups

whole milk or half and half

(I use 2% milk)

2

tablespoons

sugar

1-2

tablespoons

dried basil

1 1/2

teaspoons

salt

1/4 - 1/2

teaspoon

black pepper

1

small can tomato paste
Instructions
Puree tomatoes in a blender or food processor and heat in a saucepan.

Heat the butter or oil in a large stockpot.

Add the onion and garlic and saute until tender and onion is translucent.

Add the flour and stir until slightly browned.

Add the sugar, salt, and the pepper.

Add the milk and stir constantly over medium-high heat until it starts to thicken.

Stir in the heated tomato puree and the tomato paste and simmer slowly for 5-10 minutes, allowing flavors to marry. Adjust seasonings if necessary.
Notes
This is very good served with a dollop of sour cream.
If making the spicy version - leave out 2 cups (or 1 can) of tomatoes and add 1 can of RO*TEL.
If you have an immersion blender you can skip step one and blend the soup in the stockpot.