Looking for a delicious ham to serve with you Easter dinner? Find it in this post!
Baked Ham with Pineapple Glaze
Easter comes at such a beautiful time of year. For my family, Easter has always been the first mark of spring. I love watching nature wake up and come to life again as spring brings forth life and color after a dark drabby winter. How appropriate that it also happens to be the same time of year that our dear Savior was brought back to life. Easter is a perfect time to gather with family and friends and reflect on love, hope, and new beginnings. And in keeping with true southern fashion, this always involves food at my house. Namely, an Easter celebration over a delicious feast.
As I've been thinking of Easter recipes to share with y'all, my thought took me straight to ham. I know ham is a tradition for many families at Easter, but how can it be changed so that it isn't the same ole' same ole'? How can your Easter Ham be different from your Christmas Ham? I decided to make a new glaze to make this year's ham different – let me in introduce to you Baked Ham With Pineapple Glaze
How To Choose A Ham
Hams are sold bone-in, partially boned, or boneless. Unless sold fresh, hams are cured. There are different curing processes – brined (wet-cured), injection-cured, or dry-cured. Brine-cured involves soaking in a liquid salt mixture that sometimes has added flavors before being smoked. Brine-cured hams are the most common variety found in grocery stores and can vary significantly in quality. Many mass producers use the injection-curing method which is when the liquid brine is injected into the ham. These different methods of curing are how the quality is affected. Dry-curing is when the entire surface of the meat is thoroughly coated with salt and then stored until the salt saturates the meat. This procedure is sometimes repeated several times.
Fully-Cooked, Partially Cooked, and Uncooked
Hams are available fully cooked, partially cooked or uncooked. A fully cooked ham needs to be heated until internal temperature reads at least 148° F; partially cooked to at least 137° F. Uncooked and partially cooked hams should be baked before serving while fully cooked hams only require being heated. Uncooked and partially cooked hams are often referred to as country-cured or country-style. The majority of these "country" hams come from Kentucky, Georgia, Tennessee, and Virginia. It's been noted that probably the most famous county-cured ham is the Smithfield ham from Smithfield, Virginia which happens to be a small town about two hours from where I live. There are many other varieties of hams, all with specific names, that come from different parts of the world.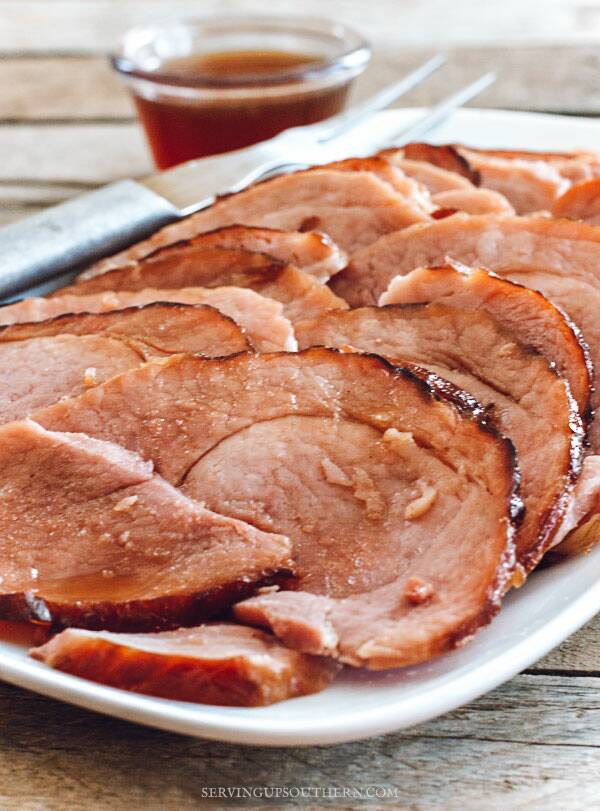 What You'll Need To Make Baked Ham With Pineapple Glaze
A spiral cut ham – I recommend getting the highest quality ham you can find.
Pineapple juice
Light brown sugar
Vinegar
Prepared mustard
Cloves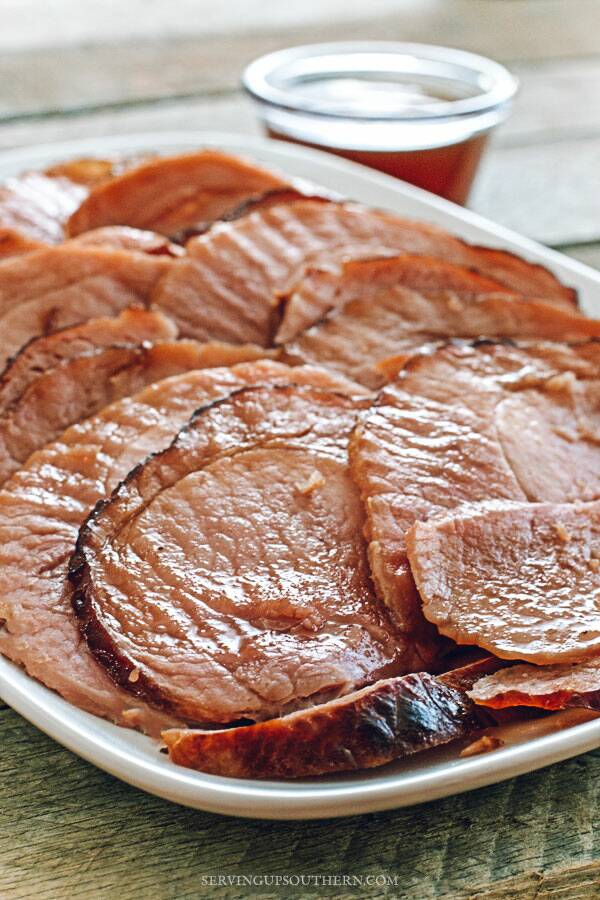 Pineapple Glaze
This pineapple glaze is made quickly by combines pineapple juice with brown sugar and a few other ingredients. This glaze turns a classic ham into something even more flavorful. As the meat soaks up this glaze, it becomes a sweet, tasty and tender main attraction. Everyone will love it when you serve Baked Ham with Pineapple Glaze. Leftovers make delicious ham biscuits and sandwiches. And can also be used in soups and casseroles.
Baked Ham with Pineapple Glaze is superb with this delicious side.
I'd love to hear what some of your family Easter traditions are. Feel free to share in the comments below.
pin it for later >>>
Baked Ham with Pineapple Glaze
Ingredients
Spiral Sliced Ham

1/2

cup

pineapple juice

or 1/2 cup crushed pineapple

1

cup

light brown sugar

2

tablespoons

vinegar

1

teaspoon

prepared mustard

Pinch

of ground cloves
Instructions
Bake ham according to package instructions, discarding the prepackaged glaze that comes with the ham. Plan to remove ham from oven 30 minutes before done.

In a small saucepan, mix pineapple, brown sugar, vinegar and prepared mustard and bring to a low boil.

Remove from burner and drizzle all over the ham, saving some for later. Return ham to oven and bake for the remaining 30 minutes.

When done remove slices from bone, place on platter and drizzle again with glaze. Serve remaining glaze on the side.
JOIN THE LIST!
Subscribe to get our latest content delivered to your email.