How I Protect My Butcher Block Counter Tops | Here I tell you why I would use wood countertops ten times over and show you how easy they are to maintain.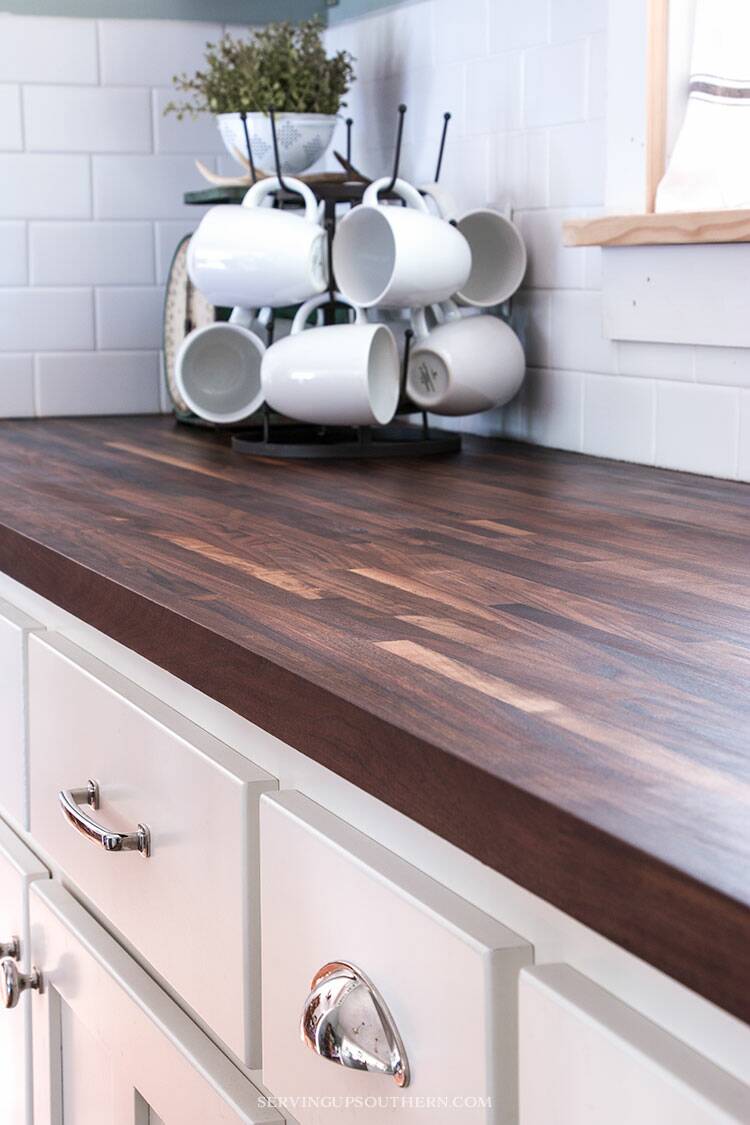 I want to share how I protect my butcher block countertops with you since that is the first thing people ask when they see them. Another question I get is, would I do them again, and my answer is a thousand times – YES! I LOVE my wood countertops. I might not have if I had not done extensive research and discovered this method. The last thing I want or need is something that requires high maintenance to maintain.
After doing a lot of looking and inquiring about different countertops we decided on the American Walnut countertops from Lumber Liquidators. I loved that it was a natural dark wood that wouldn't require staining.
I'll start by saying, scuffing happens when you have wood countertops. It has always been very superficial scuffs though. The two not so superficial scratches you see in the image here are scratches Pete made so that we can show you how easy this is to fix. Usually, we wipe the surface down with my very favorite countertop product, and those little superficial scuffs disappear like magic. Since dear hubby decided to scratch things up a bit, we needed to do some sanding. So, this will show you how to not only maintain but repair the tops should the need arise.
Using a 150 grit sandpaper, Pete sanded the countertops down. It didn't take much – just a light sanding was all he did. Side note -we had recently removed the caulking that our tile guy had used. The caulking had yellowed pretty bad over the last two years, and we weren't happy with it. We (as in he) will be re-caulking everything soon.
He just went ahead and sanded both sections of the countertops since removing the caulking left a couple of little scratches here and there around the outer edges. When sanding your wood to prepare for the curing process, you don't want to go too fine with the grit of your sandpaper – 150 grit is about it.
Why only 150 grit?
The reason for this is because the finer you sand the wood, the more those tiny sanded particles close the pores of the wood, causing it to get a "polished" finish. This can limit the penetration of the product during the curing process. The more course the surface is the more penetration you will have. When the sanding was all done, we were all ready for the next step.
How I Protect My Butcher Block Countertops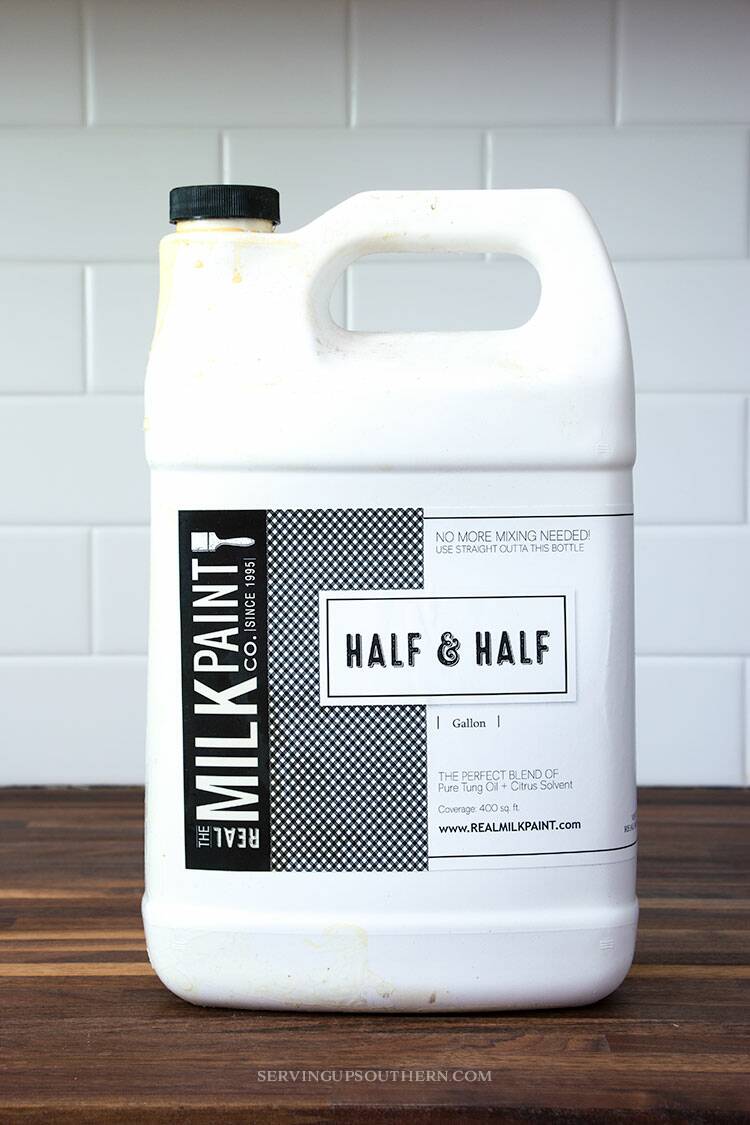 Let me introduce you to Half & Half made by The Real Milk Paint C0. (not an affiliate link) Let me tell you, this stuff is amazing! If you are thinking about wood countertops, this is your product. I decided to get on the phone with the company today and ask some questions to make sure I am giving you the most accurate information I can. The thing I love most about calling them is that a real live person always answers the phone.
Who do I talk to at RMPC?
Most often, the first friendly voice you hear is Tonya. She is very helpful and knowledgeable about the products, but if she has any doubts, she will quickly get you to someone who knows the answers to your questions. I cannot emphasize enough how excellent their customer service is, and I must say I put them to the test. I can't tell you how many times I called this company and talked with the owner (poor guy) about the curing process. They also have great online videos explaining the method in detail.
Citrus and pine formulas
What I have is pure tung oil blended with citrus solvent – Half & Half. However, due to a global shortage of pure citrus solvent (they use the oil from the orange peels) and the price increase because of this shortage, the company has made a few changes. The RMPC is all about being eco-friendly, so they found another natural organic component to replace the citrus solvent, and that is pine. You can still buy their pure citrus solvent, but they tell me that could change any day. The availability could come to an end. This unfortunate circumstance is due to inclement weather and bugs taking a toll on the citrus groves. UPDATE: This citrus formula is in stock again.
Why do they mix this formula?
You may be wondering why they mix the formula in a 1:1 ratio. The reason is pure tung oil is extremely thick. It compares to the same thickness as honey. If you put just tung oil on your wood surface, it would only sit there with minimal absorption. (Think of how a drop of honey will just sit until you wipe it up.) The citrus or pine solvent is added as an organic thinner to thin the tung oil allowing it to penetrate the wood. Once the Half & Half is applied, the solvent eventually evaporates. The solvent's only role in this process is to thin. Once it evaporates, you are left with pure tung oil.
You can learn more about how to do your first-time cure here at The Real Milk Paint Co. (not an affiliate link). We followed the recommended curing process EXACTLY the way they recommend. It is a little lengthy, but if you hang in there, it will be worth it. I promise!
You can use a sponge or a rag to apply the oil. We like to use these paint sponge brushes from Amazon. Just pour a little on the countertops and brush it around with the sponge brush. Repeat in different areas until the entire surface is covered. Remember, we did the whole countertop surface to show you how this process is done. Typically, we would have only done a touch-up here and there.
What RMPC recommends for touch-ups
When touching up a small area, the RMPC recommends using a 2:1 ratio instead of a half & half (1:1). The reason for this is because if the curing process is done correctly (just as they recommend) the pores of the wood will be saturated. To get as much penetration from the tung oil as possible, you want to dilute it, even more, to ensure that it gets down into any open surface area it can penetrate for full absorption.
We allowed the tung oil to soak in overnight. I took this picture the following morning, and you can see that quite a bit of oil is still on the surface. Using a soft cotton rag, I wiped the residue away. I was quite surprised at how much I ended up wiping off. The leftover residue lets us know that the wood was fully saturated. Due to the pores being "full," it was unable to absorb all of the oil we applied. Your goal is to have all of the tung oil absorbed into the wood and not have any on the surface. It's important to wipe off anything that hasn't soaked in.
Remember those two scatches? Yep, they are long gone, and this is what I love about these countertops. With the help of the Half & Half, they are so easy to maintain and touch up. Since the highest grit sandpaper we used was 150 grit and the tung oil was able to get down into the open pores, we were left with rich dark countertops which is precisely what I was hoping for. If we had used a higher grit, we wouldn't have gotten the darker color we wanted. Once they are cured, the product creates a food-safe surface, which was very important to me.
I knew I didn't want to use polyurethane. I read the woes of other bloggers who had gone that route and were unhappy. Waterlox wasn't an option due to it not being food-safe, and it would make them glossy. (Glossy is definitely not what I want.) Many food-based oils can turn rancid, resulting in an unpleasant odor and stickiness.
The tung oil gives my wood countertops a beautiful low-luster sheen that I absolutely love.
By the way, I cook here all the time. I boil, fry, saute, etc. Any grease or water splatters sit on top of the surface until it gets wiped up. The other day I was wiping up barbeque sauce that I overlooked from two nights prior. All I had to do was make my dishrag a little wetter and wipe it until it was all wiped up. In two years, I have never had any food or grease stains whatsoever.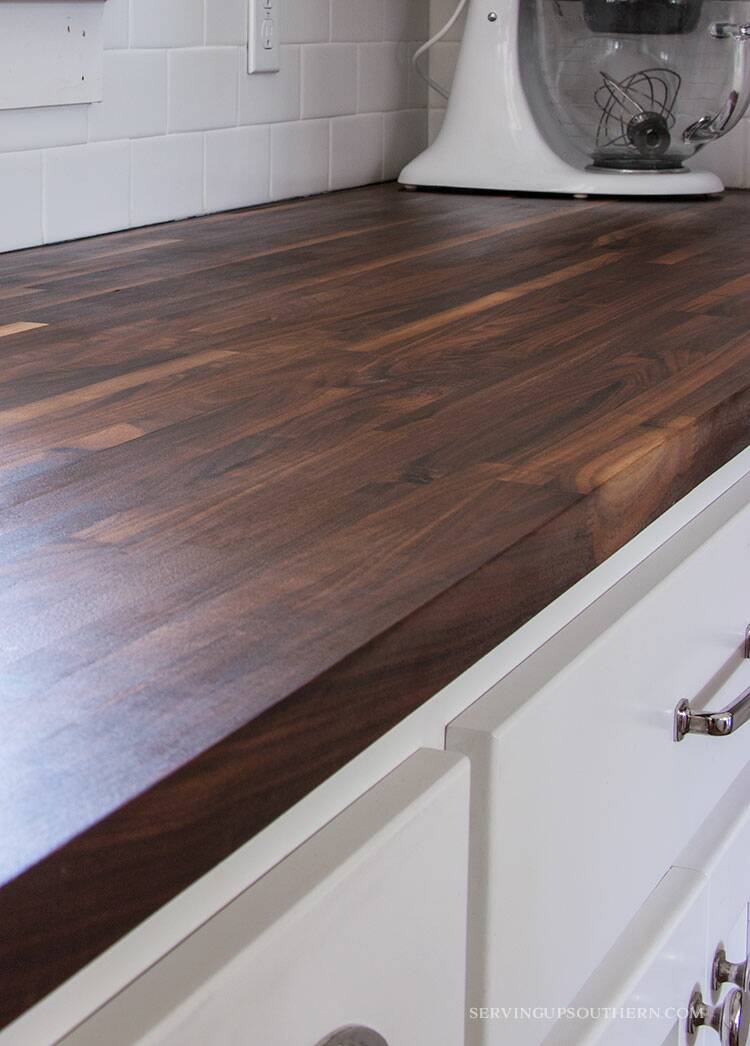 This section is the most used area of the countertops, and as you can see, it is flawless. We are careful – but not psycho careful. We always use cutting boards, and we never set any hot dishes or pans on the wood countertops. Hot items are placed on the stainless steel island top. More on that later. :)
That's my secret
So, now you know how I protect my butcher block countertops. If wood countertops are something you've been sitting on the fence about, I hope this info helps you in your decision. I know they may not be for everyone. I also know that many of you love the way they look but may be a little gun-shy about getting them. I'm here to tell you that this product is a game-changer, and I have no regrets.
I would love to know what you're thinking. Please leave your thoughts or any questions you might have in the comments below.
You might also like >>>
How To Hide A TV (In A Bookcase) With A Drop Cloth Curtain