5-cup salad made just the way grandma made it! Only 5 ingredients needed – mandarin oranges, pineapple, coconut, marshmallows, and sour cream!
Inside: 5-Cup Fruit Salad
Likely, you've already heard of 5-Cup Salad. You've probably eaten it at your grandma's table many times as a child. It's a simple, classic recipe that has stood the test of time. Many variations of this homemade fruit salad have derived from this age-old recipe over the years.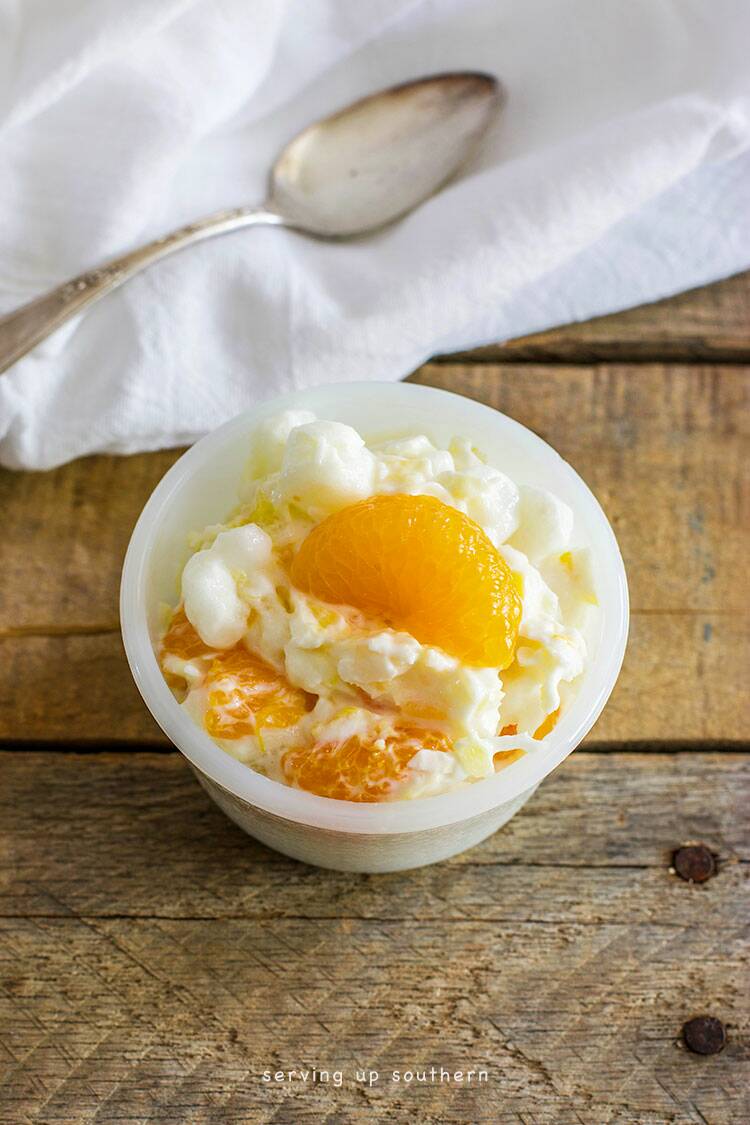 What is 5-Cup Salad?
It is a fruit salad made up of five cups of five different ingredients. It's a southern standby served as both a side dish and dessert. Don't let the simplicity of this dish fool you. It's elegant enough for your Easter table and casual enough for the neighborhood potluck.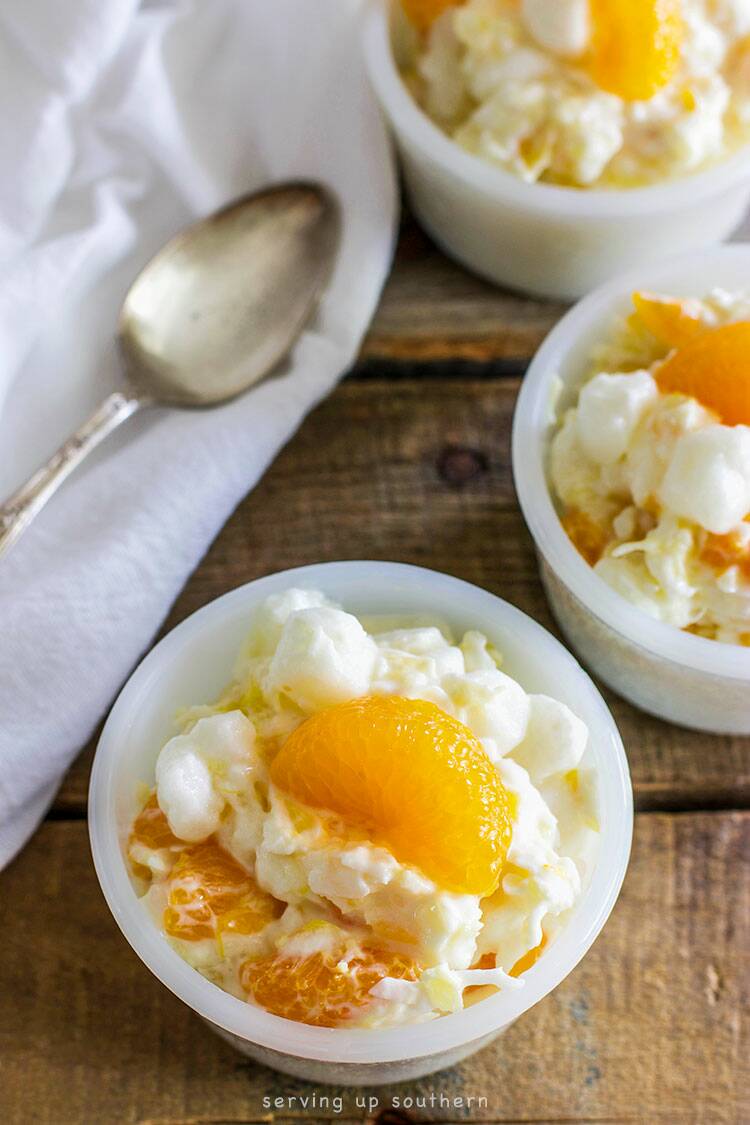 This fruit salad is so simple to make.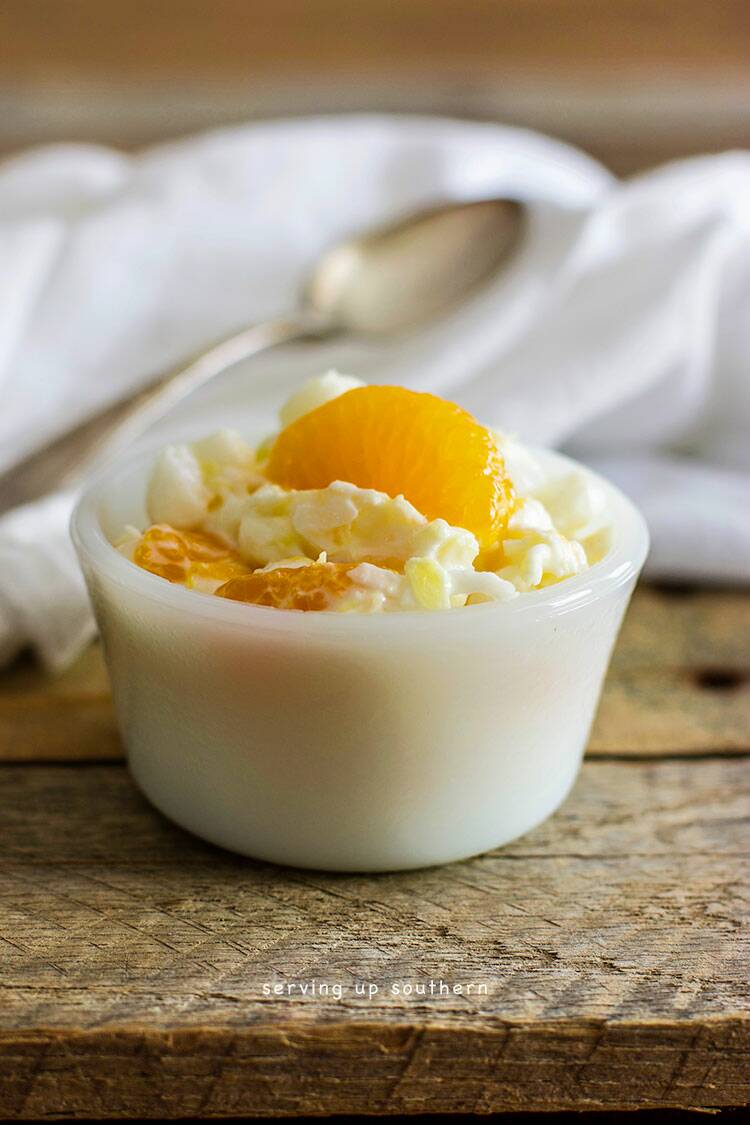 What is in 5-Cup Salad?
Mandarin oranges
Pineapple
Sweetened coconut
Mini Marshmallows
Sour cream
Don't let that last ingredient fool you! Once it takes on the sweet flavors of the fruit, you'll never know it's sour cream. And it gives the dish it's creamy goodness.
How do you make 5-Cup Fruit Salad?
Are you ready for how easy this is? You measure out five cups of each ingredient and mix at different intervals depending on if you a using any variations. Yep! It's that easy.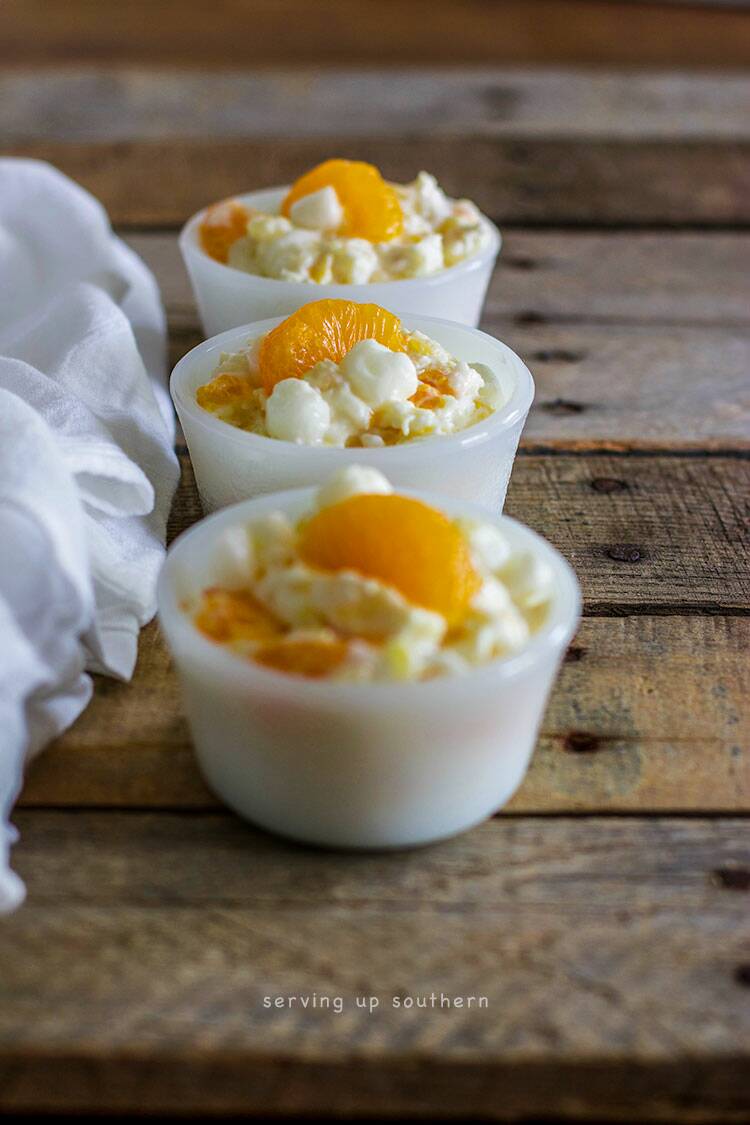 The traditional southern version of this fruit salad mainly consists of sour cream, pineapple, mandarin oranges, mini marshmallows, and coconut. But there are many variations out there.
Here are a few variations of 5 Cup Salad
Add 2 tbsp. instant lemon or vanilla pudding (We love the lemon!)
Add chopped pecans or walnuts
Use drained fruit cocktail instead of mandarin oranges
Cut the coconut to 1/2 and add 1/2 cup of sliced maraschino cherries
Add shredded apples or substitute them for the coconut
Use Greek yogurt instead of sour cream

Add halved seedless red or green grapes

Fresh strawberries make a great addition when they are in season
Add fresh blueberries for added flavor and color
The variations are endless. Be creative and experiment – have fun creating your favorite version. Remember when you add additional fruits to be sure and add more sour cream.
My family's favorite variation is with the two tablespoons of lemon instant pudding mix added.
Can you make 5-Cup Salad ahead of time?
Yes! It's best when made the day before and refrigerated overnight, giving the ingredients some time to marry. It's a great make-ahead dish for planning for company. I like to make it the night before and stick it int the fridge. The next day all you have to do is take it out and set it on the table. This fruit salad can easily be doubled or tripled when serving a crowd.
When can I serve 5-Cup Salad?
It is a staple on many southern menus for Thanksgiving, Christmas, and Easter. My favorite occasion to have it is Easter because it brings back the fond memories of eating it at my sweet nanaw's table. But, this is a great dish to take to any potluck or summer cookout. You better make a double recipe, it'll disappear fast.
I love to serve this in individual half-cup ramekins.
Here are some other salad recipes you might like:
Pineapple Pretzel Salad
Amish Macaroni Salad
Ingredients
1

cup

mandarin oranges

well-drained

1

cup

crushed pineapple

well-drained

1

cup

mini marshmallows

1

cup

sweetened coconut

1

cup

sour cream
Instructions
If you're using the lemon pudding, add to sour cream and stir until thoroughly mixed.

Add the pineapple, coconut, and marshmallows; mix well.

Fold in the mandarin oranges.

Cover and refrigerate at least 4 hours – overnight is best.
Notes

© SERVING UP SOUTHERN – All images are copyright protected.
pin it for later >>>