If you're from the South, you will understand this post. If not, then you'll learn about some popular southern sayings and their meanings before you leave.
The American South has a reputation for a lot of things: its southern style cooking and soul food; potlucks; entertaining and warm hospitality; a deep love of football, and our funny-sounding colloquialisms and southern sayings. Some might agree that the southern dialect could be its own language in need of translation.
When it comes to their own jargon, Southerners like to speak in metaphors, similes, and hyperbole. They also love to appear incredibly polite with their southern sayings, and if you're unfamiliar with the language you may be getting insulted without even knowing it. And since they make it sound so darn charming, you'll almost want to forgive them for it right away.
Here are a 50 southern sayings you might hear if you head south and what they mean.
Southern Sayings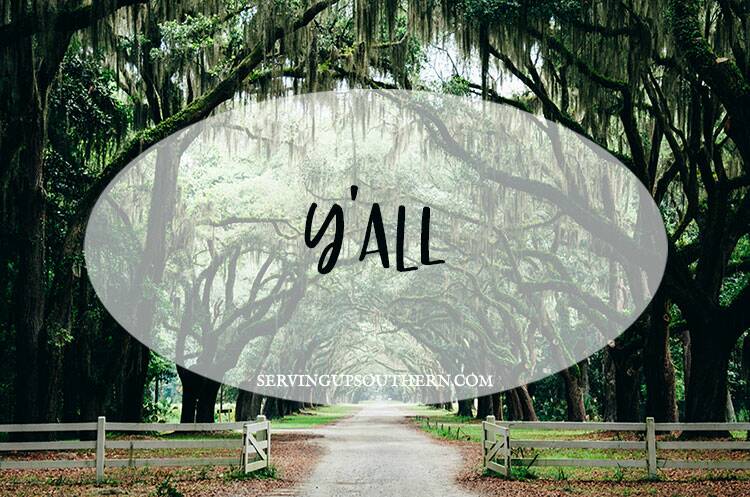 "Y'all"
Y'all being the quintessential southern phrase has several meanings in its own rights. The word typically refers to a group of people being spoken to. It can be directed towards a group or even an individual that is inherently part of a group (even if the rest of the group isn't present). If you visit or live in the South you will no doubt here this word.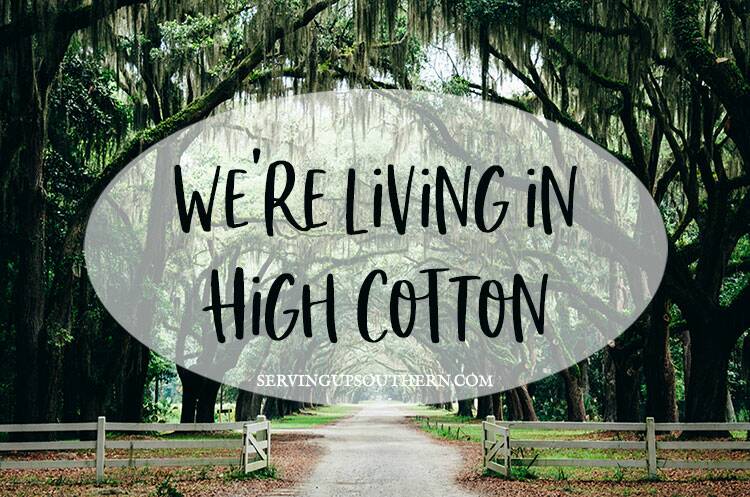 "We're Living in High Cotton"
Cotton has long been a key crop in the South's economy. If you're "living in high cotton" it means you're feeling particularly successful or wealthy.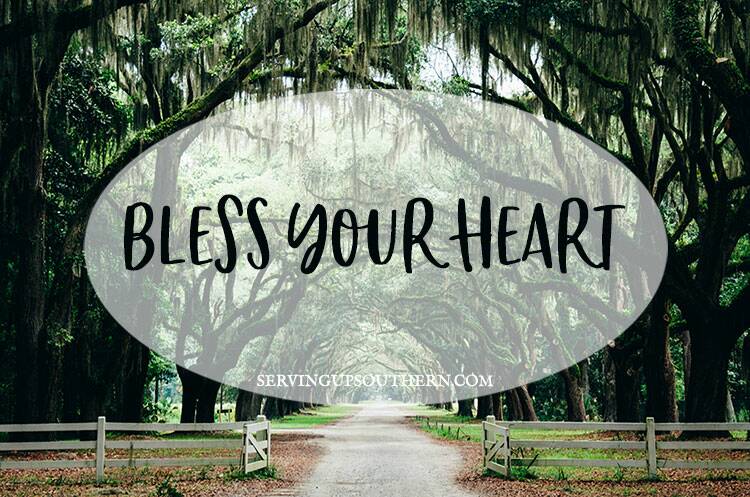 "Bless Your Heart"
A phrase used to show appreciation to someone who brings you a glass of sweet tea (or does something nice in general) or as a sympathetic phrase to let you know that the person understands the difficult time you are going through. It can be said sincerely, but when said in the South, it can also have an edge to it and be accompanied by a good-natured shake of the head. A sympathetic phrase usually uttered when the speaker believes the recipient to be sweet, but misguided or stupid.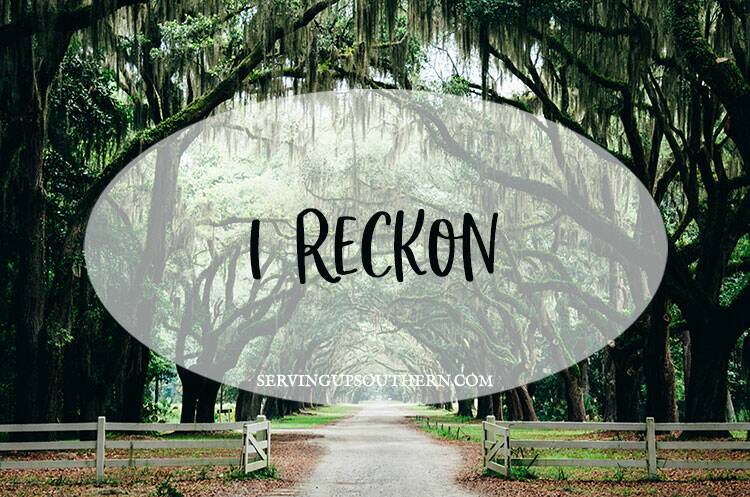 "I Reckon"
To suppose or believe something to be true. "reckon" could be substituted for I believe, imagine, suppose, think and more. It's what you say when you're telling someone something that you believe to be true.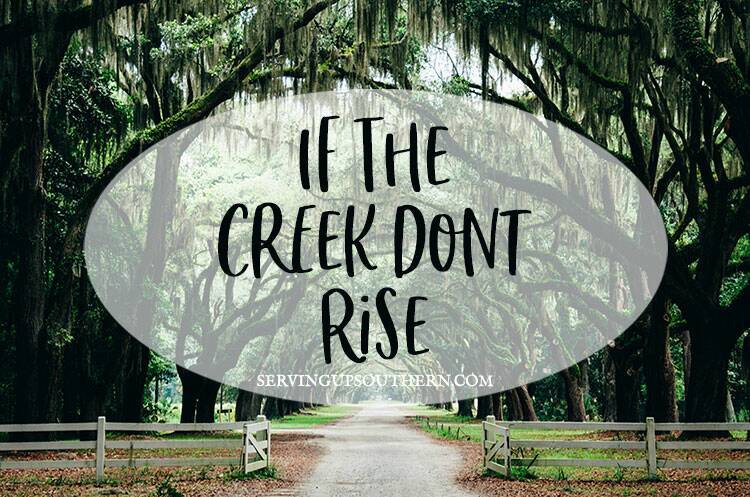 "If the Creek Don't Rise"
We'll be there unless something out of our control stops us. We do our best to keep our promises, but sometimes unforeseen circumstances come up. Like trying to meet a friend for lunch but having the car breakdown on the way. To cover your bases you might say, "I'll see you then if the creek don't rise." It's a way of saying you fully plan to be there or get something done as long as nothing out of your control stops you.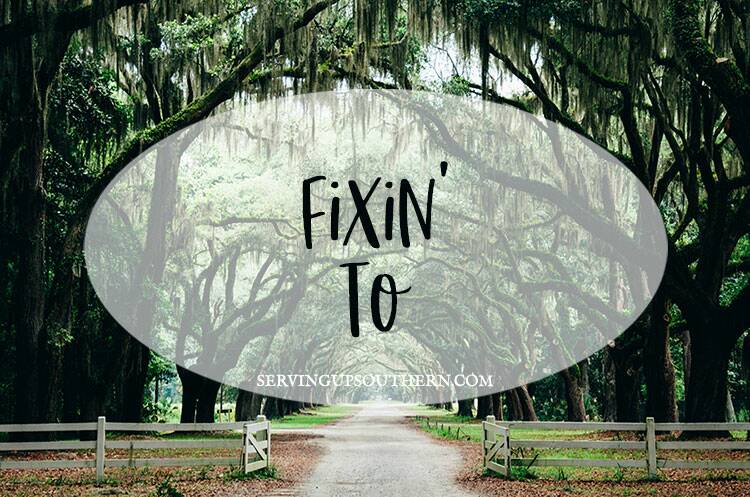 "Fixin' To"
This phrase is as southern as sweet tea. When you're fixin' to do something, you're about to do it, and it will get done. It probably won't get done right away though as you are probably fixin' to take your sweet time in getting started.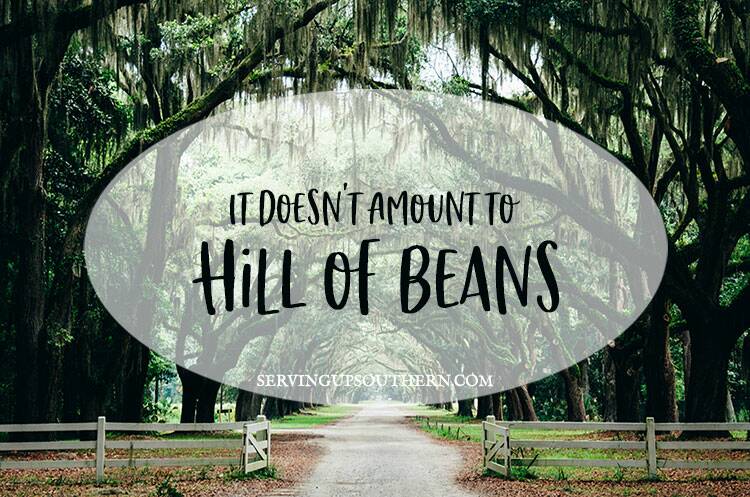 "Hill of Beans"
In the South, a hill of beans is its own measurement. A hill of beans isn't worth much whether you're talking about volume or value which means whatever you're talking about is worth less than very little.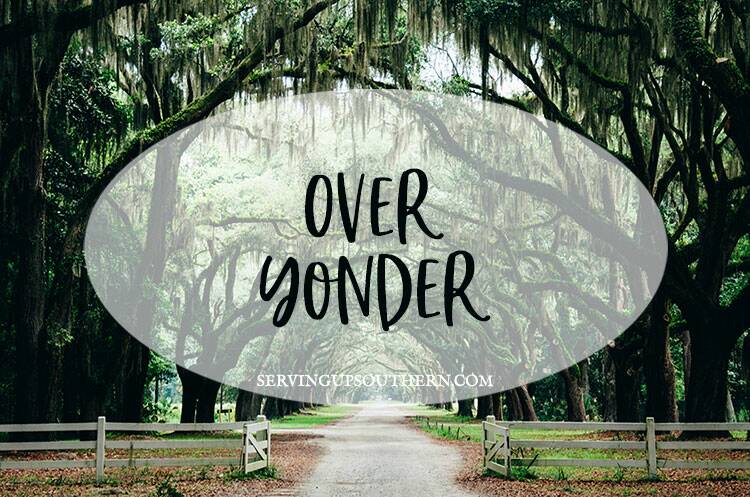 "Over Yonder"
Over yonder is a distant direction in any direction when you're in the South. If you need to ask someone for directions the phrase "over yonder" just might be in their answers. "Where's the nearest restaurant?" "Oh, it's just over yonder and down the road. The distance can be emphasized by the addition of the word "way" as in "way over yonder".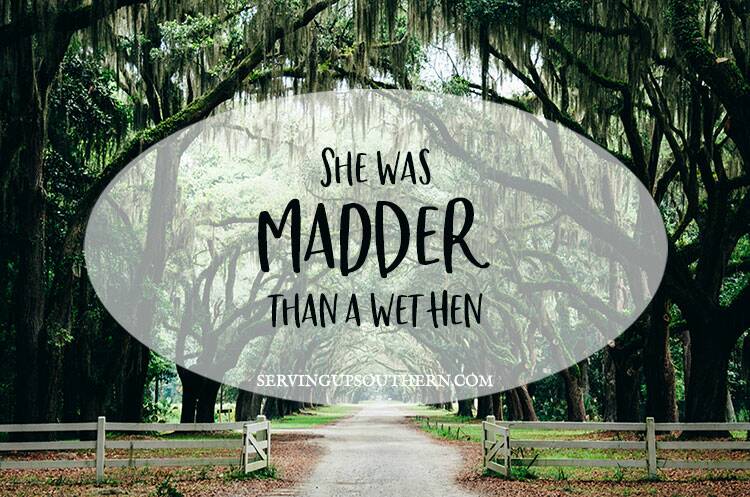 "She Was Madder Than a Wet Hen"
Have you ever seen a wet hen? If you have, you know that being madder than a wet hen is very mad indeed. Hens sometimes go through a phase of "broodiness". They'll stop at no length to incubate their eggs and get agitated when you try to collect them. Hens use to get dunked in cold water to "break" their broodiness. This phrase is used to describe a woman who is beyond furious and is using that anger to cause a scene.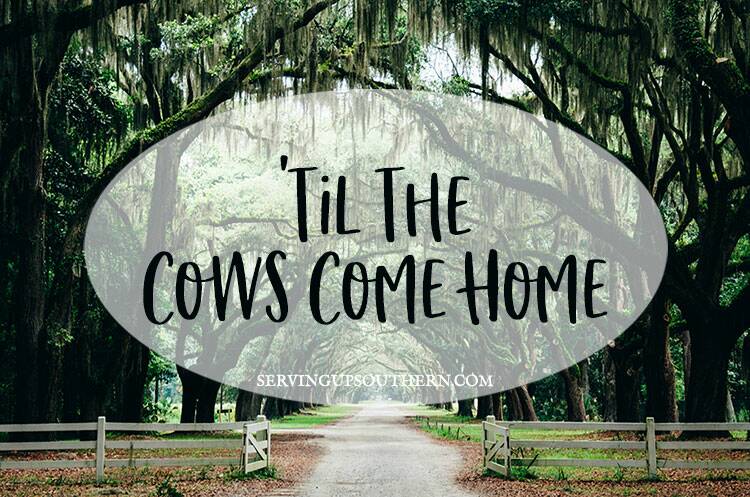 "'Til the Cows Come Home"
Sit back because this could take all day. Cows aren't known for their speed. They usually meander about until feeding time. A Southerner knows that if you're going to do or talk about something till the cows come home, it's going to take all day. – "They'll be arguing about this till the cows come home."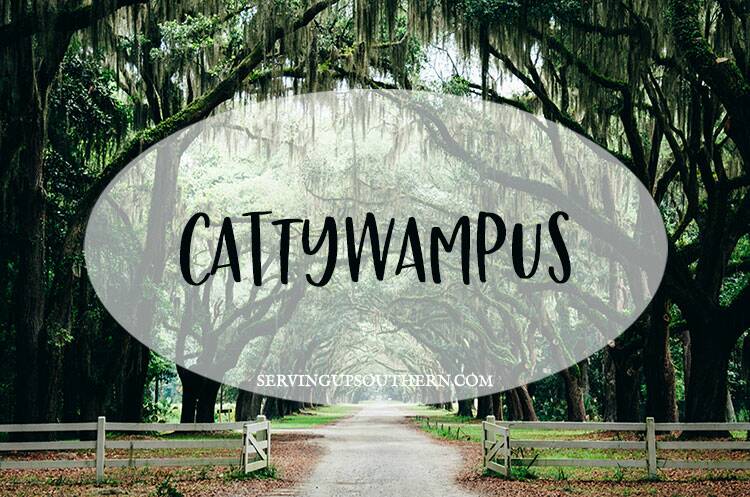 "Cattywampus"
If something is "cattywampus" it means it's askew, crooked, or out of sorts. For instance, if the shelf on your bedroom wall is crooked, you would tell someone it was cattywampus.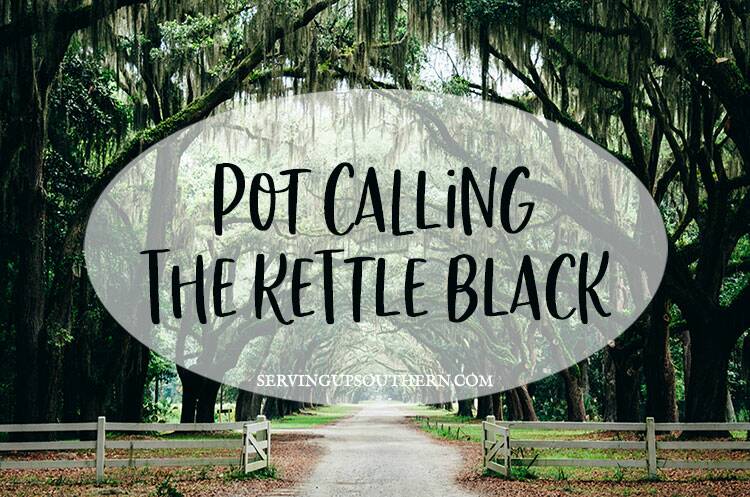 "Pot Calling the Kettle Black"
This phrase is used when someone is guilty of the very same thing in which they are accusing someone else.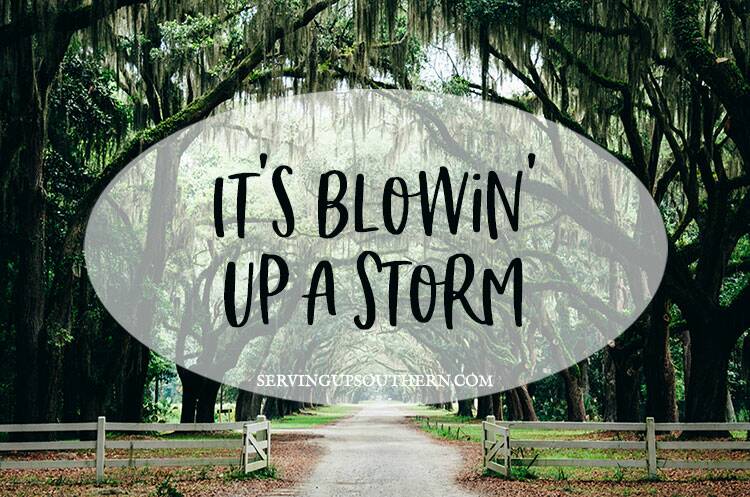 "It's Blowin' Up a Storm"
You can feel, smell, and see a storm blowin' up across the vast southern skies. At a moments notice, the skies can darken and summer afternoons are filled with churning winds and heavy rain clouds that cool down the southern summer heat. You might hear this phrase when a person sees these changes start to develop and goes inside to tell others that, "It's Blowin' Up A Storm".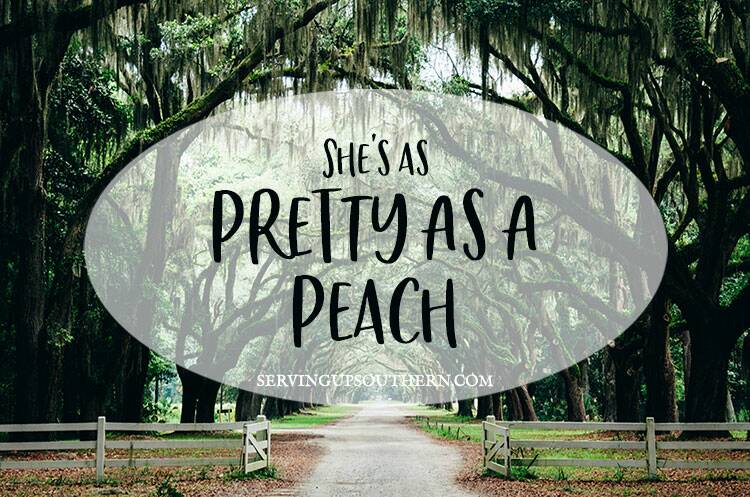 "She's As Pretty As a Peach"
This is a high compliment in the South. This saying is used to compliment a girl, in fact; it is a common adage. Southern States are known for peaches, notably Georgia and South Carolina since they produce more peaches than any other state in the South. The compliment is likely to be given to a girl who has a beautiful complexion and blush-colored cheeks. Just like the prettiest of peaches, one can pluck from a tree.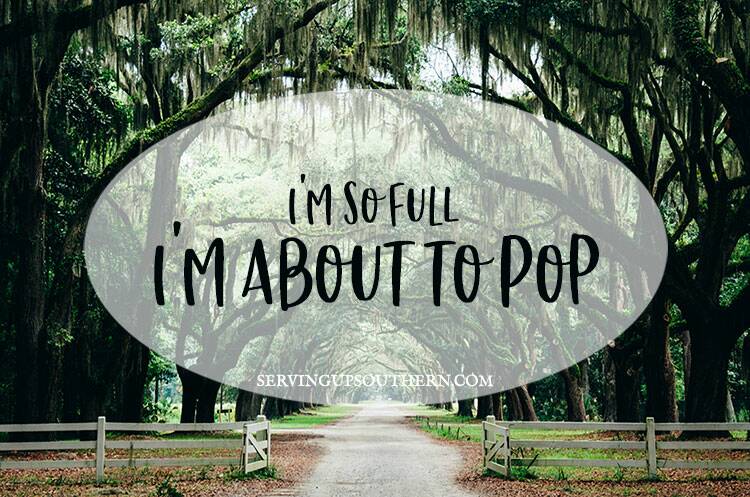 "I'm So Full I'm About to Pop"
After a big 'ole southern meal complete with collard greens, cornbread, and pecan pie, it's probably pretty accurate to say you feel like you're about to pop.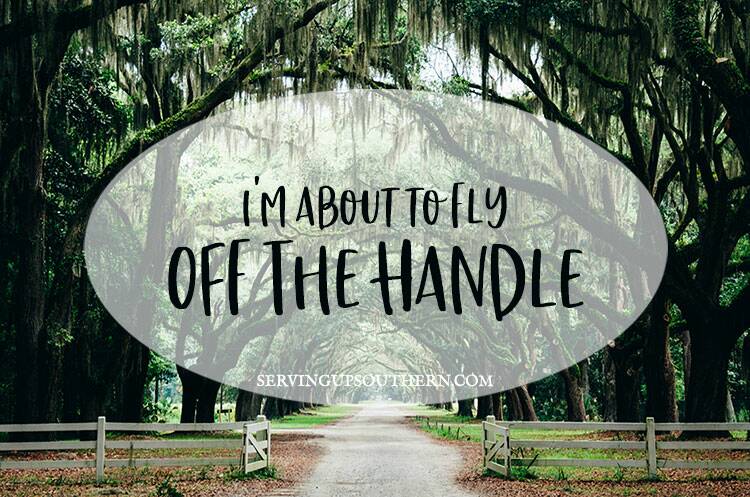 "I'm About to Fly Off the Handle"
You'll hear this in the South when one has been pushed to their limit and is about to lose their temper over it.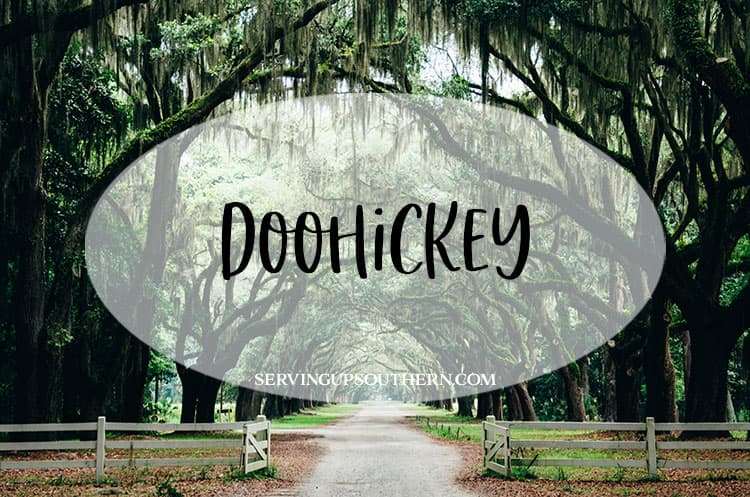 "Doohickey"
The name for an object one can't remember the name for or never knew in the first place. Other variations are thingamajig and whatchamacallit.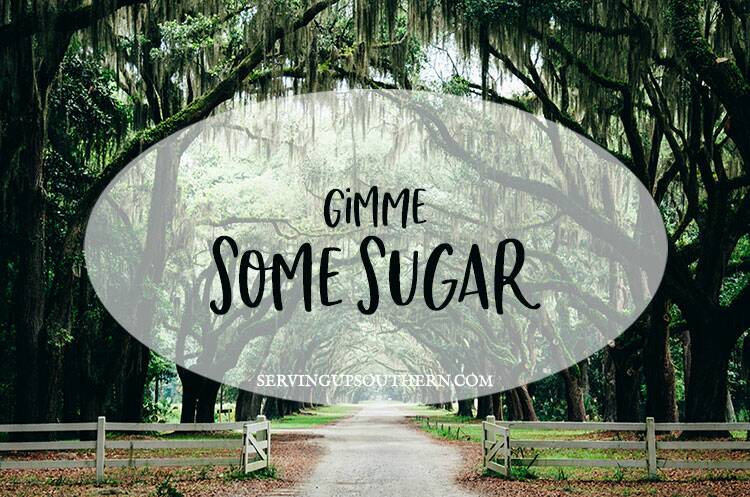 "Gimme Some Sugar"
Not literally passing the sugar, this phrase means more like "come over here and give me some of that sweetness – give me a kiss!" Often heard from grandma and grandpa when they see their grandbabies (another southern term) and want to give kisses as much as receive them. This phrase is mostly used among loved ones. I should also note that it would be pronounced "sugah" as we rarely use "r's."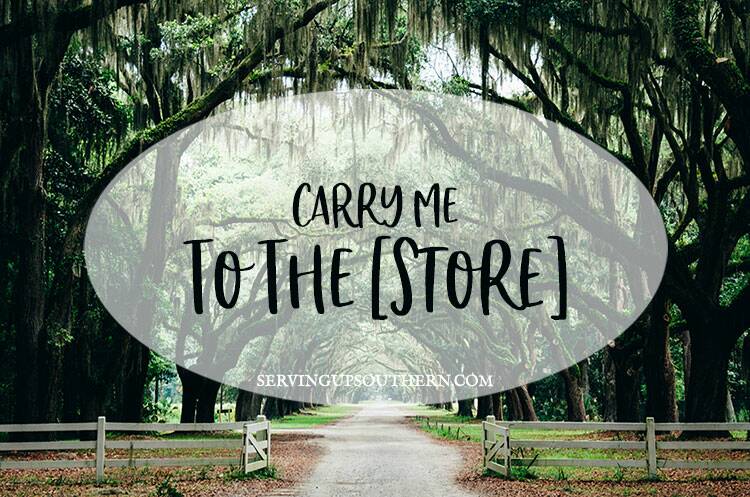 "Carry Me to the [Store]"
Many southern transplants have been confused when hearing this phrase for the first time. Carry me means "provide me with transportation to a destination." It can sound strange when hearing it if you're not raised in the South.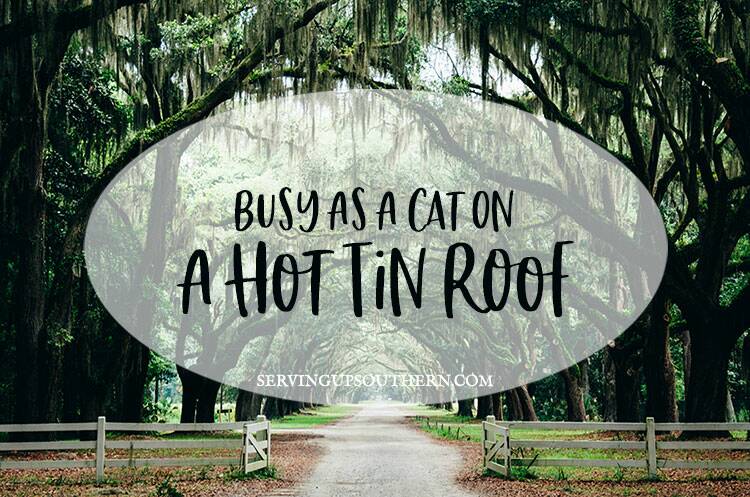 "Busy as a Cat on a Hot Tin Roof"
Imagine how long a cat would stand on a hot tin roof in the heat of summer in the South – you got it, not for a split second! This is an affectionate southern way of saying that someone is so busy they don't stop to take a breath before moving on to the next thing. It can also be a polite way to tell a friend that she needs to get her children under control before they tear the house down.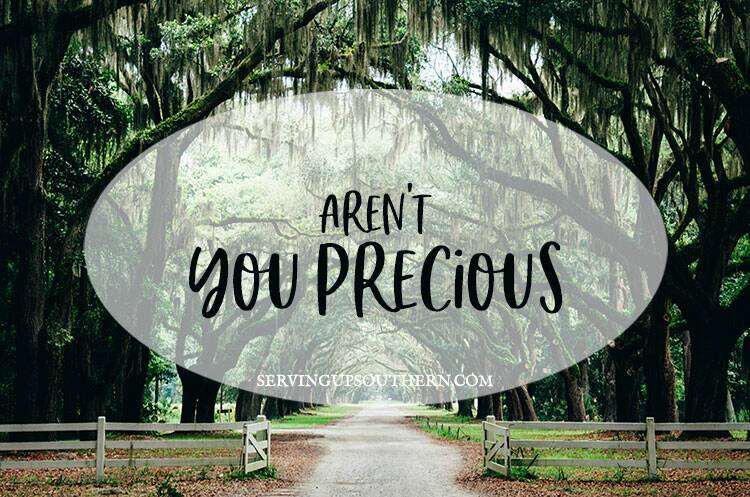 "Aren't You Precious"
Although this sounds like a question, it's merely a statement to compliment something cute or sweet. It's usually intended as an interjection and generally in reference to a child's outfit or behavior. But in the South, be aware. If you hear someone saying, "Well aren't you precious?" it's probably being said sarcastically. It's a phrase usually said if someone has said or done something you find stupid or insulting. Since your mama taught you that if you can't say something nice, then don't say nothing at all – you kill them with kindness. Someone offended you? Well, aren't they just precious?!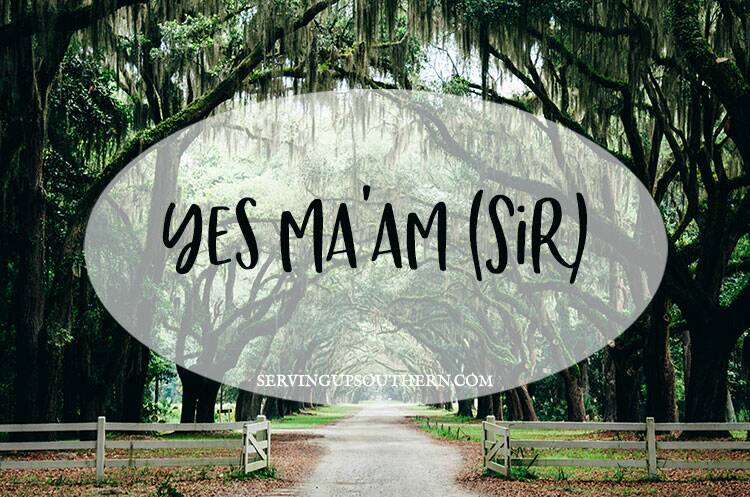 "Yes Ma'am (Sir)"
This is not just a southern phrase, but yes ma'am or yes sir is the only way to answer a yes question in the South, and the same would apply if the answer is no. This requirement usually only extends to those that are your age or older with emphasis on respecting your elders, but in general, the term can be used in conversation with someone of any age when the answer is yes or no.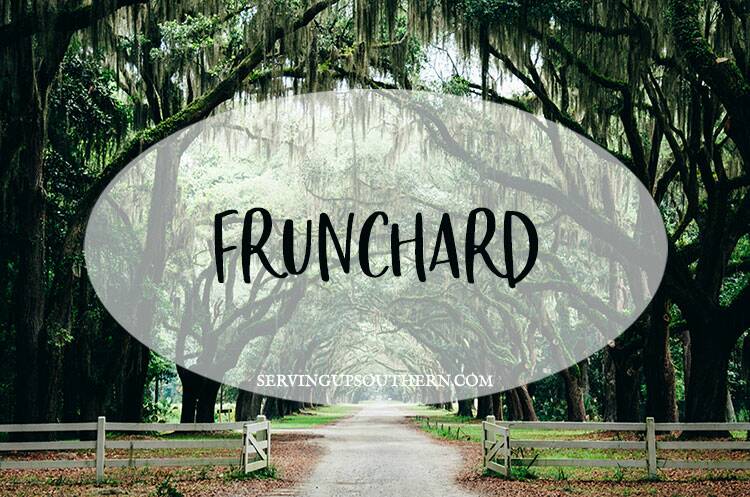 "Frunchard"
The opposite of backyard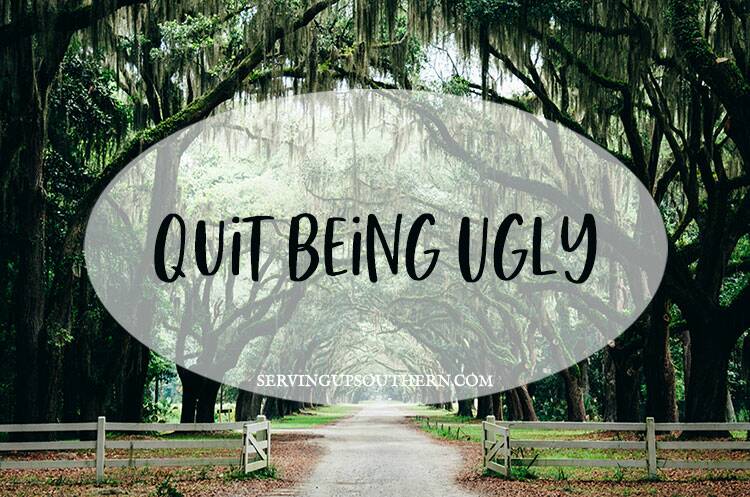 "Quit Being Ugly"
This has nothing to do with physical appearance, but instead a comment about what's inside that person or how they're behaving. It's usually bad. Other variations are He, or She's ugly!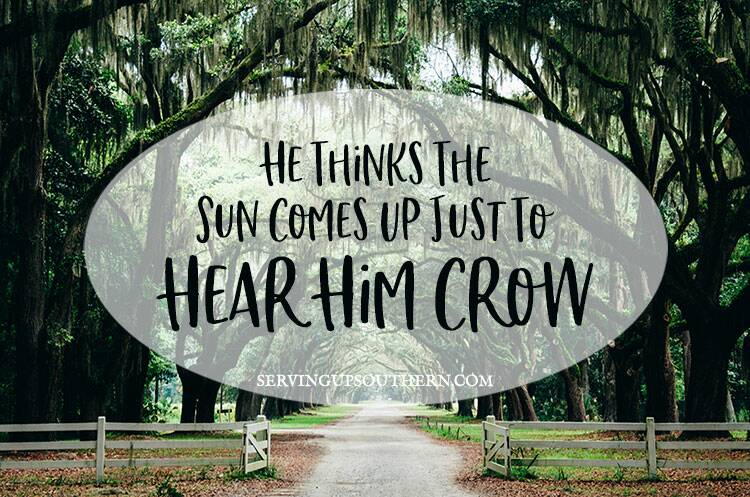 "He Thinks the Sun Comes Up Just to Hear Him Crow"
The rooster crows when the sun rises. A cocky rooster might think the sun comes up because he crows. Similarly, a cocky man might feel the same when he speaks and thinks that everyone should listen to him.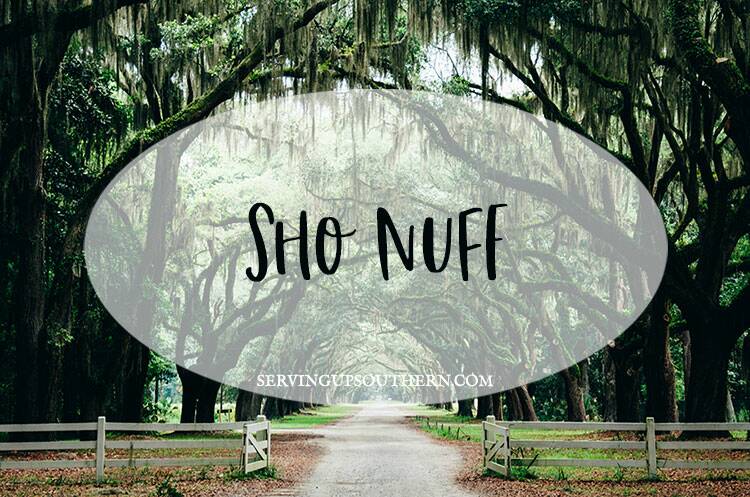 "Sho Nuff"
This phrase confirms something – "sure enough" or it can be a question – "Wait, really?"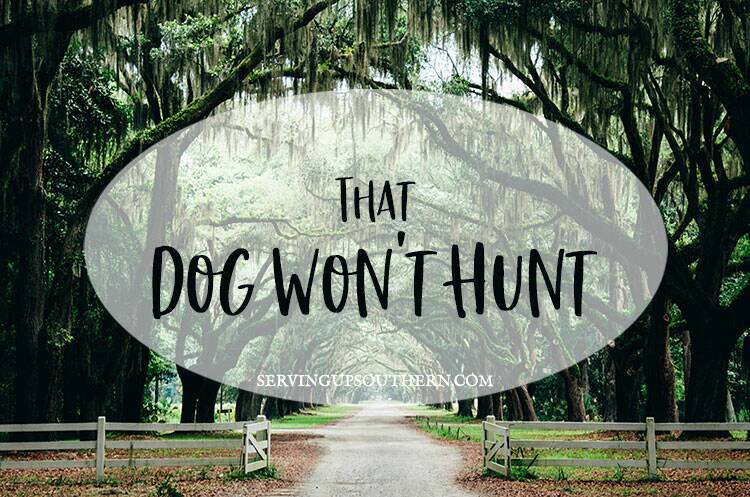 "That Dog Won't Hunt"
A phrase used when someone knows that something or an idea isn't going to work out. It is also used to state that an excuse will not fly.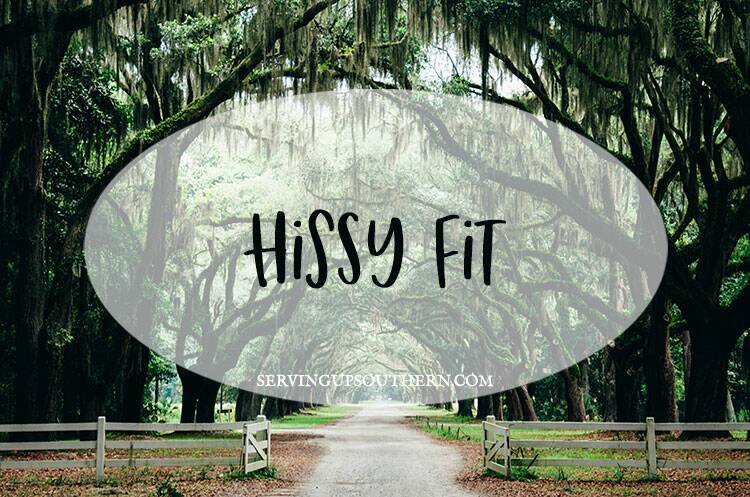 "Hissy Fit"
A hissy fit is a grown-up temper tantrum. Sometimes this is shortened to hissy. I might also note that any true Southerner knows you don't "have" a hissy fit – you pitch one!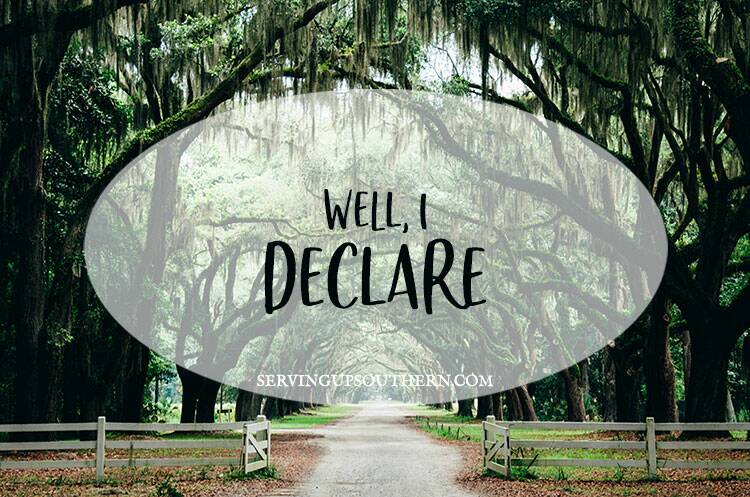 "Well, I Declare"
When someone uses this phrase, they could be declaring any number of things: happiness, surprise, or dissent. Loud and proud is the only way to declare something in the South.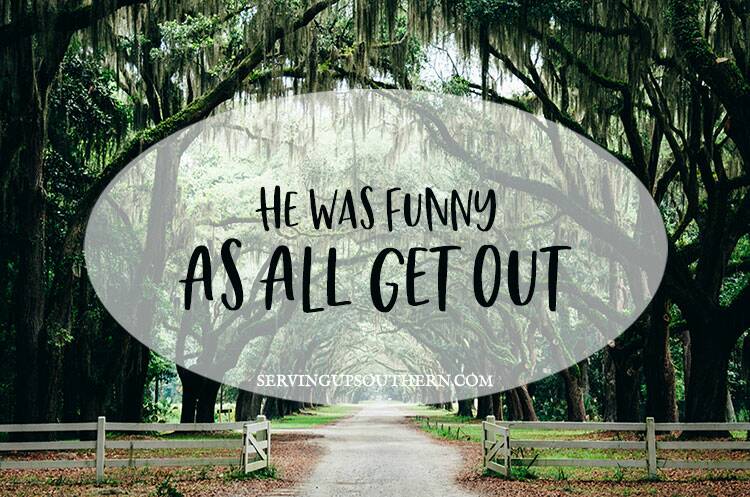 "He Was Funny As All Get Out"
"All get out" has a way of finding its way into all kinds of southern phrases and it intensifies any statement. "I was shocked as all get out." "It was crazy as all get out." Anything that reaches the degree of "all get out" is something worth talking about.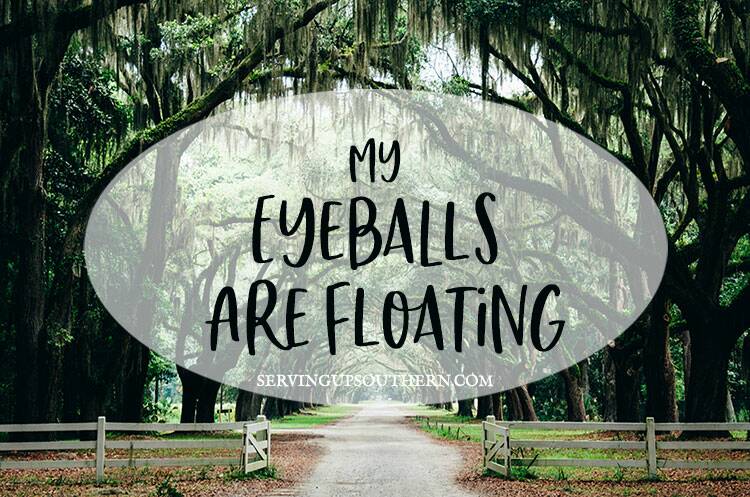 "My Eyeballs are Floating"
This is a phrase used when someone needs to use the bathroom very badly. You sometimes hear this phrase with back teeth used in place of eyeballs.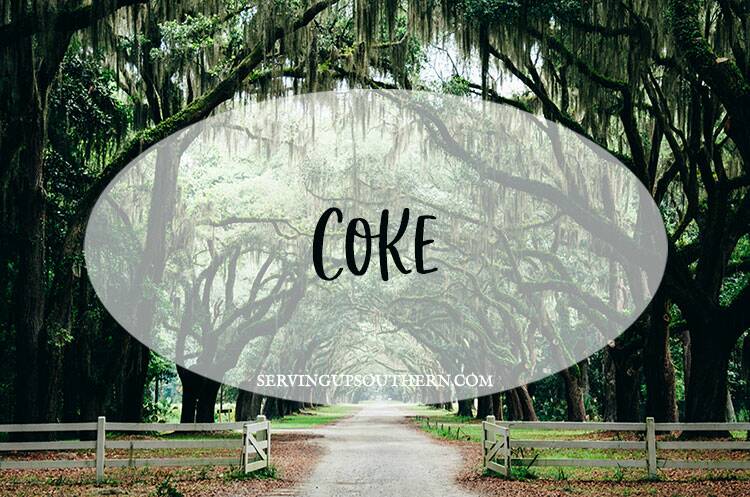 "Coke"
This could mean any carbonated beverage, not just Coca-Cola©. So if you order a coke in a southern restaurant don't be surprised if they ask you what kind.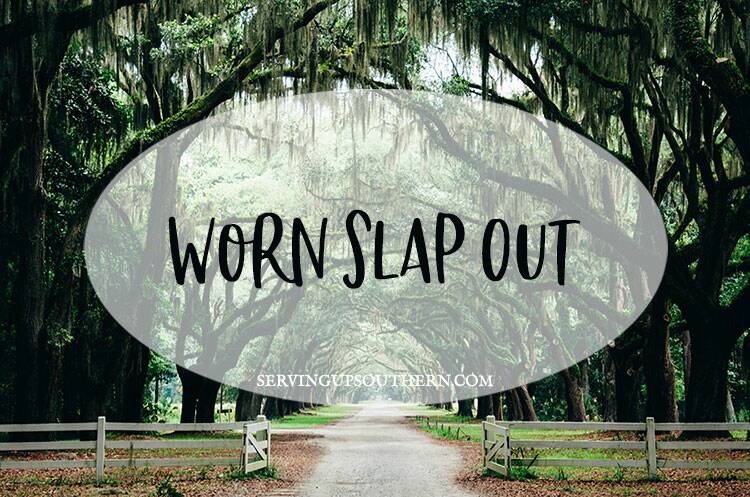 "Worn Slap Out"
This phrase is used when you're physically or mentally exhausted and can't go on. You're worn slap out when you're dog-tired and so beat you can't go on. It often happens on southern summer days when the heat rises as the temperature shoots past 100 degrees. Another variation is "worn slam out."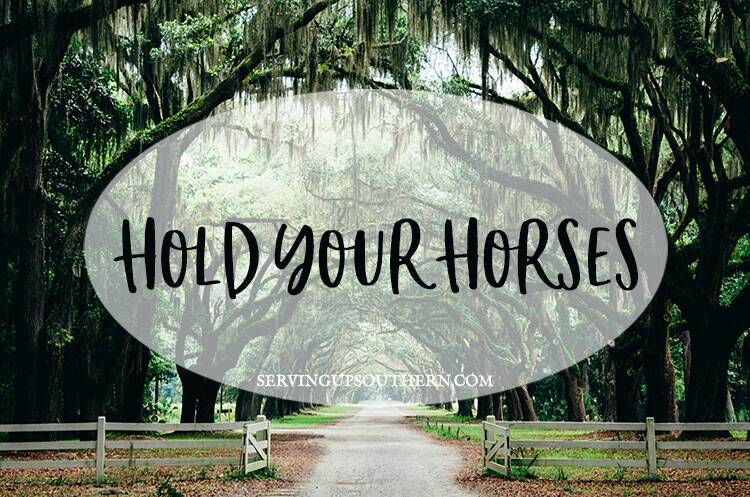 "Hold Your Horses"
Stop right there! If someone says this to you, it's best to slow down and be patient.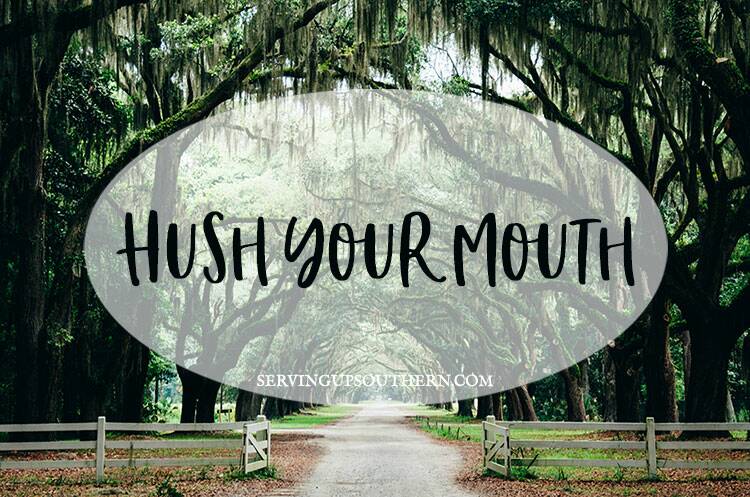 "Hush Your Mouth"
Often used when someone is talking offensively – "Hush your mouth, you shouldn't be talking like that!" But also used in general, like when Mama whispers this to her children when they're cutting up in church on Sunday morning.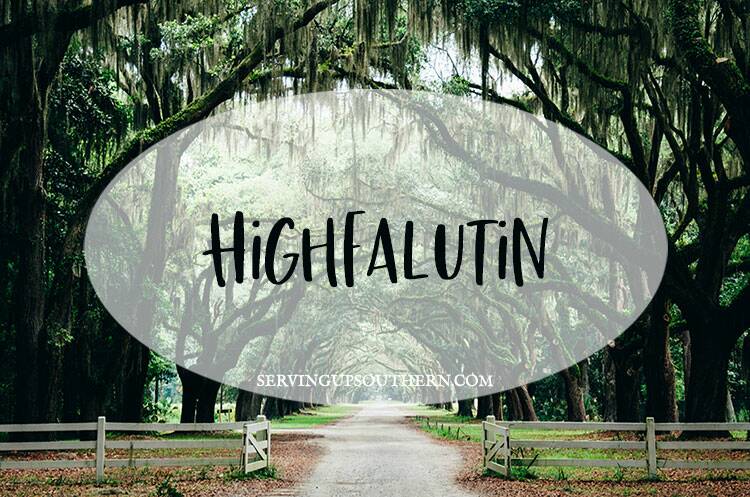 "Highfalutin"
A pejorative term in the South – when someone thinks they're all uppity (another southern term) and have more class than they really do. When you hear a Southerner say this, you can bet it's a huge put down on someone who's trying to be extremely fancy when everyone knows she's not. "She thinks she's so highfalutin!"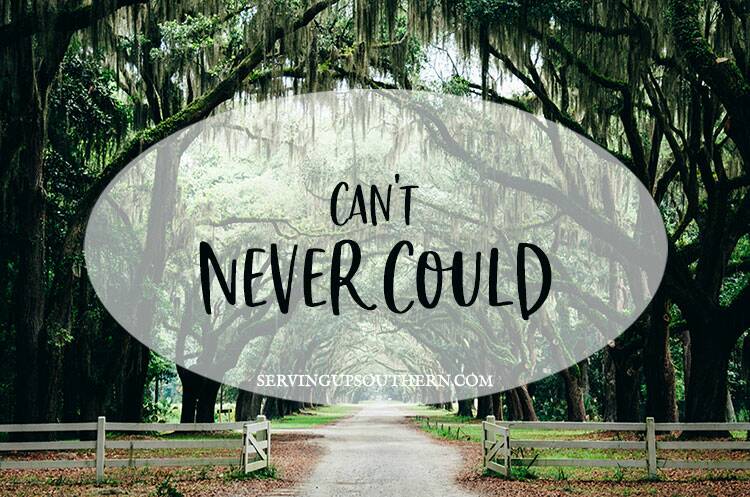 "Can't Never Could"
This is positive thinking, southern style. You won't accomplish much if you always say or think you can't do it. Be positive and give it a try and you might find out you could do it after all. Can't never could do nothing!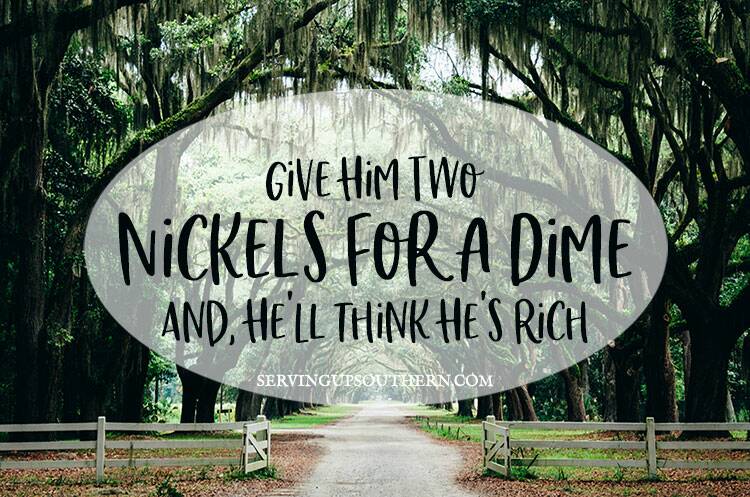 "Give Him Two Nickels for a Dime and He'll Think He's Rich"
This is a way of describing someone who is not too bright.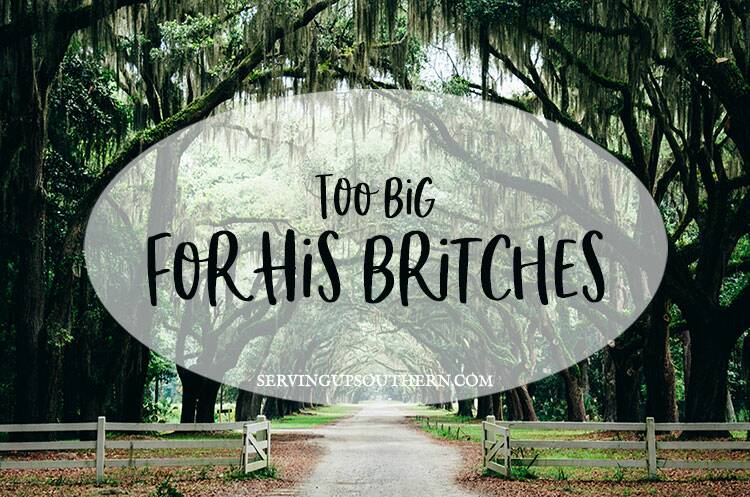 "Too Big for His Britches"
Translated it means, "He sure does think a lot of himself. He's so full of it he can't fit into his pants (britches)."
"It Makes Me Wanna Slap My Mama"
This is considered a high compliment in the South and is said when something was really, really good. I've heard it most when getting up from the table after eating a fine southern meal. "That was so good it makes me wanna slap my mama!"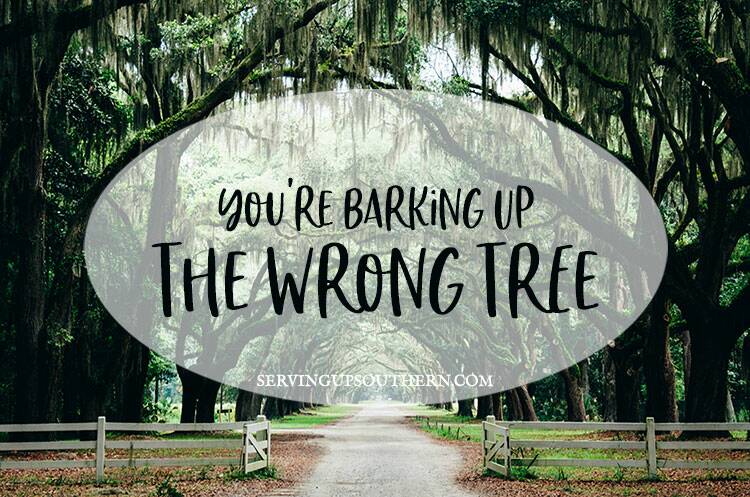 "Barking up the Wrong Tree"
This can mean being mistaken or misguided, but as a Southerner, I have heard this southern saying used more often than not as a warning for someone to back off. "You don't wanna mess with me! You're barking up the wrong tree!"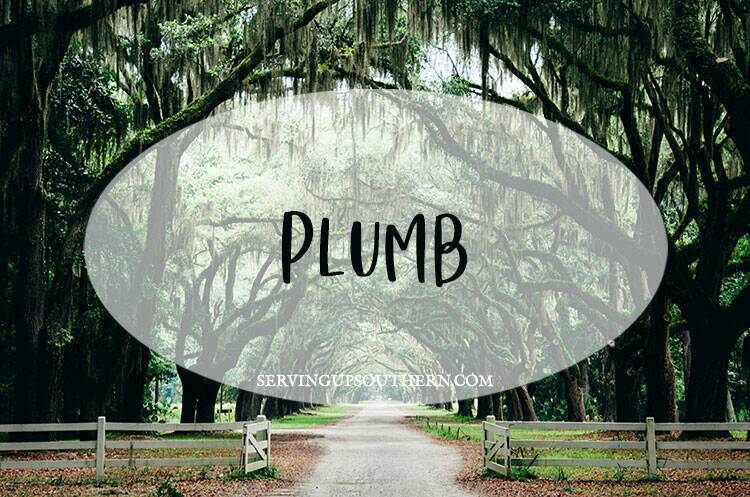 "Plumb"
Plumb means totally or absolutely. "She was plumb tired out!" or "He was plumb crazy!"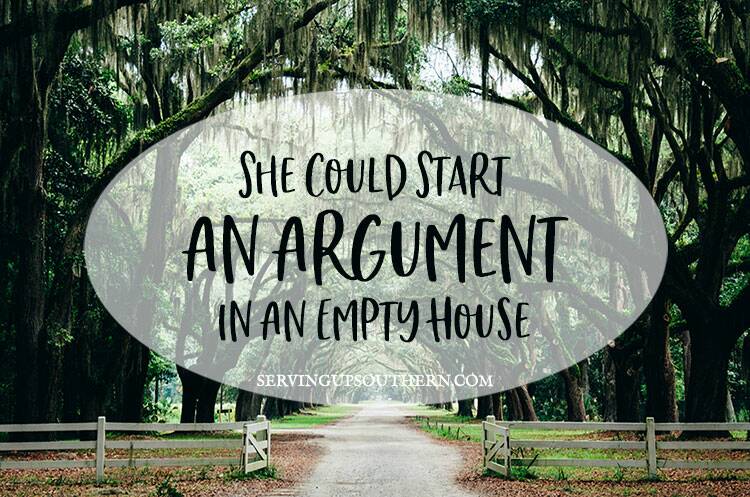 "She Could Start an Argument in an Empty House"
When someone is very argumentative and always starting arguments; generally, it implies their negativity should be ignored.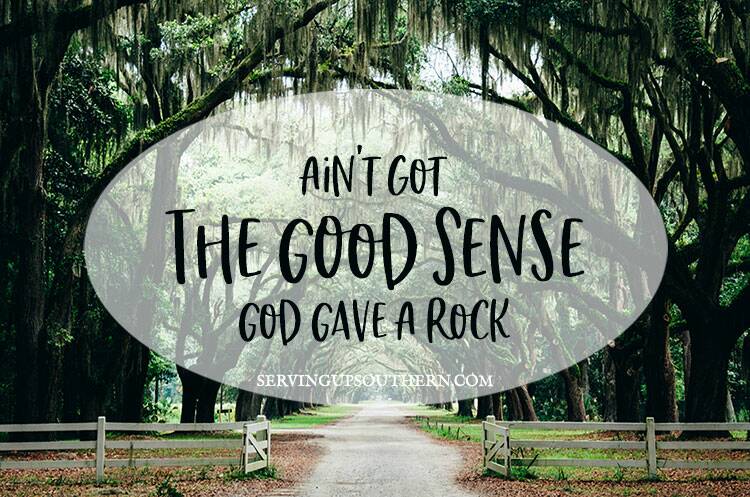 "Ain't Got the Good Sense God Gave a Rock"
This is one of those southern sayings used to describe someone who lacks common sense. "He ain't got the good sense God gave a rock!"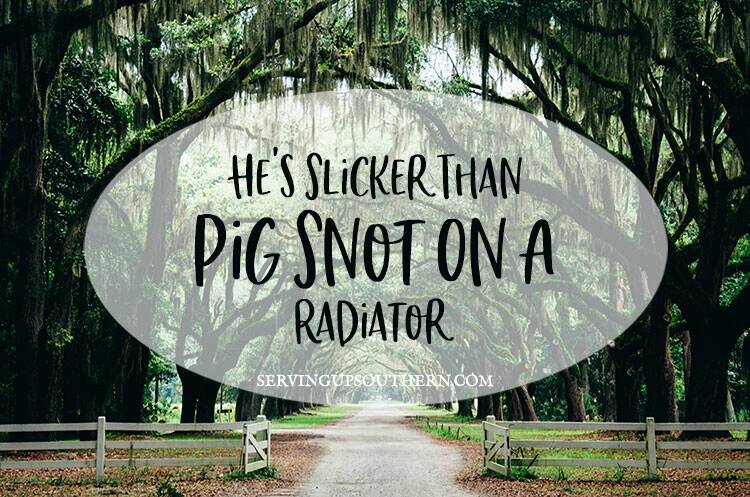 "He's Slicker Than Pig Snot on a Radiator"
This describes someone who is very, very sneaky and can't be trusted.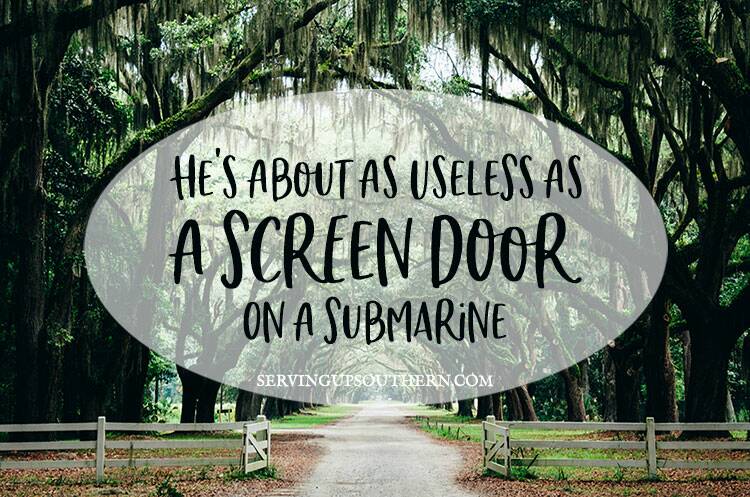 "He's About as Useless as a Screen Door on a Submarine"
This describes someone who is of absolute no help.
"There's Not a Pot Too Crooked That a Lid Won't Fit"
This means there is someone out there for everyone.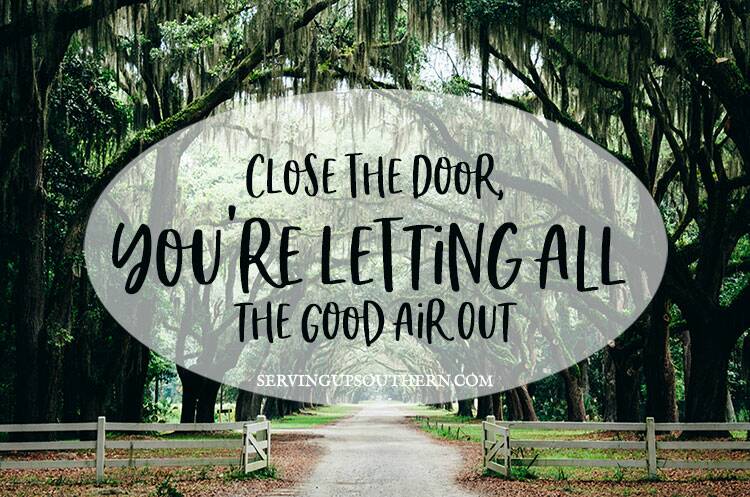 "Close the Door, You're Letting All the Good Air Out"
It gets hot and humid in the South! This simply means to keep the door closed, so the cold air (or heat if it's winter) doesn't escape and stays inside.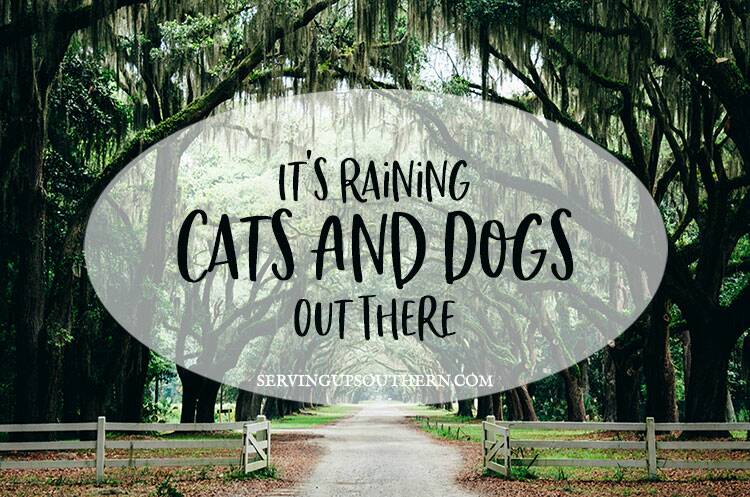 "It's Raining Cats and Dogs Out There"
This simply means it is pouring down rain outside. It's coming down really hard, not actually raining cats and dogs.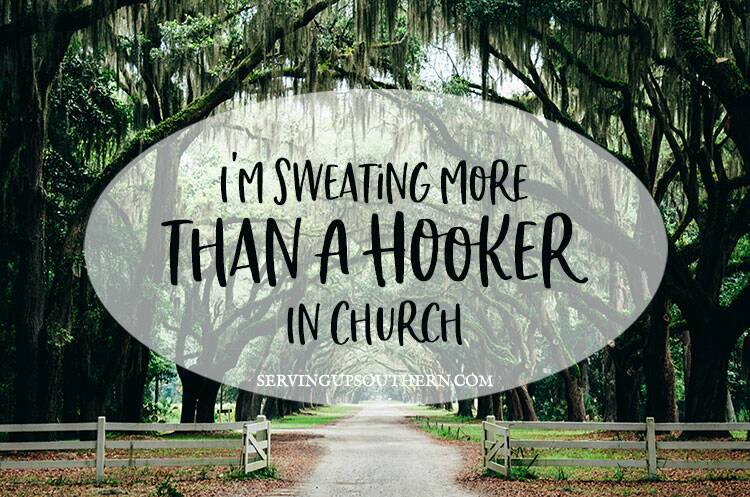 "I'm Sweating More Than a Hooker in Church"
When you hear someone say this, it means they are really hot and sweating a LOT.
Other little southernisms…
We don't pronounce "t's" if they are in the middle of a word – Atlanta is Adlanna, and we rarely use "g's" at the end of words – fishin', lookin' puddin', etc..
I know there a many more southern sayings out there. I could have gone on for ages with this post, but I decided to quit with 50. What are your favorite southern sayings? Did I leave one of your favorites out? If so, I would love for you to share it in the comments. You know I love it when you talk to me. ;)