After some quick thinking I came up with the idea of making these Make-Ahead Egg McMuffins for our family reunion this past weekend. There are 9 siblings in Pete's family. In preparation for a total of 3 meals, we divide into groups of 3 couples for each meal…a Friday evening meal, a Saturday morning brunch, and a Sunday morning brunch. We have our Saturday evening meal catered.
One of my sister-in-law's and I had originally wanted to make biscuits and gravy, but since some others totally jacked our idea had the same idea we did, we had to come up with something else. Since each of us had no desire to serve the usual, and expected, breakfast casserole, we were on the phone trying to come up with some fresh ideas. As we tossed around ideas for meals that could be made ahead of time, I was browsing around on Pinterest when I saw some pins for breakfast sandwiches. After some quick discussion and sharing the idea with our other sister-in-law it was a go.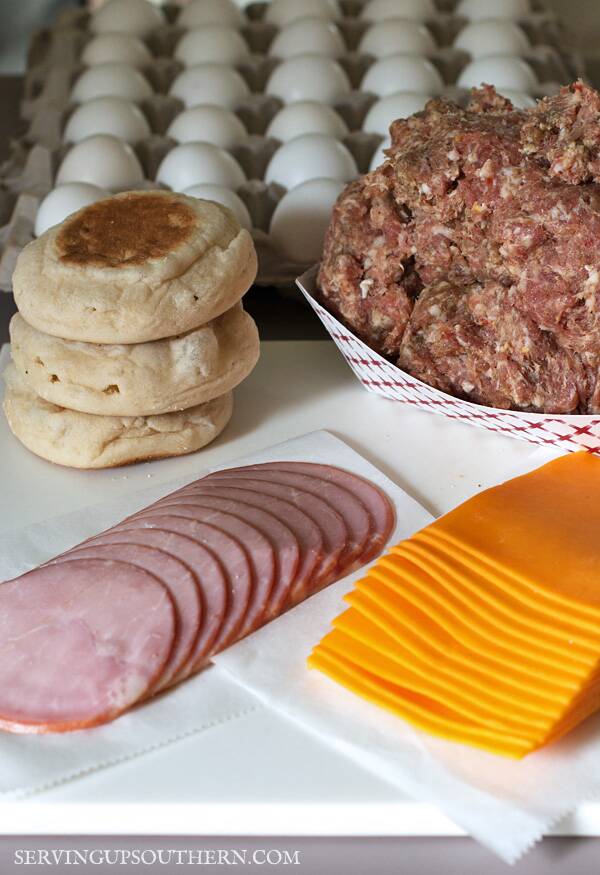 This reunion was on the smaller side, so we only had to make 50 Make-Ahead Egg McMuffins each. We each made and assembled ours ahead of time and then froze them. Here's how I made mine:
I had a whoopie pie pan that also serves as a muffin top pan. My pan makes 12 at a time, but some pans only make 6. I think the size I have is plenty big to fit the roundness of the English muffin, so I went with it. You could use a regular muffin pan, but the eggs will come out thicker and more narrow than they would if using a whoopie pie pan. Using the pan for six would make them thinner and wider.
I sprayed the pan with non-stick spray and then cracked the eggs into the pan and broke the yolk, letting it run throughout the whites. DO NOT WHISK THE EGGS. Whisking them will cause them to expand as they cook causing them to spill over the pan. TRUST ME. Since I was making these with sausage and Canadian bacon, I chose not to salt the eggs. I figured both meats are salty enough. I did, however, add plenty of black pepper. You could also use egg whites or egg beaters.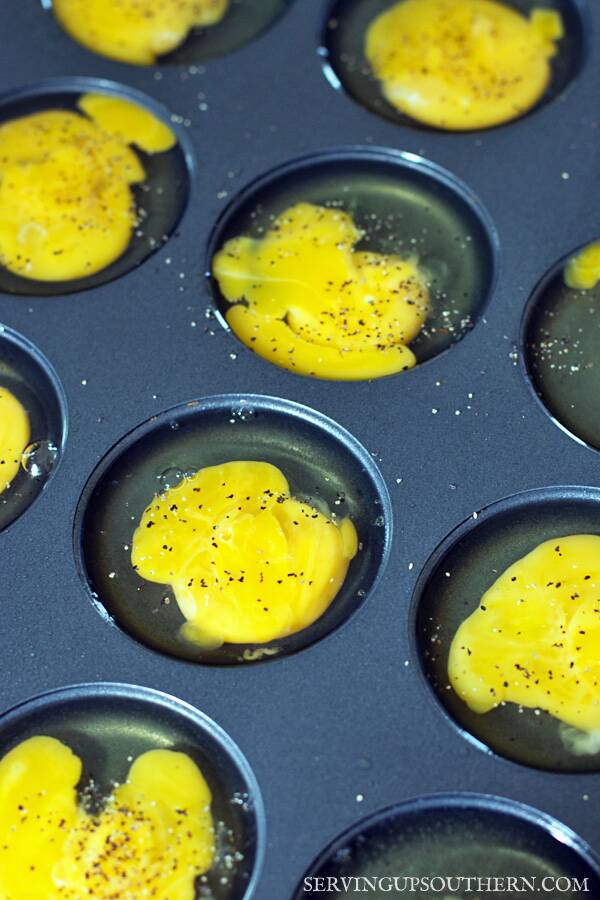 I baked the eggs at 350 degrees for 10 to 15 minutes. This could vary depending on the size pan you use and your oven. When you can move the pan without the eggs jiggling they're done. I would check them often until you know more accurately how long it takes in your oven.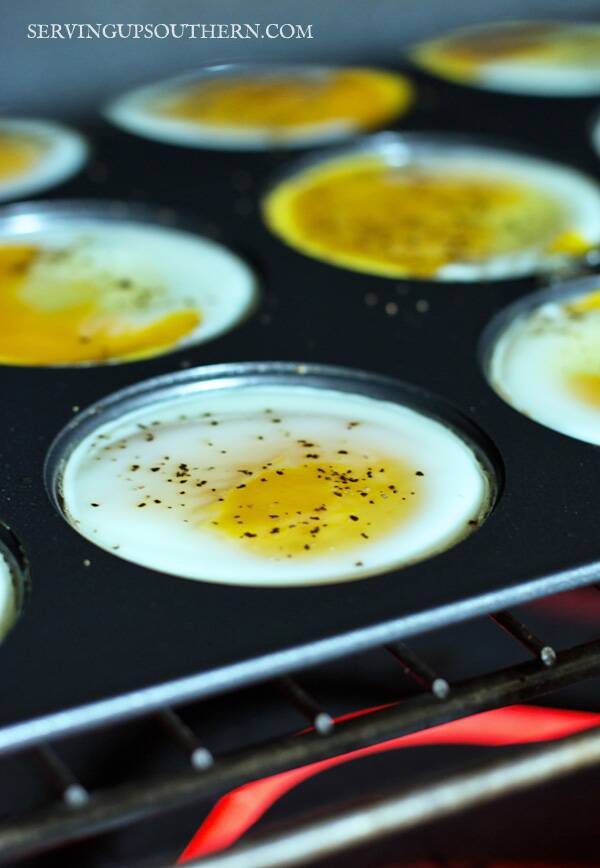 I love the whole idea of baking eggs. These were baked to perfection in no time and released easily from the pan.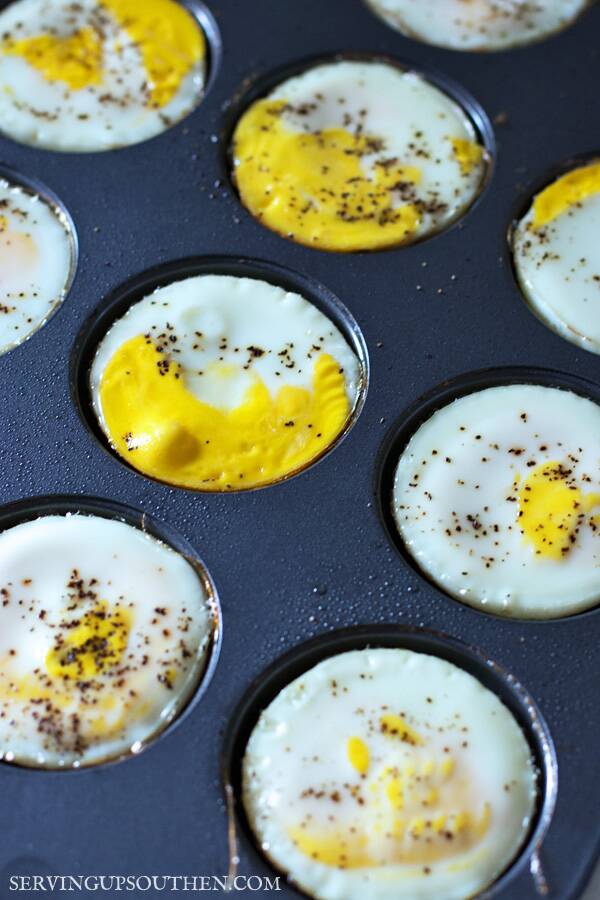 I wasn't up for standing at the stove frying a bunch of sausage or cleaning a greasy stove top, so I decided to bake that too. I placed the sausage on cooling racks that were placed in cookie sheets. This allows the juices from the sausage to drain away from the meat. Megan had a great idea for getting the sausage the right size. She suggested patting the sausage down on a sprayed cutting board and cutting the patties out using a wide mouth mason jar band. It worked great!
There was some shrinkage after cooking, but the patties still fit well on the English muffins.
I cooked the patties at 350 degrees for about 25-30 minutes. Again, that will vary depending on your oven and the thickness of your patties.
When the sausage was done, I removed it from the oven and let it cool. I placed a paper towel over the patties and gently pressed down to soak up any juices that had pooled up on the patties while they were baking.
After the eggs and sausage had completely cooled I assembled the breakfast sandwiches and wrapped them. Since the Canadian bacon comes already fully cooked, it didn't require any extra attention before assembling. SUPER EASY! I did double the Canadian bacon on each sandwich because the slices are so thin.
For reheating in the oven, I wrapped them in foil and for reheating in the microwave, I used wax paper. After each Make-Ahead Egg McMuffin was wrapped, I put the individually wrapped sandwiches into a gallon ziplock bag and then placed them in the freezer.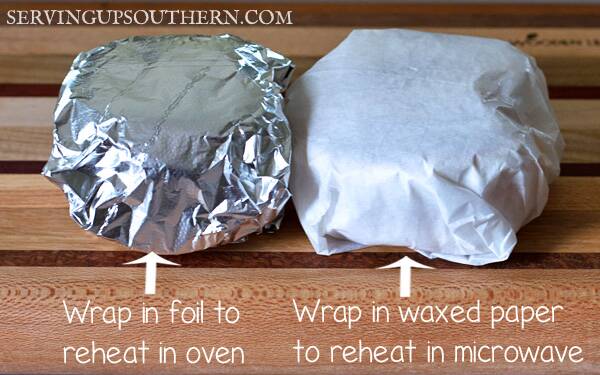 These are super handy to have in the freezer. You can take however many you'll need out the night before and put in the fridge to thaw overnight. When you get up in the morning, throw them in the oven or microwave, and let them heat up while the coffee is brewing.
This is a great grab-and-go breakfast for anyone on their way out the door. ENJOY!
How To Make (Make-Ahead) Egg McMuffins
Ingredients
12

large eggs (or egg whites/egg beaters)

12

English muffins

12

sausage patties (or turkey sausage) and/or Canadian bacon or a mixture of both

12

slices

Cheddar cheese
Instructions
Preheat oven to 350 degrees
To bake the eggs:
Spray whoopie pie pan with non-stick spray

Crack eggs into pan and sprinkle with pepper or add already separated egg whites. (if using egg beaters pour the equivalent into pan.)

Bake eggs for 10-15 minutes or until egg no longer jiggles. Time may vary in different ovens, so watch closely.
To bake sausage:
Place patties on a cooling rack that has been placed on a cookie sheet, and bake for 25-30 minutes or until juices run clear.

When eggs and sausage have baked and are completely cooled assemble Egg McMuffins, wrap in either foil or waxed paper, and place the individually wrapped sandwiches into a gallon zip-top freezer bag; freeze.
To reheat thawed sandwiches:
Heat in microwave for 40 - 60 seconds, or

Heat in 350 degree oven for 15 - 20 minutes
Notes
If using Canadian bacon, no preparation is required, as it is already full cooked when purchased.
Disclaimer: Nutritional values (per serving) are approximates only and will vary based on cooking methods and brands of ingredients used.
© SERVING UP SOUTHERN. Content and photographs are copyright protected. Sharing of this recipe is both encouraged and appreciated. Copying and/or pasting full recipes to any blog post or social media is strictly prohibited.