I'm going to show you how to make sweetened condensed milk in 5 minutes or less. You can use it in any recipe that calls for condensed milk.
Inside: A simple recipe on how to make sweetened condensed milk at home. Never get stopped short in the middle of preparing a recipe again.
Does this ever happen to you?
As I'm standing in the kitchen grating the carrots for the Amish Macaroni Salad I was about to make, it occurs to me that I may not have a can of the sweetened condensed milk I'll need.
Frustrated, I put the carrot down and walk to the pantry and glance around, determining my thought to be correct. Great, now what? Then it hit me – I have a recipe for this. And four cookbooks later, I'm back in business.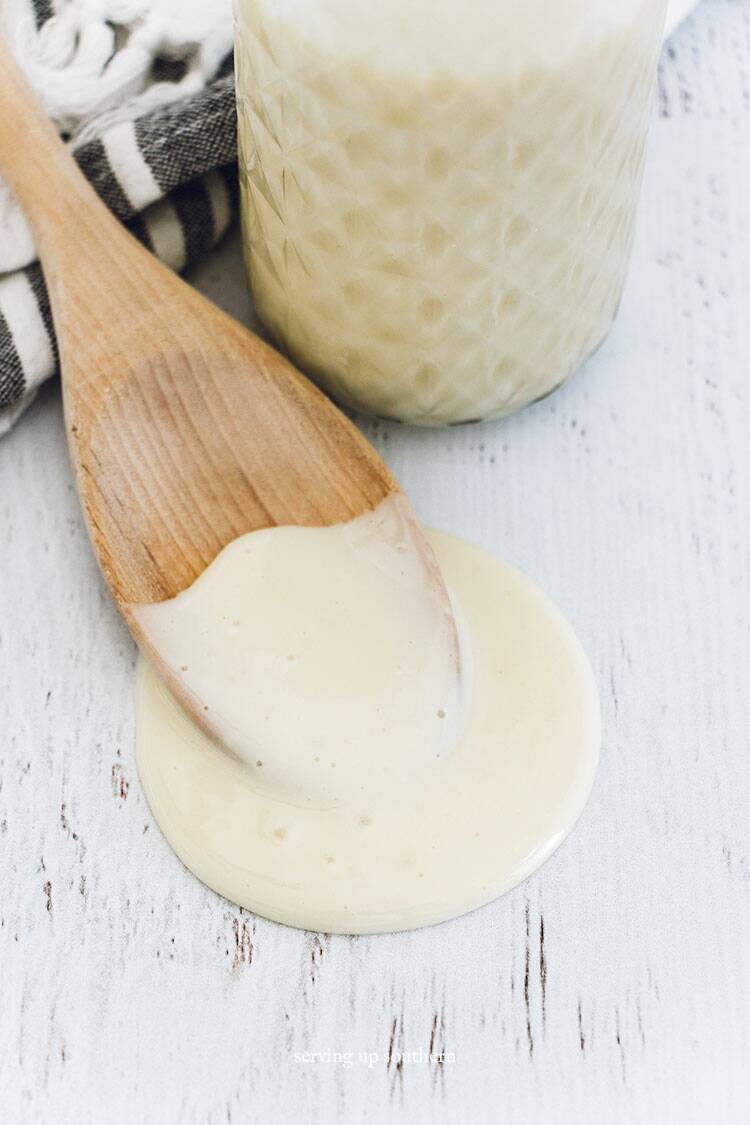 After you learn how to make sweetened condensed milk, you'll be able to make this pantry staple whenever you need it. After you realize how much better it tastes than the store-bought version, you'll want to make your own every time you need it.
What is sweetened condensed milk?
It's thick and gooey and crazy sweet. It's certainly not the kind of milk you drink. That would be gross. But when you add it to things, it's not gross at all.
Let's break it down a little…
Condensed: Cows milk is condensed through an evaporating process by removing water via heat. You might also hear this technique referred to as reduction. The same way you reduce sauces and gravies to thicken and concentrate the flavors.
Sweetened: There's sugar added to sweeten and further thicken the condensed milk. Sugar also acts as a preservative when sealed in an airtight container such as a jar or can. Commercially canned condensed milk can be stored on shelves at room temperature for years.
Since condensed milk is most often found with sugar added, the terms "condensed milk" and "sweetened condensed milk" are commonly used interchangeably.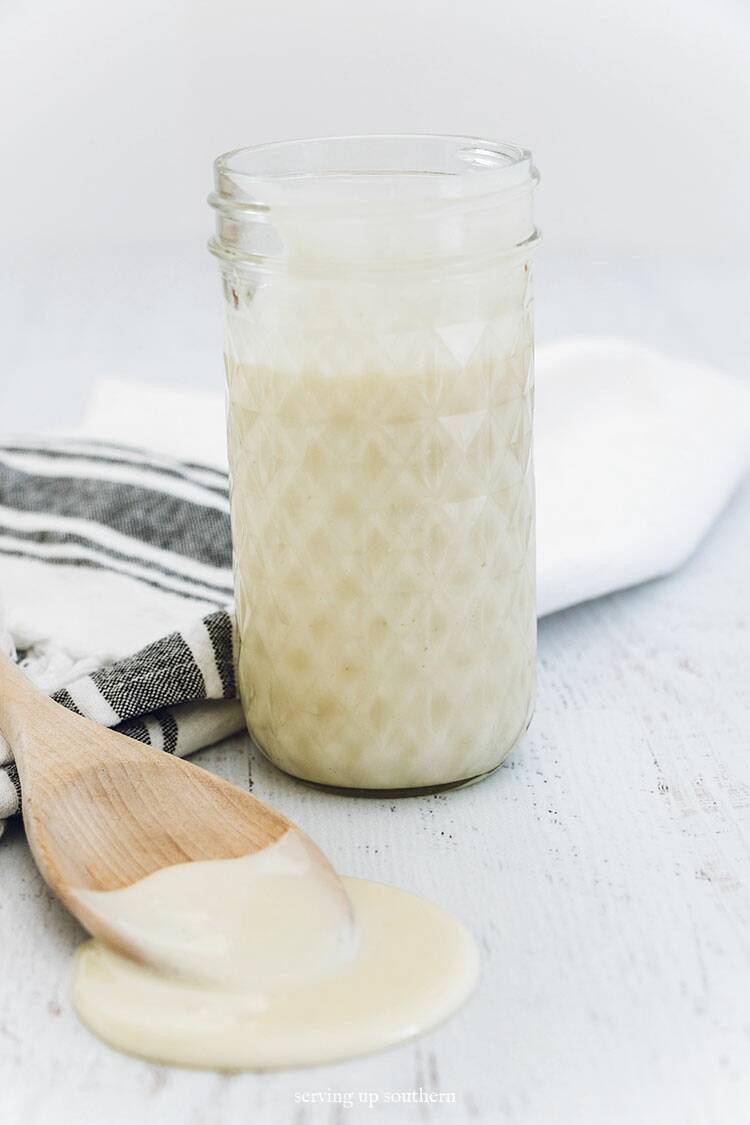 What is in sweetened condensed milk?
Powdered milk
Granulated sugar
Boiling water
Butter
How to make sweetened condensed milk fast
It's ridiculously easy. Add the ingredients together in a blender or food processor and give it a whirl until it's thick + creamy. You can also mix the ingredients in a bowl with a hand beater.
This recipe is equivalent to a 14 ounce can of condensed milk from the store.
Now that you know how to make sweetened condensed milk, you can easily make it any time. I keep this powdered milk on hand as a pantry staple. Having it around has come in handy on more than one occasion.
Why use condensed milk in recipes?
Because this milk does not have the excess moisture regular milk has, it's perfect for things you want to set in a near-solid state. It adds a thick, concentrated creaminess and a rich + sweet milky flavor to whatever you put it in. Here's a fact your taste buds will love – it's delicious in coffee.
Since I was prepared for a backup plan and remembered spying the recipe the week before on how to make sweetened condensed milk I was able to finish my recipe with only a five-minute setback.
I'll be adding more recipes you can make using powdered milk. Considering all that's going on in the world, many of us are digging deep in our pantries to use what we have. During this time of social distancing, you don't want to run out for one item.
How to Make Sweetened Condensed Milk
Ingredients
1

cup

powdered milk

2/3

cup

sugar

4

tbsp

butter

melted

1/3

cup

boiling water
Instructions
Add all ingredients except water in bender, food processor, or bowl (if using a beater).

Pour boiling water over ingredients and blend, process, or beat until you have thick and creamy milk. NOTE: if milk is too thick, add an extra tablespoon of water at a time until desired consistency is reached.
Notes
© SERVING UP SOUTHERN – All images are copyright protected.
Disclaimer: Nutritional values (per serving) are approximates only and will vary based on cooking methods and brands of ingredients used.
© SERVING UP SOUTHERN. Content and photographs are copyright protected. Sharing of this recipe is both encouraged and appreciated. Copying and/or pasting full recipes to any blog post or social media is strictly prohibited.