These hot buffalo wings pack the perfect punch. They have the same delicious flavor, whether they are baked or fried.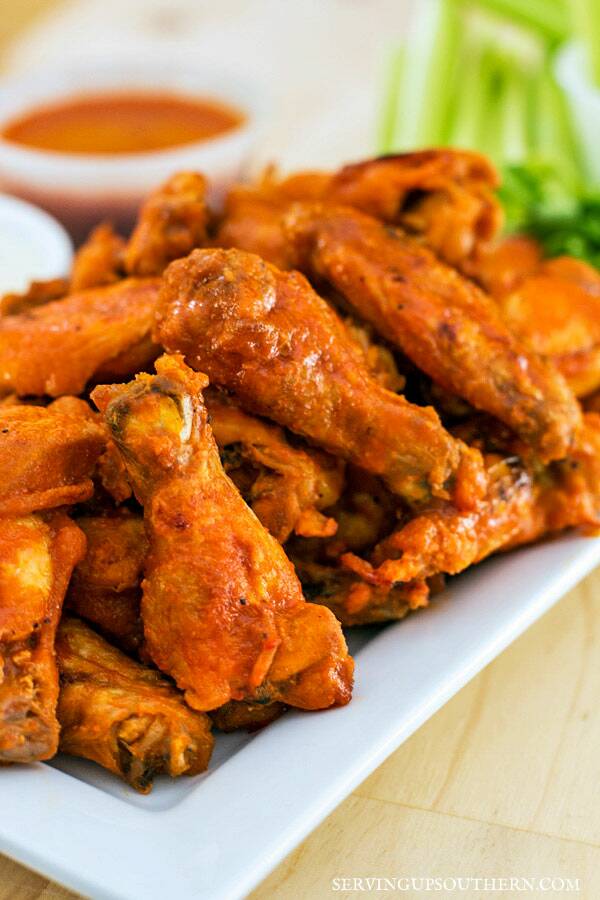 These delicious hot buffalo wings are AH-mazing! Since football season is upon us, I thought this would be the perfect time to share my favorite hot wings recipe. These are the ultimate game-day-finger-licking finger foods. For real, you've got to give these a try.
First, what is a buffalo wing? Why are they called that?
The buffalo wing was allegedly invented in 1964 at Anchor Bar in Buffalo, New York. Frank Bellissimo founded the bar with his wife Teresa in 1939. Back then, wings were inexpensive and undesirable and used mainly for stock or soup.
There are differing stories on why Teresa concocted this version of wings, but there's one thing for sure – she cut each wing in half creating a "drumstick" and a "flat." Then she deep-fried the wings without a batter and then coated them in her homemade hot sauce.
She then served them with celery and blue cheese or ranch dressing. Within weeks, the wings became popular throughout the city where they were simply called (and are still) "wings" or "chicken wings."
Buffalo Wings – the king of snack food!
Hot buffalo wings are quite possibly the king of snack food, whether you're eating them in your family room, during the big game, or in a restaurant. They can now be purchased in dozens of flavors and with many different levels of heat.
I like 'em hot! My very favorite wings at that famous wild wing place are mango habanero. Oh. My. Goodness!
Like all the rest, you'll want to serve these wings with ranch or blue cheese dressing and a side of celery sticks.
How do you make buffalo wings?
You'll need:
Chicken wings
Cayenne pepper sauce (I use this.) Do not use wing sauce.
Butter
A packet of Zesty Italian Dressing mix
The big question is – can hot wings really be good baked? Well, they can. You'll be thrilled to know that hot wings can be just as delicious baked as they are when fried. And that makes them so much healthier. But if you are a diehard fan of frying, have no fear – these wings can be fried too.
I'm guilty of making them both ways, but I have liked the idea of the healthier baked version more and more. So you know, the pics you see here are of the baked variety. :)
How can I keep buffalo wings warm during a party?
After you make the wings, you can add them to a slow cooker with the setting set to warm, and the wings will stay nice and warm throughout your get-together.
What more do you need?
With a big batch of Buffalo Wings, great friends and family, the remote control in hand, and a big screen, everyone will be set to cheer for their favorite team.
What is your cheering style?
Are you the quiet-sitting-on-the-edge-of-your-seat-nail-biting fan, or are you the rip-roaring-jumping-all-over-the-place kind of fan?
Whether you make these for game day or just because you want something great to snack on while hanging out with family and friends, you can never go wrong with these hot buffalo wings. They are always a hit!
Do you have a favorite wing recipe? Do you have a favorite football team? If so, tell me about it in the comments. You know I love when you speak up!
You might also like:
Deep Dish Pepperoni Pizza Cups
Snack Mix Squares


Ingredients
4

pounds

chicken wings

2

cups

hot sauce

(I prefer Frank's Red Hot)

1/2

cup

butter

1

packet zesty Italian dressing mix
Instructions
To Bake: Preheat oven to 425°
Line a baking sheet with foil and top with a wire rack.

In a large saucepan add the chicken wings, and 1 tablespoon salt and cover with water. Bring to a boil and boil for 10 minutes.

Drain the wings then arrange on rack. Using paper towels pat the wings dry.

Bake at 425° for 30 minutes, turning halfway through cooking.

While the wings are cooking, combine butter, hot sauce, and dressing packet in a saucepan. Cook over medium heat until butter is melted.

When wings are fully cooked, adjust oven rack to to 6 inches below the broiler. Turn broiler on and broil wings about 5 minutes on each side.

Toss the wings (a few at a time) into the hot sauce mixture to coat.
To Fry:
Using a deep fryer or a large pot heat, oil to 350°. Fry wings for 10-12 minutes until golden brown and crispy.

Resume with step 7 above.
Notes
Wings can be placed in a crockpot set on low to keep warm.