These delicious + fancy Cucumber Tea Sandwiches are not just for English tea parties anymore. Made with cream cheese, honey, and dill and served on raisin cinnamon bread, these little gems are sure to please. You are in for a treat!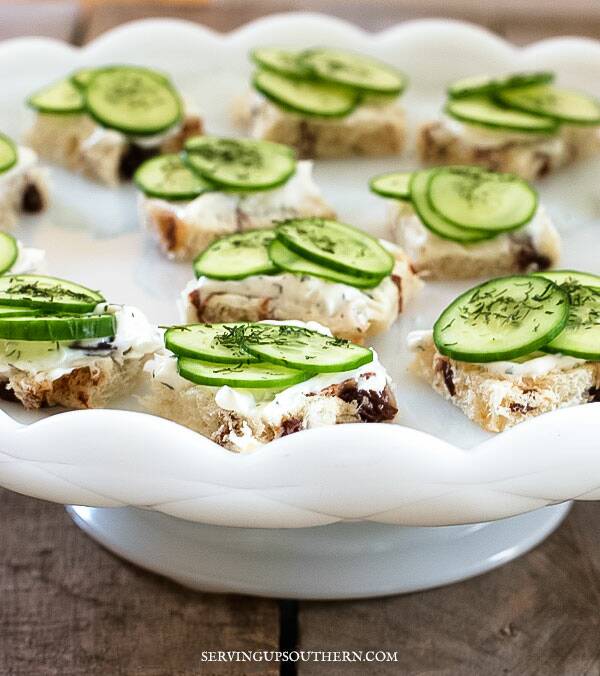 These Cucumber Tea Sandwiches are sure to please everyone at your next party. They are super easy to put together, yet elegant enough for the fanciest of tea parties. Win-win!
I was first introduced to these delicious little sandwiches at one of my daughter's bridal showers. Let me tell you! It was LOVE at first bite!
These tasty little tea sandwiches are perfect to serve at a Valentine's party or Easter brunch or just about any other occasion for that matter.
Where Did Tea Sandwiches Originate?
After cucumbers made their way to Britain, at some point during the Victorian era, some creative soul thought to make them into sandwiches and serve them as a delicate snack companion to afternoon tea.
Feeding more or less than for what this recipe calls? Click the number next to "servings" on the recipe card below and slide the indicator to adjust the ingredients to the number of people you'll be feeding. The recipe does the math for you – it's that easy!
How Do You Make Cucumber Tea Sandwiches?
The beauty of these little gems is how easy they are to make. To start with you'll:
Combine the cream cheese, honey, and dill weed,
Wash the cucumbers and slice into very thin slices,
Trim the crust from each slice of bread and cut into four small pieces,
Spread the cream cheese mixture on each square and top with cucumbers.
That's it!
These little cucumber tea sandwiches are super easy to make and are one of my favorite tea sandwiches or finger sandwiches as they are more often called here in the States.
When Would I Serve Cucumber Tea Sandwiches?
These little treats are perfect for:
Valentine's Day parties
Bridal showers
Baby showers
Brunches
Afternoon get-togethers
Anytime as an appetizer
If I want them to look pretty, I serve them as open-faced cucumber sandwiches like in the pictures here. When things are a little more casual and presentation is not the primary focus, I will top each sandwich with another piece of bread. They're less dainty that way and less messy for children to pick up.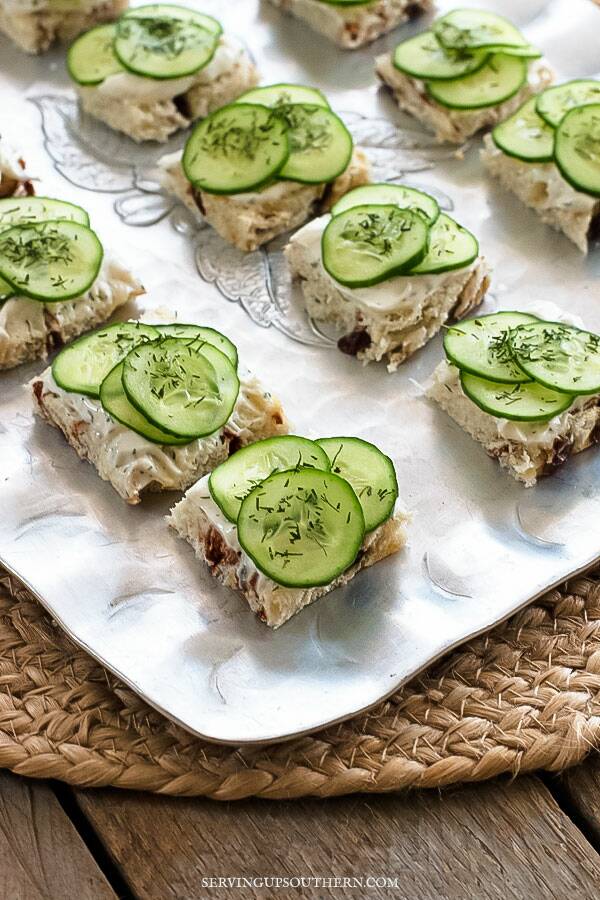 Unlike the savory versions made with ranch, these Cucumber Tea Sandwiches are more on the sweet side. As you see, these fancy petite sandwiches have only three ingredients in the spread: cream cheese, honey, and dill weed.
My favorite part about these is the cinnamon raisin bread. I use Pepperidge Farm Swirl Raisin Cinnamon Bread. The raisins in the bread lend to the sweetness. Once topped with the cucumbers, the combination of flavors yields a deliciousness your taste buds will love. I betcha anything you can't eat just one.
What Kind of Cucumber Do I Use?
I always use this kind of cucumber when making these cute little delicacies. I like using the mini cucumbers because they are thin-skinned, and I think little clusters of three look so pretty. You can also use English cucumbers to make the sandwiches, but you may only need to use one slice.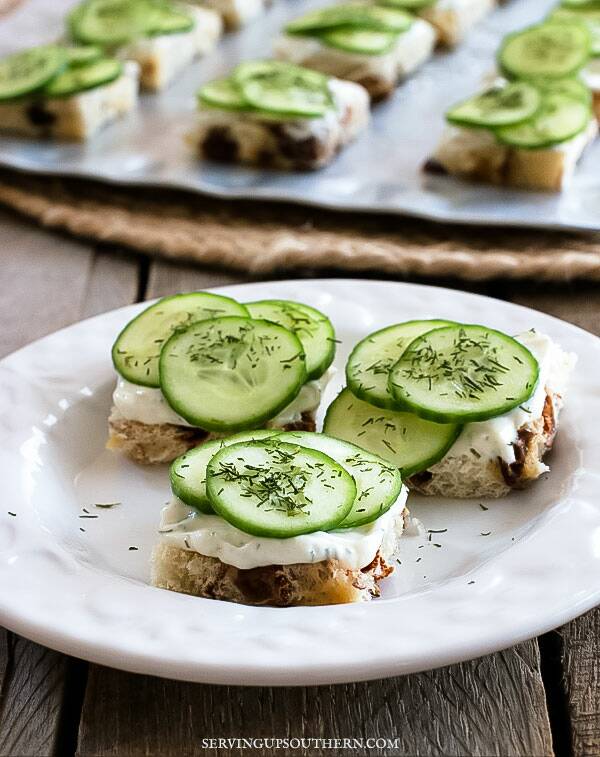 Can I prepare these Tea Sandwiches Ahead of Time?
You can! If you want to prepare your sandwiches the day before your gathering, put your prepared sandwiches in an airtight container and cover with a layer of wax paper topped with a wet (not dripping) paper towel. Add the lid to the container and keep it in the refrigerator until ready to serve.
You might also like serving some of these other treats:
Black Forest Truffles
Easy Chocolate Mousse

Have you made cucumber tea sandwiches before? On what occasions do you like to serve them?
Ingredients
4

mini

cucumbers

or you can use an English cucumber

1

8 ounce

whipped cream cheese

1

tbsp + 2 tsp

honey

1

teaspoon

dill weed

or to taste

1

loaf

Raisin cinnamon bread
Instructions
Combine whipped cream cheese, honey and dill weed and mix until thoroughly combined.

Wash cucumbers and slice across into very thin slices.

Trim the crust from each slice of raisin bread and cut each piece into 4 small squares.

Spread cream cheese mixture on each square and top with cucumbers. (I usually use 3 slices.)
Notes
If using a top slice of bread, trim the crusts then make a whole sandwich and cut it into quarters. When doing it this way I spread filling on both sides of the bread and add more cucumber slices.
© SERVING UP SOUTHERN – All images are copyright protected.