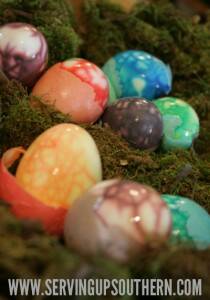 If this is your first time visiting here, WELCOME!  I'm so glad you're here.  I hope you'll take some time and look around.  If you see some things that interest you, I would love to hear from you.  Feel free to leave a comment on any post.   
I first saw these dinosaur eggs when a mom made them for a dinosaur themed birthday party she had for her son.  They were a big hit with the kids.  Although, several seemed a little reluctant to take a bite and clearly preferred to let their egg adorn their plate.
The spiderweb(ish) design makes me think of spider eggs, but apparently, cracking dinosaur eggs are way more cool.  So if you have any young, aspiring paleontologists in your family – I bet they'll love these.
Okay guys, bear with me hear.  I know that dinosaurs have nothing to do with Easter.  At least not in my world…until now anyway.  While Megan and I were going-to-town making our tie-dyed Easter eggs, we just decided to do a nest-full of dinosaur eggs too.
For this fun Easter project you will need some hard boiled eggs.  You will need to gently crack the egg shells.  This will allow the dye to penetrate the shells and create the cracking effect.  Try not to chip any of the eggshell off (at least not any big pieces).  Also try not to separate (or lift) the shell from the egg when you crack them.  Here's a close up of a cracked hard boiled egg.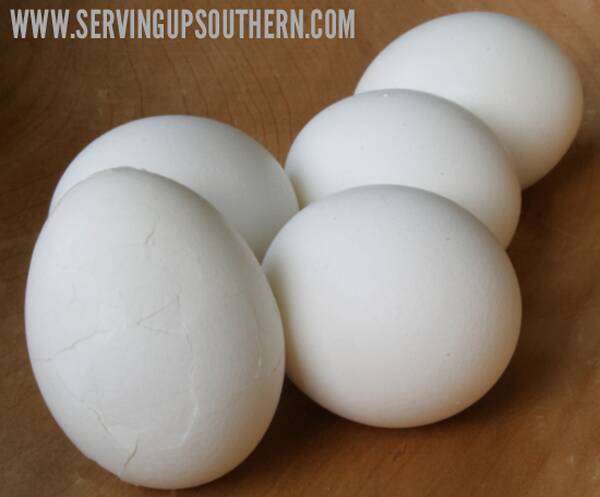 Mix your dye by adding 1 teaspoon of your color choice to 1/2 cup of water.  I used gel food coloring and it worked great.  Just make sure you stir it until it has completely dissolved.  I used my mini whisk.  I did not use vinegar with these.  The food coloring box has color combinations that you can make in addition to the 4 basic colors that are included.
Place an egg into each cup of coloring and refrigerate overnight.  This gives plenty of time for the color to make it's way to the egg.  Plus it's super fun for the little one's to anticipate what's in store.
When you're ready the next day – gather the anxious little ones for the big reveal.
Then together you can let your imaginations carry you away.
I borrowed took this bird nest out of my lilac bush.  It was an old nest and had been there for some time.  I returned it  soon after we were done, just in case a feathered friend comes back looking for home.  If only they knew their little nest held dinosaur eggs – even if only for a little while.
You can make big cracks or lots of little cracks, depending on the look you want.  The orange one really looks like it has veins.  Ew.  The inside of the shells look pretty cool too.
Whether you are doing these for Easter, a dinosaur birthday party or any other occasion, they're bound to be a hit.
Well folks…this has been a fun post.  Have fun making these.