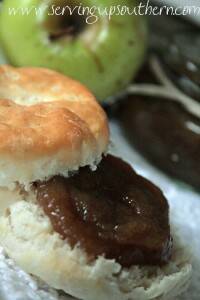 I don't know about y'all, but I grew up eating apple butter.  As a child one of my favorite things to dig into was mom's, fresh out of the oven, homemade biscuits with a block of sharp cheddar cheese and a jar of homemade apple butter.  It never grows old…I still love it.
I always make apple butter when I do my applesauce.  While I'm canning the applesauce the apple butter is in my roaster oven simmering away.  The bonus of this is the delightful aromas of mixed spices wafting  throughout the house.  It smells so good!  The recipe I'm sharing was my precious nanaw's recipe.  I think of her and smile every time I make it.
Well, as you know from my applesauce post here, I promised you I would explain the cooked  apple cores on the bottom shelf of the cart.  Okay, well, here goes – I use apple cores to make my apple butter.  Before you think whatever it is you're thinking let me explain.  One of my very smart sister-in-laws showed me this and I have since been doing it for years now.  Since the apple cores are run through the the food mill after they're cooked, the seeds and stems are separated from the sauce.  If any little specs make it through they are not seen since apple butter is dark in color.  Some of you might be thinking you'll pass on this idea, but before you do let me tell you that I got 25 pints of apple butter from 3 bushels of apple cores.  That's a lot!  And…it would have all been thrown away.  I like things to be pretty, so, by doing it this way my applesauce is nice and spec-free and if  a spec make its way into the apple butter I don't see it.  Waste not, want not, right!?
Here are the cores beginning to cook.
Here are the cores after they've been dipped out of the steam pot and into the pan…ready for the food mill.
And, here's what's left of the cores after being run through the mill.  I know.  Who knew those little ole' cores would yield that kind of sauce.
I pour the applesauce into my roaster oven and add brown sugar, cinnamon, cloves, and allspice.  So simple!  This needs to simmer for 3 hours.  Cook slowly until it's thick enough to round up on a spoon.  Be sure to stir often.  If it becomes to thick you can add water or apple juice to thin.  If you do not have a roaster oven, a black enamel turkey roasting pan works great in the oven.
Next, fill clean, warm jars with the apple butter and process in a boiling-water canner for 10 minutes.
Perfection in a jar!  And – might I add – a jar of this is makes a great gift for the holidays.
You know you want to run the nearest orchard and get some apples.
I would dearly love it if you would use the Pinterest button below.  Thanks and Enjoy!
Homemade Apple Butter (Oven Method)
Ingredients
7

lbs

of apples

(16 cups sauce)

3

lbs.

brown sugar

1

cup

vinegar

2

tablespoons

cinnamon

1/2

teaspoon

of cloves

1/4

teaspoon

allspice
Instructions
Cook apples until soft and run through a food mill (or press through a sieve). If you're starting with sauce you will skip this step. Pour into a pan and add the remaining ingredients. Bake for 3 hours at 350 degrees, stirring often. Pour into clean, warm jars and process in a boiling-water canner for 10 minutes.

Note: The spices can be adjusted according to your own tastes.
JOIN THE LIST!
Subscribe to get our latest content delivered to your email.