This Amish Peanut Butter recipe, aka, Church Spread was pretty much a staple in our house when my kids were growing up. There are sooo many variations of this Amish Church Spread out there, but this is our favorite – tried and true.
As many or you may (or may not) know my dear hubby was born Amish and raised Mennonite.  He is one of 9 children which is not surprising for an Amish family.  They like to have lots of young'uns, ya know! 
When he and I got married, I was blessed to become a part of this big ole' family.  I won't lie…it was a little intimidating at first. :0  But that quickly changed, and before I knew it I felt very much a part of the family too. :)
This Amish Peanut Butter recipe is one that has been in the family forever, and is in our family cookbook. I have to be honest and admit something here though – I tweaked it. YEP, I did!
Let me just say to the family members who contributed the recipe to the cookbook…I like y'all's recipe. Really, I do. It's just that I like mine…um…better.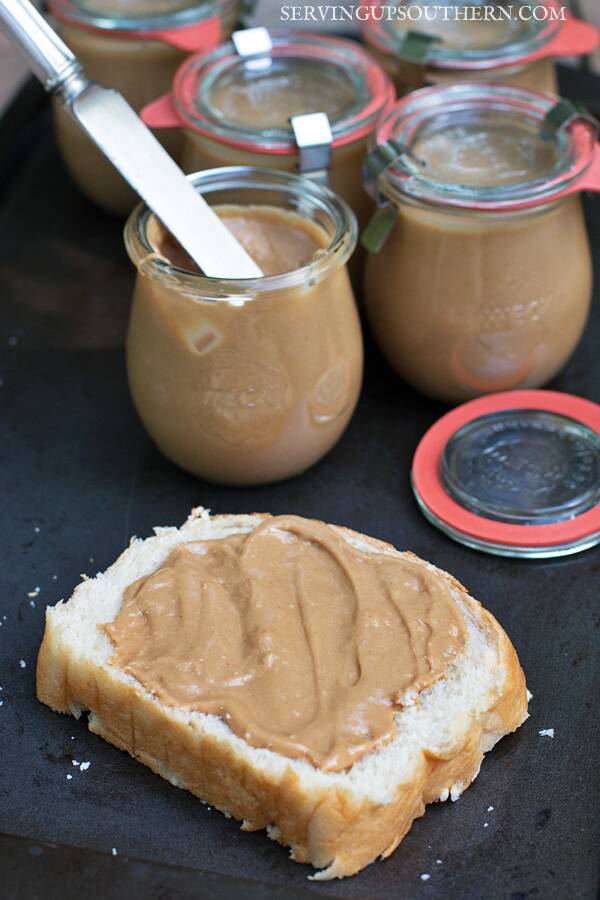 To make Amish Peanut Butter: You'll start by making a simple syrup of brown sugar and water, then you'll add corn syrup, peanut butter, marshmallow creme, and flavoring.  I cut the marshmallow creme by half from the original recipe, and I add a couple more spoonfuls of peanut butter. 
This cuts down on the sugar and allows the peanut butter to still be the star of the show.  This also helps it to not be so sweet tasting.  While it is supposed to be on the sweet side, it doesn't have to be so extremely sweet.
One of our favorite ways to eat Amish Peanut Butter is to spread it on warm right-out-of-the-oven homemade bread.  Oh, but it's good on so many other things. 
It's also yummy on biscuits, pancakes, waffles, saltine or graham crackers, apples, bananas, celery, and ice cream.  You can eat it on about anything you would eat regular peanut butter on.  Give it a try, and come back to tell us what you like to eat it with.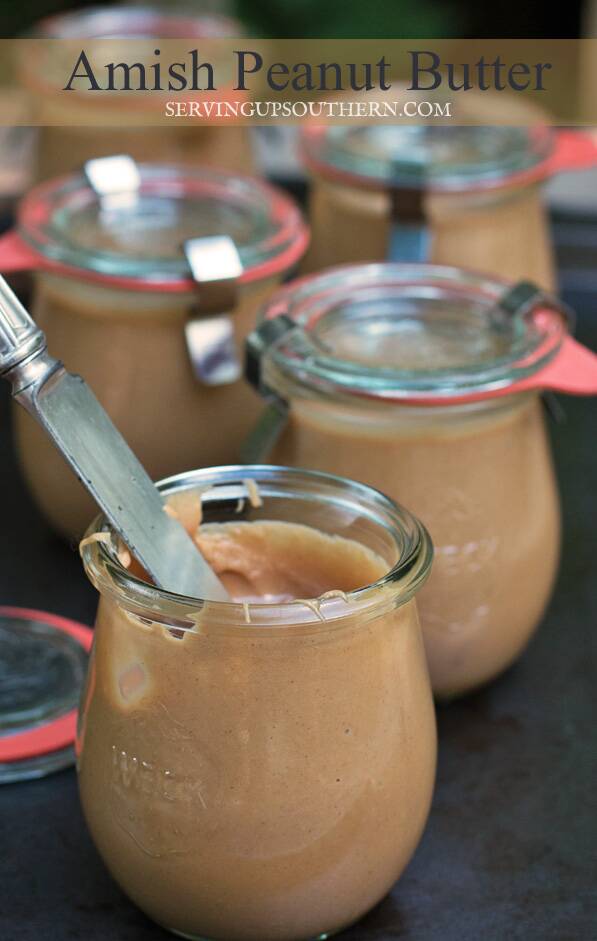 Ingredients
2

cups

brown sugar

1

cup

water

2

cups

peanut butter

plus 2 heaping tablespoons

7

ounces

marshmallow creme

2

tablespoons

light corn syrup

1

teaspoon

vanilla or maple flavoring

I used maple this time, but use both regularly
Instructions
In a saucepan combine sugar and water; bring to a boil. Boil for 2 minutes.

Add flavoring and stir in the peanut butter, marshmallow creme and the corn syrup. Mix well and let cool. Delicious!