Make this adorable little fella a part of your Easter decor. Download this free watercolor bunny. All you have to do is print, trim, and frame!
I can't even believe that Easter is less than two weeks away! Today is the second day of spring and here we are in Virginia under a winter storm warning. Yep, it's snowing out there right this minute, and if that's not bad enough try a repeat of this on Monday. Please! Say it isn't so! On a happier note, signs of spring are all around inside the house including this Easter Watercolor Bunny Printable.
I had this little watercolor bunny painted just for you, and I'm so happy to share him today as a free printable. Isn't he the cutest thing?
I love his markings and the way he's sitting with his head turned.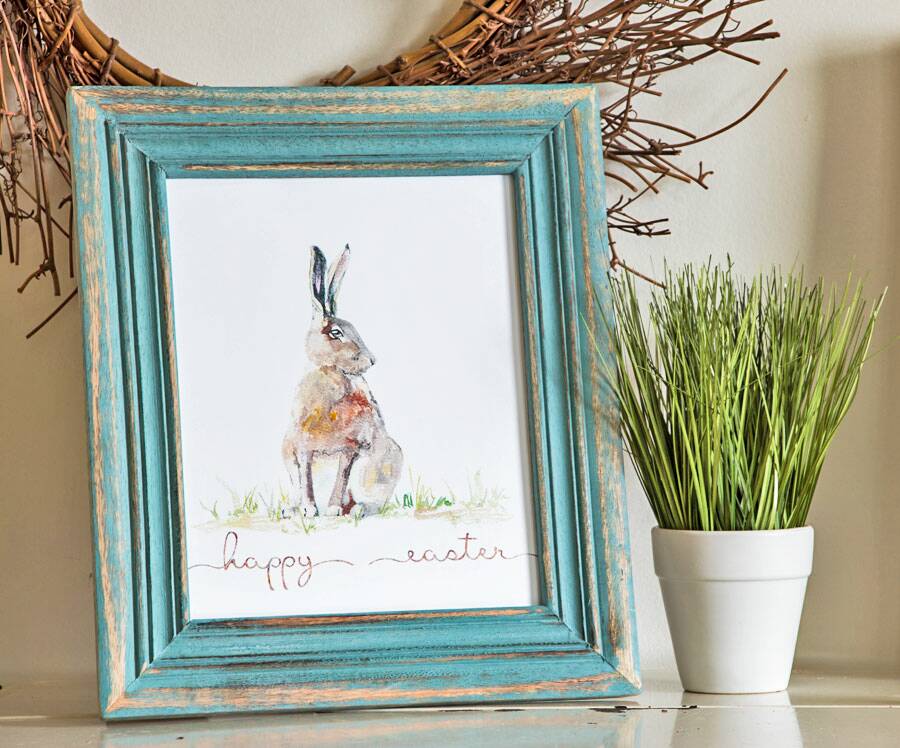 I thought this printable would be a fun addition to Easter. I'm not one who does a whole lot of decorating for Easter, but I do put a couple of things out here and there. Here is an 8×10 displayed on a metal cart I picked up at a vintage market. The simple grass plant pulls out the greens in the painting.
We have a laser printer, and they just don't print out colors as rich as inkjet printers, so I had mine printed out at our local print shop. They use cardstock and charge me fifty-something cents. I always have them print printables for me because I can't beat the price. Also, you just can't beat the look a professional printer gives. On the other hand, if I had an inkjet printer I would probably do more from home.
This little fella is the first of more free printables to come so keep checking back. I'm going to be building up a library of printables for you all.
pin it for later >>>
to download click the button below >>
Just a reminder that this printable is free but is for personal use only. It may not be sold.