I'm sharing a free summer printable watercolor. It's the perfect way to add a fun touch to your summer decor. Print it, pop it in a frame and enjoy!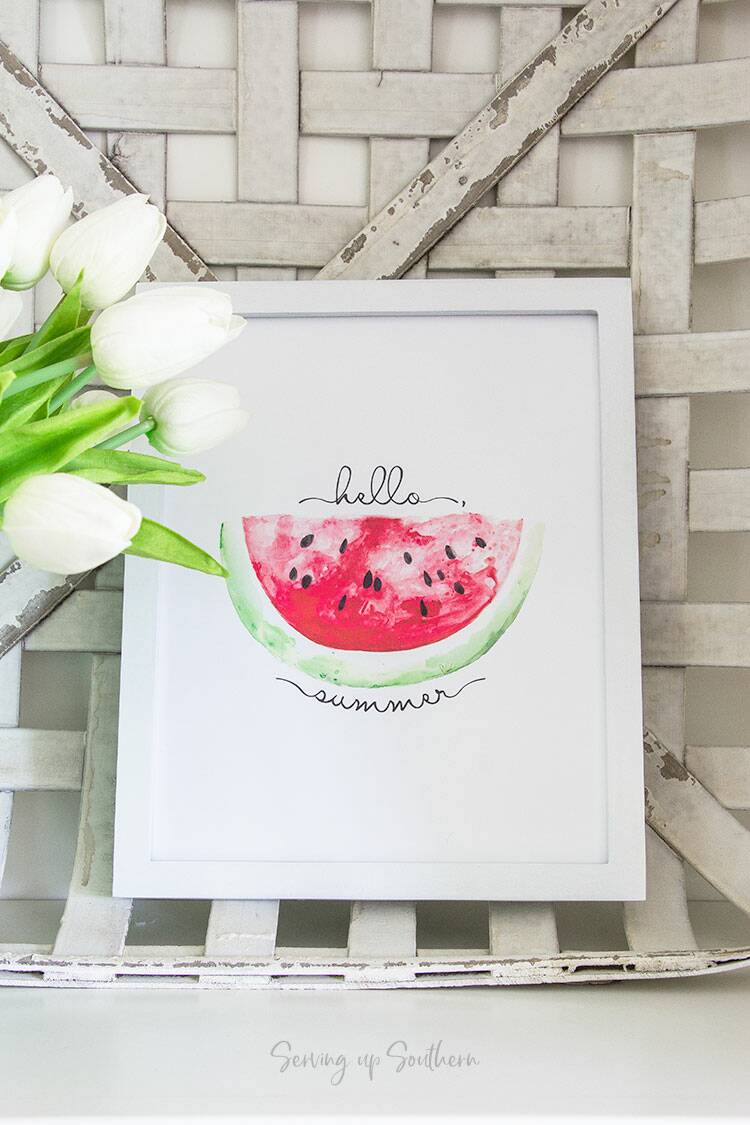 Hey there! I'm so excited to be sharing this printable watercolor with you today. Can you believe summer officially starts in three days?
This month has been such a busy one for us. Love is in the air! We've had three weddings, three weekends in a row. The first one was 2 hours away. The one this past weekend was local, and the next one this weekend is out of town. The one this past weekend was a beautiful outdoor evening wedding at a beautiful barn. It was a perfect evening with a touching ceremony followed by a reception in the barn. Seriously, just lovely!
Hello, Summer Watermelon Printable Watercolor
This printable watercolor looks cute in all kinds of places. It would be cute in the kitchen, living room, entryway, or even out on the porch. For now, I have mine in the living room, but I may decide to move it to one of the shelves in my kitchen.
How do I style my hand-painted watercolor art?
I'm showing you how I style them a little differently on my bookshelves. It's nothing fancy – just simple changes using things you already have.
Here I have it propped in the tobacco basket on my bookshelf with a jar of my favorite faux tulips sitting next to it. I love how the color in the watermelon stands out against the white, and the greenery in the tulips bring out the green in the rind.
Here I brought out my little blue caddy and grabbed the vase of sea oats that was sitting on the mantel. As you can see I simply propped the picture up on the caddy and placed the vase beside it. I also switched out the frames so you can see it in a dark frame.
I think the brown tones in the oats look nice next to the wood grain in the frame.
You can see how even in the dark frame the color in the watermelon still stands out nicely.
Here, I took away the sea oats and added some wooden beads. They look great with the wood tones in the wooden frame.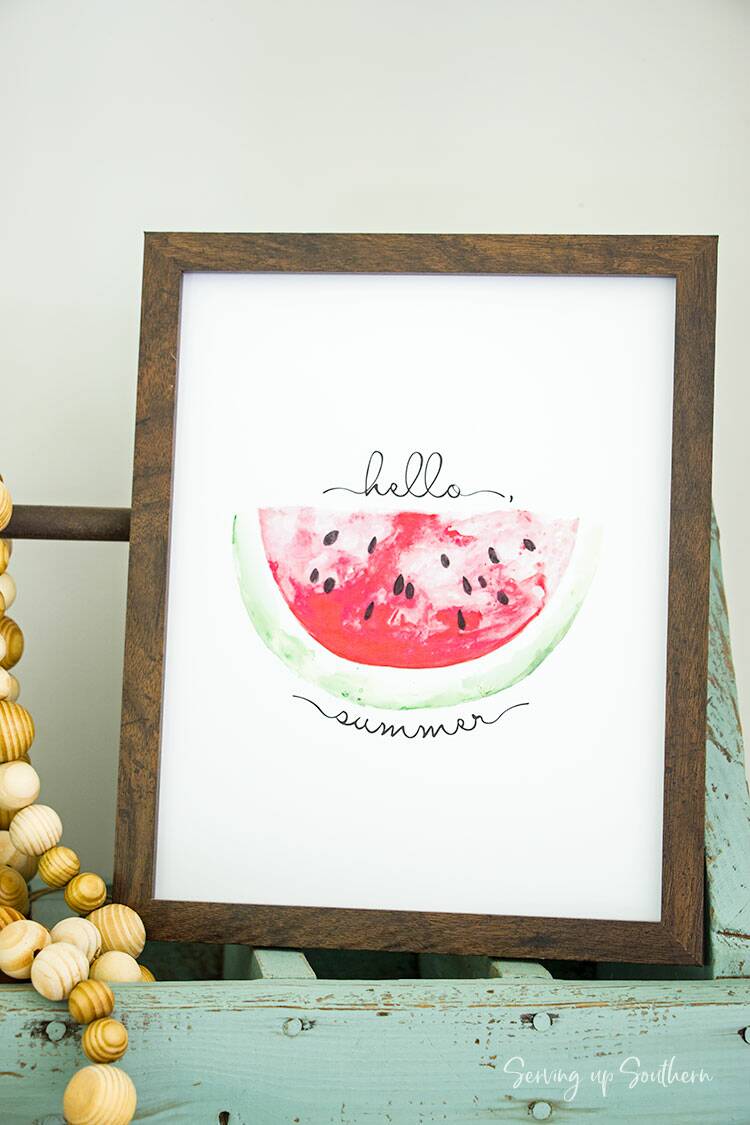 I had this hand-painted by a sweet friend who does beautiful work. She also hand-painted this adorable bunny printable. Like the bunny, she did this in watercolor, and I love the way it turned out. I hope you love it too!
Get your Free Hello, Summer Printable Watercolor and access the Free Printables Library here:
GET YOUR WATERMELON PRINTABLE HERE
I would love to hear your ideas for places to use this cute printable watercolor art. Talk to me in the comments! :)
pin it for later >>>