Welcome to Homestyle Gathering! You're weekly homekeeping destination!
Have you ever had a time when you were frustrated beyond belief? I sure have! And it has had everything to do with the internet situation here at our place. I'm telling you my patience, sanity, and religion has been pushed to the limit over the last several weeks. Although my poor internet guy could drive here blindfolded now, he has been amazing at trying to figure out the problem. Of course, some of that "figuring out" required us to add additional equipment at a not-so-cheap expense. We live way (like really way) back in the woods and out in the boondocks. We have no cable or DSL available out here. Our only option is satellite internet, and it has never been great, but recently it got worse – worse than you could imagine. Like nightmare worse for a blogger! The lack of service has interfered drastically with my blogging. In trying to keep HG posting on time, I had to use every bit of internet time I had working on the party to make sure it was ready to go each week. I'm happy (no, actually ECSTATIC to tell you that I have had no interruptions since our internet guy was out yesterday. Yep, he even came out on Memorial Day to work on this for us. He's the best! I wanted to explain why I haven't had any new posts up recently. Now you know! So Lord willing and if the creek don't rise, things will be running more smoothly in my blogging neck of the woods.
With all that said and behind me, let's talk about Homestyle Gathering! You will notice a few changes. I have been working on these changes for a while now and decided to wait until today to reveal the new "shiny" version of HG. I have more new things in mind, so be on the lookout in the future.
Lets get this HG Link Party started!
Sit back in your comfy chair with your favorite drink and enjoy your time here!
Here's what I've been up to:
Enjoy these features from last week's party!
A Pretty Spring-to-Summer Tablescape || Follow The Yellow Brick Home
Wrought Iron Chair Makeover || Dabbling & Decorating
French Terracotta Coasters || Interior Frugalista
Garden Lights DIY || The Apple Street Cottage
Peach Sorbet Recipe || Thistle Key Lane
If Homestyle Gathering has ever featured you, feel free to snag the new image below to place in your sidebar or use on your social media.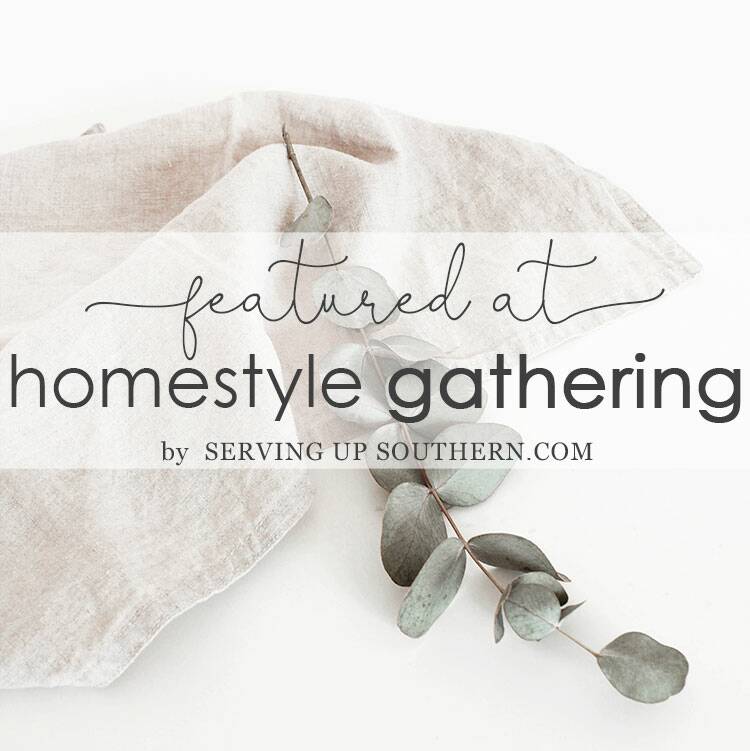 I want to thank all of you who have linked up to HG in the past and invite any bloggers who are here for the first time to join us and link up!
I love reading your comments so please don't be shy!
Enjoy the party!
Since this is a party we encourage all who link up to visit several other links and spread some love – comments and pins are always welcome.
Thank you for joining us this week! Before getting started, please review our rules:
This party is for home decor, and related homekeeping posts only. Link up to 3 related posts. Please do not link up informational posts that do not relate to the topic.
Please do NOT link up shops, advertising, round-ups, other link parties, or any posts promoting sales.
DO NOT PIN FROM IMAGES ON THIS PAGE – pin from the source of the photo
By linking to the party, you give us permission to share your projects on our blogs and social media with proper credit always given.
You are invited to the Inlinkz link party!