Looking for a good homemade blueberry muffin? Let me share with you the only recipe you'll ever need.
Do you love a good muffin? I'm excited about sharing this blueberry muffin recipe with you! These quick and easy blueberry muffins have been my go-to muffins for years.
If you are looking for the best blueberry muffin recipe around, you have found them. They are the perfect muffin to go along with a big breakfast, they can stand alone as breakfast, or you can even eat them as a snack. No matter how you choose to eat these muffins or what you decide to eat them with, you will love them. They are moist, fluffy, and loaded with plump blueberries.
Blueberry Muffin Recipe
I discovered this recipe in a cookbook years ago. I could tell you I slaved over batches and batches while coming up with this recipe, but the truth is I didn't. This recipe had already been made to perfection before I found it. These are the muffins my kids grew up eating. This blueberry muffin recipe has been handed down, passed around, and enjoyed by many over the years.
How I make these quick and easy blueberry muffins
Add all of the dry ingredients to a sieve that has been set into a bowl.
Using a wooden spoon, stir until all the ingredients have worked through the sieve. I always have little clumps of sugar left behind in the sieve. Once the ingredients have sifted through you are left with a nice mixture of fluff.
If using frozen berries you will want to dust your blueberries in flour. I used fresh berries, but I dusted them because I wanted you to see how this would look if you were to use frozen berries. I put the blueberries in a sieve and sprinkle about two teaspoons of flour over them and roll the berries around (over the sink or a trash can) until they are coated. This process keeps frozen berries from sinking to the bottom of the muffin when baking.
Add wet ingredients to the dry ingredients and mix with a hand whisk.
Gently fold in the blueberries using a rubber spatula scraping against the edge of the bowl working in a circular motion towards the center until the berries have incorporated throughout the batter. Be careful not to burst the berries!
Fill muffin tins about half full. Your batter will be really thick.
Sprinkle batter with a little bit of sugar and proceed with baking. (I didn't take pics of this step.)
Quick note: When I measure my wet ingredients, I measure the 1/2 of milk and then add the 1/4 cup of oil bringing the volume to the 3/4 mark. Then I add the egg and stir until blended.
Muffins + Temperatures
Muffins are baked at higher temperatures to activate the leavening agents. In the case of this recipe that agent is baking powder. Because baking at higher temperatures can also result in muffins that are too brown, we have to find that perfect temperature in our ovens. The most common temps for baking muffins is 375°F – 400°F. I have found that 400°F for 20 minutes is the perfect temp and baking time for my oven. Since oven temperatures differ, you may need to experiment with this a little. If you do notice your muffins getting too brown you can lay a piece of foil over them.
Here's my pan of muffins fresh out of the oven. I made a double batch because I wanted to put some in the freezer. These muffins have that perfect golden color every time I make them. They are a little crusty on the outside with a deliciously moist and soft pale yellow center. I had to use my old very used muffin tin this time because I couldn't find my favorite USA Pan. I LOVE these pans and will be replacing this one if I can't find it.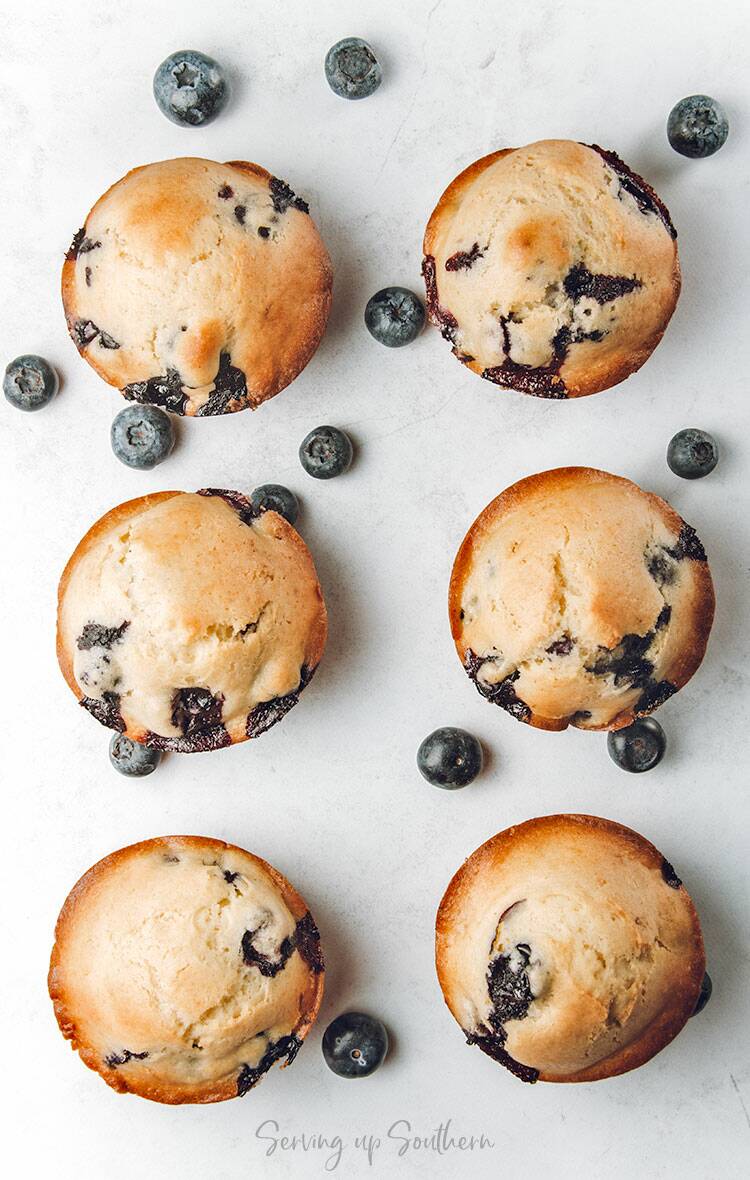 Does this Blueberry Muffin Recipe freeze well?
They sure do! In fact these quick and easy blueberry muffins freeze great! Here's how:
Bake the recipe as directed
Allow them to completely cool
If you will be using them in a relatively short time, you can put the cooled muffins in a freezer bag. If I'm making them to just have in the freezer for a quick grab and go breakfast or snack, I wrap each one individually in plastic wrap and then put them in a freezer bag. This gives them a little more protection for a longer stay in the freezer.
Frozen muffins should last about six months in the freezer. Blueberry muffins are a great thing to have on hand in the freezer for unexpected overnight guests too. They can quickly be pulled out the night before to thaw and reheated in the morning.
These are full-size muffins, but this blueberry muffin recipe also works great when baked using the mini muffin tins. The little mini muffins are great for brunches where people have so much to choose from and want a little taste of everything. They are also perfect for tea parties.
When my kids were little they loved eating their muffins with a cold glass of milk. But they are delicious with a hot cup of tea or coffee too.

Here are some other blueberry and muffins recipes:
Blueberry Muffin Recipe
Ingredients
1-1/2

cups

flour

3/4

cup

sugar

2

teaspoons

baking powder

1/2

teaspoon

salt

1

egg

1/2

cup

milk

1/4

cup

vegetable oil

(do not use butter)

1

cup

fresh blueberries

(frozen can be used)
Instructions
Preheat oven to 400°F and grease muffin pans

Add wet ingredients and whisk until blended

Fold in blueberries using a rubber spatula being careful not not burst berries

Fill each muffin cup half full

Bake at 400°F for 20 -25 minutes


Notes
It's normal for the batter to be thick.
Oven temperatures and times may vary depending on the oven. If you find that your muffins brown too quickly before they're done, you can lower your temp to 375°F.
 © SERVING UP SOUTHERN – All images are copyright protected.
Disclaimer: Nutritional values (per serving) are approximates only and will vary based on cooking methods and brands of ingredients used.
© SERVING UP SOUTHERN. Content and photographs are copyright protected. Sharing of this recipe is both encouraged and appreciated. Copying and/or pasting full recipes to any blog post or social media is strictly prohibited.