Welcome, to At Home -Simple Southern Sundays! Thanks for joining me on this damp overcast Sunday. In addition to sharing coastal farmhouse decor and simple living here at Serving Up Southern, it is my hope and prayer to create a place you all come to for inspirations and encouragement.
Let us not become weary in doing good, for at the proper time we will reap a harvest if we do not give up. Galations 6:9 ~NIV
Just the thought of all I have to do in the next couple of weeks makes me feel exhausted and WEARY. Weary in doing good – just like the verse says.  We are in charge of our upcoming church campout and honestly, I've been feeling weary and overwhelmed about the whole thing with all the busyness that abounds. Then, I read this verse, and I'm encouraged to persevere and press on to the finish line. In the end, it will all be good!
I'm going to share some pictures from our recent vacation. These pictures are of quiet and peaceful moments I was able to capture with my phone camera. The pictures do not do justice to the actual view we saw in person, but it's certainly better than nothing, and I surely wanted to capture it.
This was taken from the second-floor deck. We sat out every evening we were there (at the cottage) and watched the sunset across the sound. This view…
…quickly turned into this view. It was AMAZING to see the colorful rays beaming from the golden yellow and orange hues!
This was a storm out on the horizon. It never reached us, but the view was beautiful.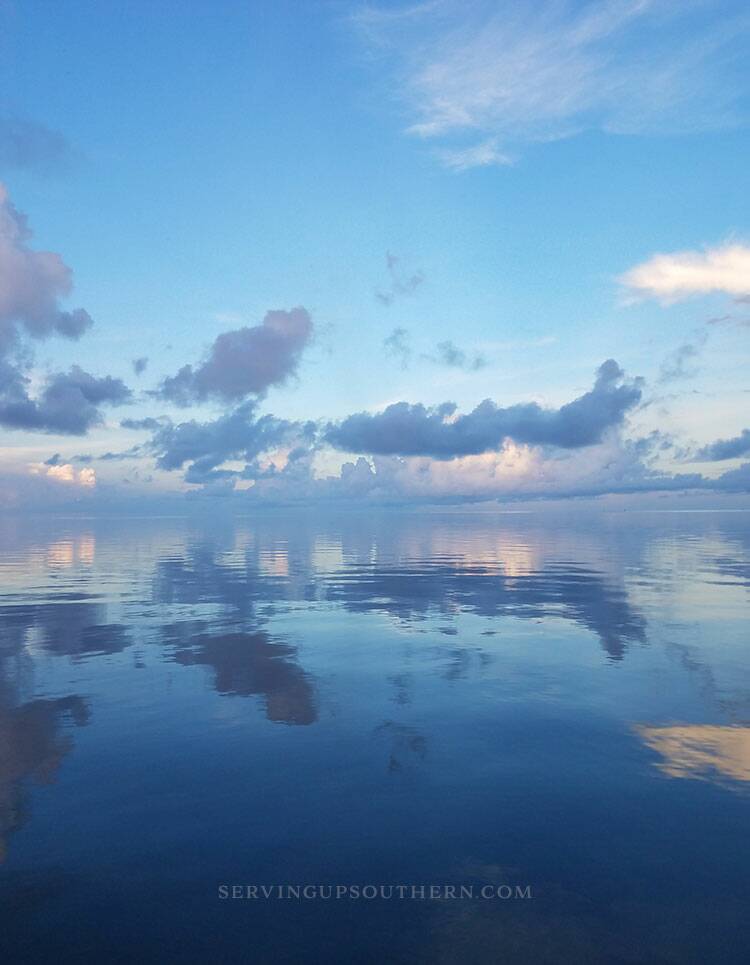 This was an early morning when the sound was like glass – still and calm.
The clouds were mirrored in the water creating spectacular reflections.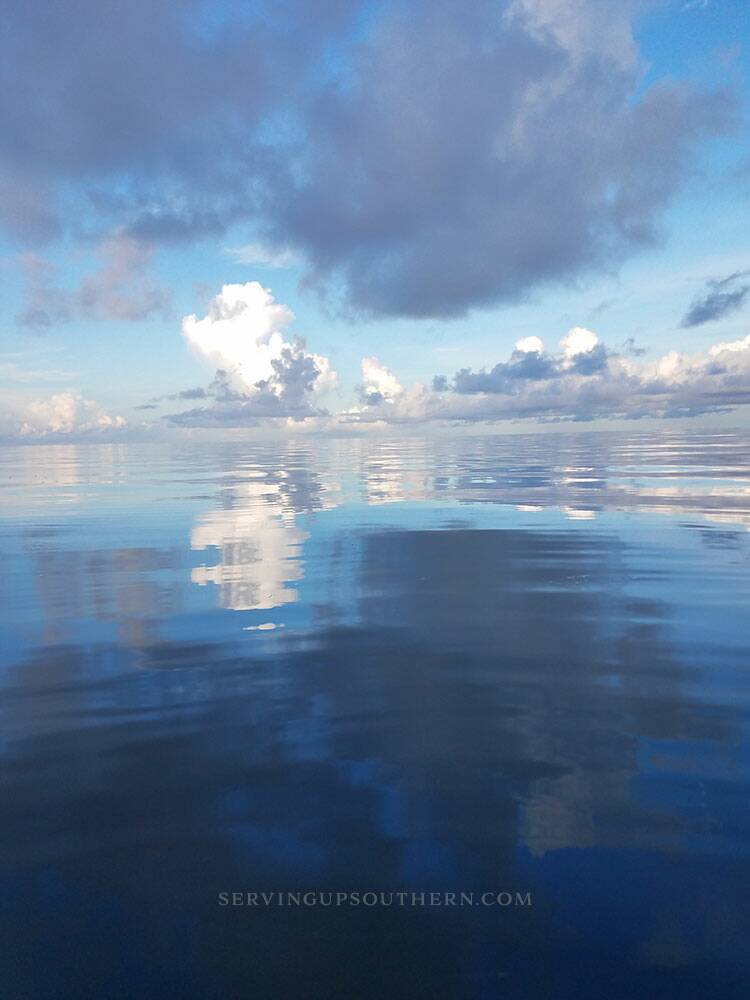 It was simply breathtaking.
Do you have moments of feeling weary and overwhelmed? I'm sure you do at one time or another – it's life. I hope Galatians 6:9 encourages you to persevere through whatever it is you're going through and that in the end, you will finish strong.
I hope you've enjoyed the first At Home – Simple Southern Sundays edition. Be sure to come back and see what next Sunday brings.
If you have any thoughts or want to share some inspiration and encouragement, please do so in the comments below. I would love to hear what inspires you.
NOTE – As I'm sure you've gathered, I will be out of town most of this week and into next week, and then the following weekend is the weekend of the church campout. It's unlikely I will be able to post on those weekends.