This simple recipe for homemade chocolate syrup only uses four ingredients, takes less than 10 minutes to make, and tastes fantastic. There's no reason ever to buy a bottle again!
Jump to Recipe
Inside: Whip up this batch of homemade chocolate syrup faster than you can run to the store.
My little granddaughters wanted chocolate milk the other day. Standing in front of the open fridge, glancing around, Megan quickly concluded she didn't have chocolate syrup.
Not wanting to disappoint her littles, she thumbed through a trusty cookbook, and within ten minutes both girls had a chocolate mustache and smiles on their faces.
Feeling satisfied, Megan smiled knowing she'll never buy chocolate syrup from the store again. Homemade chocolate syrup saved the day (at least for two sweet little girls) with only four ingredients.
Why is homemade chocolate syrup better?
Not only is making homemade chocolate syrup easy, but it only has five ingredients (counting the water). If you look at the label on the brand name store-bought chocolate syrup you'll find eleven ingredients.
Eleven!
Did you know that ingredients are listed on a label in order of quantity within that product? And guess what? High fructose corn syrup (HFCS) is the first thing listed. That means the chocolate syrup product has more HFCS than anything else listed on that label.
The first three ingredients make up the bulk of the product, and cocoa doesn't make the cut. On most major brands of chocolate syrup, you'll find HFCS, corn syrup, and water listed as the first three ingredients. Yep, cocoa isn't listed until the fourth, fifth, or sixth ingredient – depending on the brand.
So not only is this homemade chocolate syrup easy to make with pantry staples you probably already have on hand – but it's also much healthier than the already made product. And you can make it faster than it would take to find your keys.
What's in this chocolate syrup?
Cocoa
Sugar
Water
Salt
Vanilla
That's it! Good ole traditional pantry staples you probably already have. You might be surprised to see vanilla in chocolate syrup, but the fact is – vanilla enhances the flavor of chocolate.
When we had our homemade ice cream business, we always added a little vanilla to our chocolate mix. But it should never be enough to taste.
How do I make homemade chocolate syrup?
You will bring all the ingredients except the vanilla to a boil and boil for four minutes while stirring. Remove from heat and add the vanilla. You're all done.
How can I use chocolate syrup?
Chocolate milk
Add to hot milk for a quick + easy hot chocolate
Mocha coffee
Frozen frappe drinks
On ice cream (Can you say banana splits?)
Drizzled on strawberries
Spooned some over granola
Milkshakes
Smoothies
Chocolate chip pancakes
Spread on a slice of pound or angel food cake
Chocolate gravy and biscuits
I'm sure there's more, but there's a few ideas to get you started.
Add as much or as little chocolate as you want and stir till your hearts content.
I put this in a squirt bottle for the ease of adding it to milk or drizzling it over um…anything! The container won't hold it all, so I keep the rest in a mason jar in the back of the fridge. When the bottle is empty, I simply refill it.
Don't only consider this homemade chocolate syrup as a replacement for the commercial brands. Don't just make it as a last resort. The five ingredients in this recipe come together to create a delicious chocolate syrup that beats the socks off of any you'd find at the store and only costs pennies to make.
How long will chocolate syrup last?
Homemade chocolate syrup has a shorter shelf life than commercial brands. It needs to be refrigerated within two hours of making it in a tightly sealed container.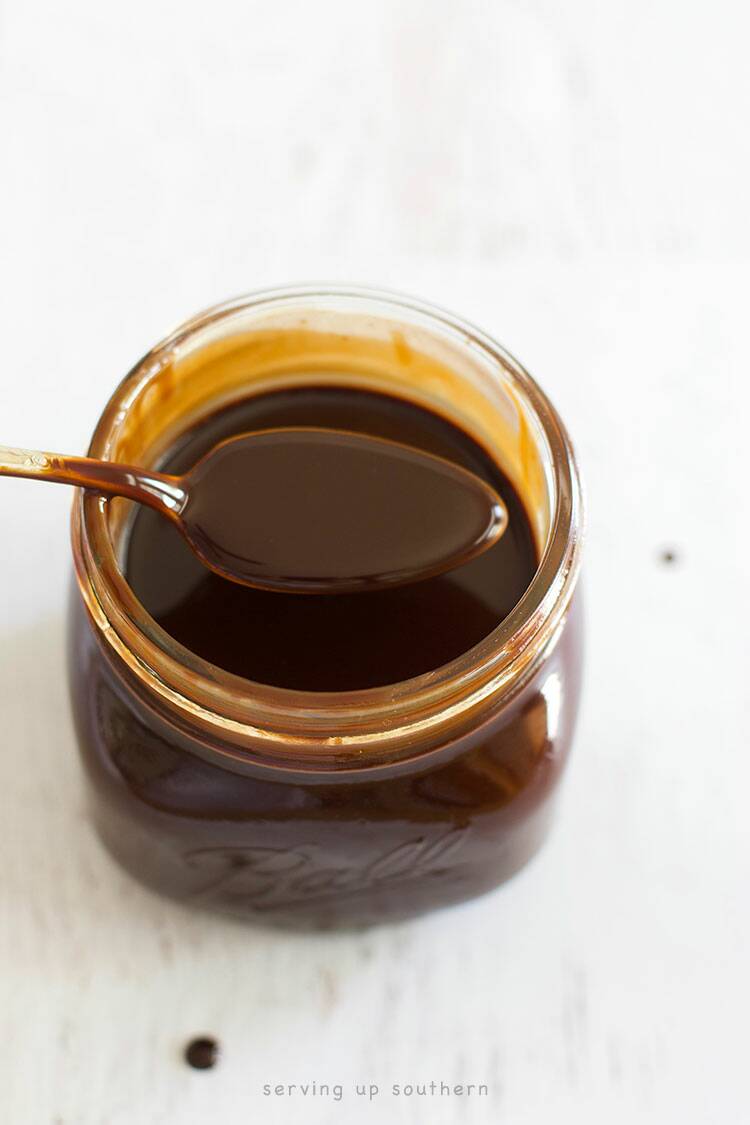 This recipe is not a thick fudge sauce. It's a homemade chocolate syrup with a thinner consistency like the famous dark brown bottles or cans you buy at the stores.
Can I freeze homemade chocolate syrup?
You can. But chocolate syrup will crystalize and undergo texture changes from being frozen. This can be corrected by heating the syrup and thinning with a bit of water.
Megan made my day when she called to tell me she was coming by to drop off a jar of this homemade chocolate syrup for this post. And later that day I may have had a chocolate mustache too. ;)
Here are some other recipes made from panty staples:
Sweetened Condensed Milk
5-Cup Salad
Pumpkin Pie Spice
Coastal Cocktail Sauce
Homemade Barbecue Sauce
Marinated Salad
I love these squirt bottles for sauces and syrups. They make it convenient to drizzle the chocolate onto various desserts. They also make it easy for children to use without making to big of a mess.
Homemade Chocolate Syrup
This simple recipe for homemade chocolate syrup only uses four ingredients, takes less than 10 minutes to make, and tastes fantastic. There's no reason ever to buy a bottle again!
Ingredients
1

cup

cocoa

2-2 1/2

cups

sugar

1 1/2

cups

water

hot

1/4

tsp

salt

1

tsp

vanilla
Instructions
Bring the first 4 ingredients to a boil in a large saucepan; boil approximately 4 minutes. Remove from heat and add vanilla.
Nutrition
Calories:
44
kcal
|
Carbohydrates:
11
g
|
Protein:
1
g
|
Fat:
1
g
|
Saturated Fat:
1
g
|
Polyunsaturated Fat:
1
g
|
Monounsaturated Fat:
1
g
|
Sodium:
13
mg
|
Potassium:
28
mg
|
Fiber:
1
g
|
Sugar:
10
g
|
Calcium:
3
mg
|
Iron:
1
mg
Disclaimer: Nutritional values (per serving) are approximates only and will vary based on cooking methods and brands of ingredients used.
© SERVING UP SOUTHERN. Content and photographs are copyright protected. Sharing of this recipe is both encouraged and appreciated. Copying and/or pasting full recipes to any blog post or social media is strictly prohibited.