I decided to make this Paper Doily Heart Garland for Valentine's. It was super easy  and quick to make. I grabbed these little pink and white checked heart-shaped doilies and some white baker's twine I had on hand.
I took the baker's twine and just strung the doilies on the twine. If you wrap the end of the twine with a piece of scotch tape it makes it easier to string.
These little hearts are 4 inches tall, but I'm sure any size heart would work. I found these heart-shaped doilies here. I made my garland shorter because I wanted to hang it on the little farm table set that I bought for our little granddaughters to enjoy when they are here.
The little pink and white gingham hearts are perfect for a little girl's table.
I brought in the cube cushion they like to play with and set it at one end of the table. I added the little heart pillow that I picked up from Target's dollar section on my last trip there. Score! It pulled everything together to create the cutest little space for them. Let me just be real here for a minute – only two of three granddaughter's are big enough to use the table. Since one of them is two and the other one will be two next month the chances of this garland lasting is slim. But for now, every time I walk by it I just have to smile at how sweet it looks. I know one day those sweet girls will grow up and learn to appreciate the extra touches, but for now, they can just stay little and do what little people do, even if it means messing up my pretty paper doily heart garland. :)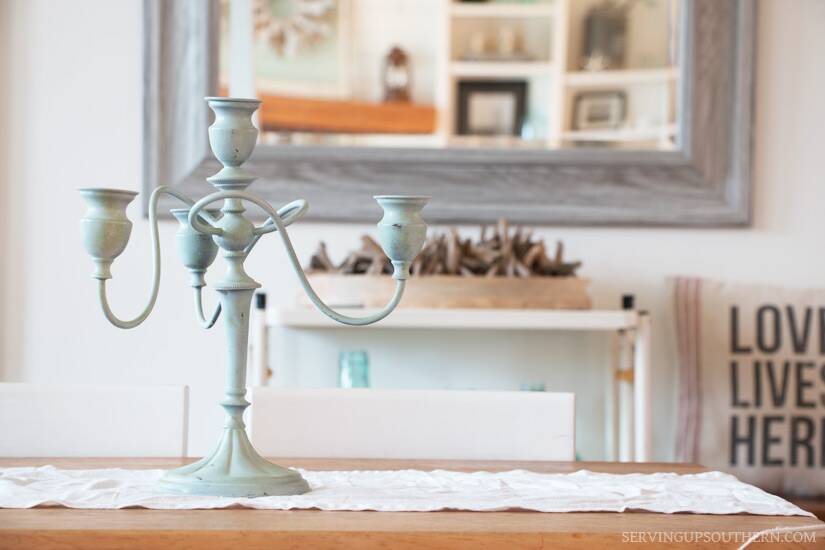 I wanted to show y'all this adorable little candelabra I picked up at a vintage fair. I was so happy to find this. I love the whimsical look it has. It turned out to be the perfect size to take center stage on their little table. I'm going to order some battery operated candles to put in it.
Here's one more peek at those cute little hearts. I hope you enjoyed this.
Have a Happy Valentine's Day!
pin it for later >>


You might also like >>

Valentine's Marshmallow Pops

Black Forest Truffles