Southern-style green beans are best when cooked slowly over low heat. Let me show you how it's done!
What are southern style green beans?
Southern style green beans are made using a bean that has three names. Regardless of what you prefer to call them green beans, snap beans, or string beans, they are all one-in-the-same. Growing up, we always called them string beans or snap beans.
The beans are categorized into two different groups, bush or pole beans. Bush beans can grow on their own without support, and pole beans need additional support.
The beans should be picked when they are 4 -5 inches long and before they begin to bulge from developing seeds. Also, when broken, they should snap, indicating the freshness of the beans.
How to make southern style green beans and potatoes?
Fresh green beans
Fatback (salt pork), or streak o'lean – NOT bacon
New (red) potatoes
You will need:
In my southern neck of the woods, green beans were always seasoned with fatback also known as salt pork, or streak-o-lean, and we always had some new potatoes thrown in the pot and most of the time with cornmeal dumplings. I'll be talking more about those dumplings later.
I see "southern style green beans" prepared with bacon, and ham all the time. I've even had them served that, and while they're okay, it's not my preferred way of eating them. We never had bacon in our green beans when prepared the traditional old-fashioned way.
How to make southern style green beans and potatoes?
You'll start by snapping the ends of the beans. Here's a little secret- you only need to snap the end of the bean that is attached to the plant. The other end is very tender and doesn't need to be snapped off.
I've seen people trim the ends off with a knife. While that might be a smidgeon faster and the more modern-day way, I still prefer the old-fashioned way of ridding the ends. There's nothing like sitting under a big shade tree or out on a shaded porch while snapping a big ole mess of beans.
Many will snap the beans in half; I don't. I love leaving the beans long just the way I grew up eating them. If you'd rather have yours short, by all means, snap those suckers right across the middle.
After you snap the beans, take the fatback and score across it, cutting through the fat but not through the skin. Add your beans to a big pot and cover with enough water to cover beans by two inches.
Add the fatback and bring the beans to a boil. When the beans start boiling, turn them down to a slow simmer and let them cook for about an hour.
The image above shows a rather thin slab of fatback. It is often thicker, but this is what our local meat market carries. Even though it's thinner, it's sufficient for the job. You can get sliced "salt pork" from Walmart, but I prefer the slab because it's easier to remove from the beans once they are fully cooked. You can see in the image above how I scored the fat.
What is fatback?
Much like it sounds fatback is the fat from the back of a pig that is usually dry-cured in salt. It is a "hard fat" that can be chopped or ground. It is commonly added to sausage for additional flavor.
It is said that since the colonial times – fatback has been a staple ingredient in Virginia and North Carolina cooking. Over the years, I've heard it referred to as salt pork, fat pork, and salt meat.
Fatback is often served as the main entrée for simple southern meals and is well known as a seasoning for green beans, new potatoes, black-eyed peas, collards, and many other southern dishes.
A little history on how fatback was stored back in the day
My great-grandma lived on her farm in North Carolina. On the farm, fatback was stored in a pickle barrel that was kept in the smokehouse. This pickle barrel – not to be confused with cucumber pickles – was a barrel filled with salt, meat and meat fats. The salt-cured and preserved the meat until it was ready to be used.
While the beans are cooking, wash the potatoes and peel a strip of skin from around the center of each one.
It is often said that we southerners cook our beans to a slow death. And, we kind of do. Especially, compared to today's more fashionable beans that are cooked to a minimal to maintain a nice crunch and the bright green color.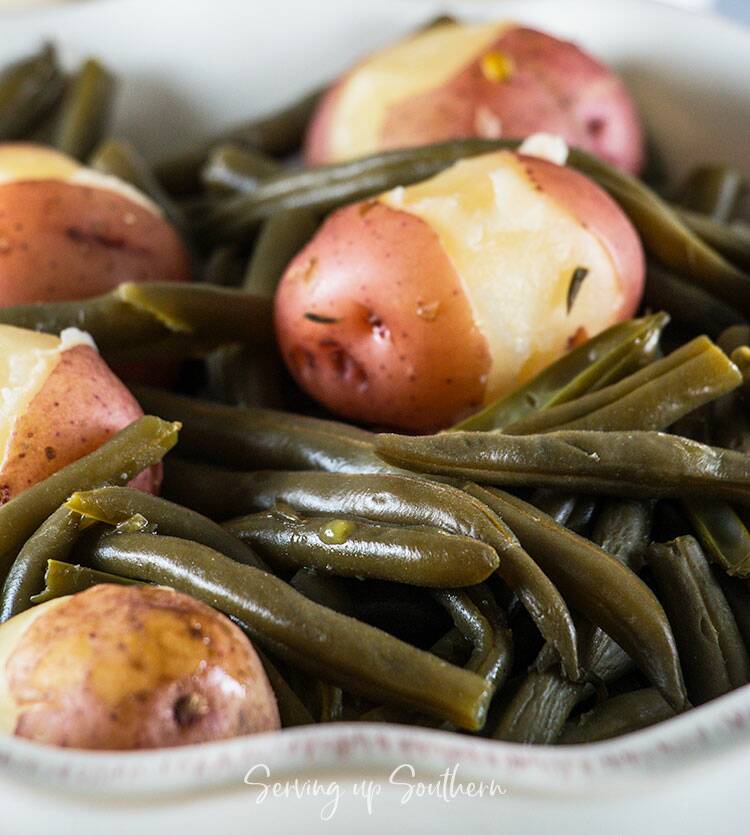 It's true – the color of southern style green beans is not as appealing as those barely cooked, but the taste is out of this world.
And while many would consider those other green beans to be undercooked, others prefer them. I get that because I like them prepared that way too. But if you are looking for a traditional southern green bean recipe without all the extras, this is it!
No bacon. No ham. No onion. I'm talking about a traditional southern recipe that goes back many, many years and has stood the test of time. It just doesn't get much better!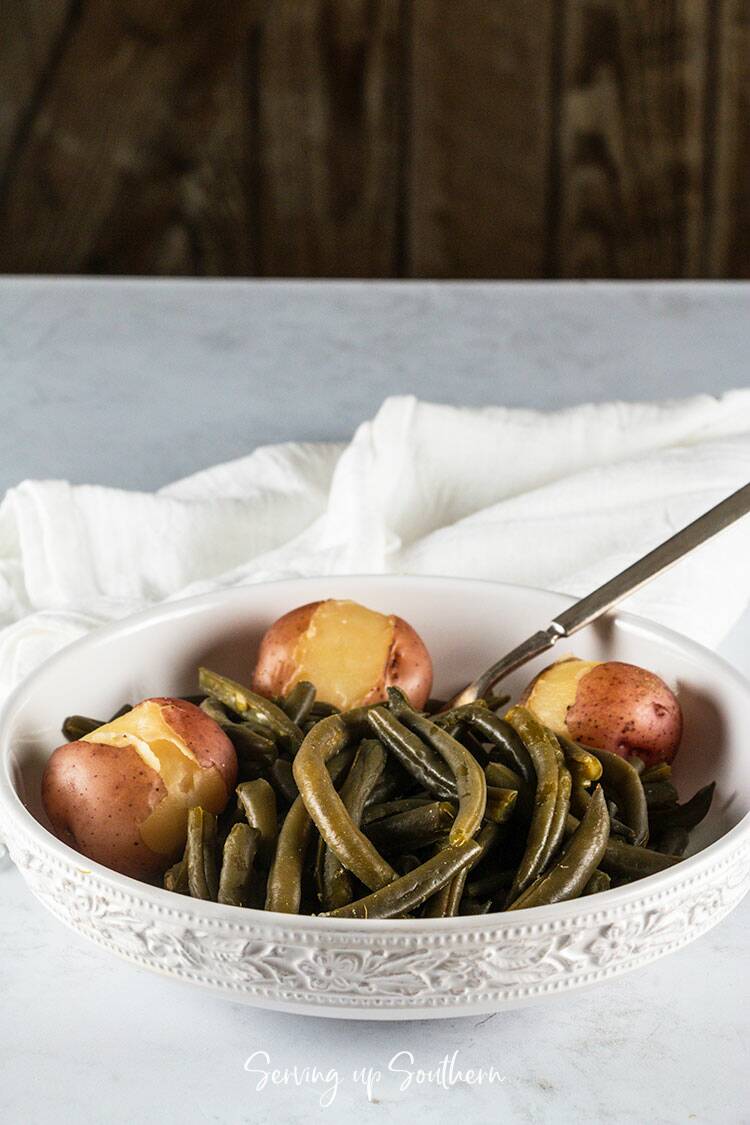 The only thing that can make this better would be those cornmeal dumplings I mentioned above.
Are you looking for other side dish recipes to try? Check out this one and this one. And this is one of my favorites to eat with these delicious southern style green beans.
What about you? How do you like your green beans? I would love for you to tell me in the comments!
Southern Style Green Beans + New Potatoes
These southern style green beans are cooked slowly over low heat and seasoned with a traditional ingredient resulting in deliciously flavored beans.
Ingredients
2

pounds

fresh green beans

1

8-10 ounce

slad of fatback (salt pork) or streak-o-lean seasoning meat

1

tsp

salt

Black pepper to taste

1

dozen

tiny new potatoes
Instructions
Snap of the ends of beans. Snap into 1 to 2 inch pieces (if desired)

Wash beans in a colander and transfer to a large pot.

Rinse fatback or streak-o-lean and add to pot with salt, pepper, and enough water to cover by 2 inches.

Bring to a boil, reduce heat, cover and simmer beans for about an hour.

Wash the potatos and peel a strip of skin from around the center of each potato.

After the beans have cooked for an hour, add the potatoes and stir. Check the water – you may need to add more at this point.

Cover and cook for about 30 more minutes or until potatoes are tender.

After 30 minutes test potatoes and adjust seaonings.

To serve pour beans, potatoes, and juice into a large serving bowl.
Notes
© SERVING UP SOUTHERN – All images are copyright protected.
Disclaimer: Nutritional values (per serving) are approximates only and will vary based on cooking methods and brands of ingredients used.
© SERVING UP SOUTHERN. Content and photographs are copyright protected. Sharing of this recipe is both encouraged and appreciated. Copying and/or pasting full recipes to any blog post or social media is strictly prohibited.