How To Organize A Drawer Freezer | See in this post how I set started my new year by organizing the frozen food in a deep drawer freezer.
Happy New Year! I hope you all had a wonderful Christmas and celebrations as you brought in the new year. Can you believe it's a new year…again…already? Time's a'flyin that's for sure.
The beginning of a new year always puts me in the mood to organize, purge, and get everything in tiptop shape? Is it that way for you? I didn't waste any time getting started with my first organization project of the year.
Do you ever struggle with how to organize a drawer freezer?
When we were building our house, I was excited to pick out the new appliances. I knew right off that I wanted the french door refrigerator with the drawer freezer on the bottom. Before that, we had a side by side refrigerator/freezer that I quickly learned to dislike.
Once we got our drawer freezer I became slightly disappointed with the lack of organization. The lower drawer had two deep bins on each side where things just got thrown into. The picture above shows exactly what I'm talking about. I had to dig through all of that to find what I was looking for. I ended up buying an excess of several items because I didn't have a clue what was lurking in the very bottom of that mess.
In this photo, you can see that the top drawer is no different. Again, just a big mess. Seriously, how do you find the gumption to prepare a meal when you have to rummage through all of that to pull something together. To say I was over it is an understatement. So, I set out on my quest to conquer that bottomless pit of frozen fare.
How To Organize A Draw Freezer?
1. Sort & Purge
I started pulling contents out of the freezer. I thought I would never get to the bottom. You can see the pile on the island and the countertop in the back. I wiped down the drawers and started sorting through the food. Unfortunately, there were some things that were expired and freezer burned down in that great abyss. I discarded what had expired and started putting back what was left.
I absolutely hate an ice and water dispenser in the door, so we got the in-freezer ice maker, and I love it. It does take up some space, but I'll take it. You can see in the picture above how I organized the top drawer. I have more fruit up there than I would ordinarily have, but since…you know…I had no clue what was in that freezer I just kept buying. Once we use that up making smoothies it will create more room in that top drawer. These long narrow bins are great for keeping this section organized. I may even add a third one once some of that fruit is all used up.
2. Add Storage Bins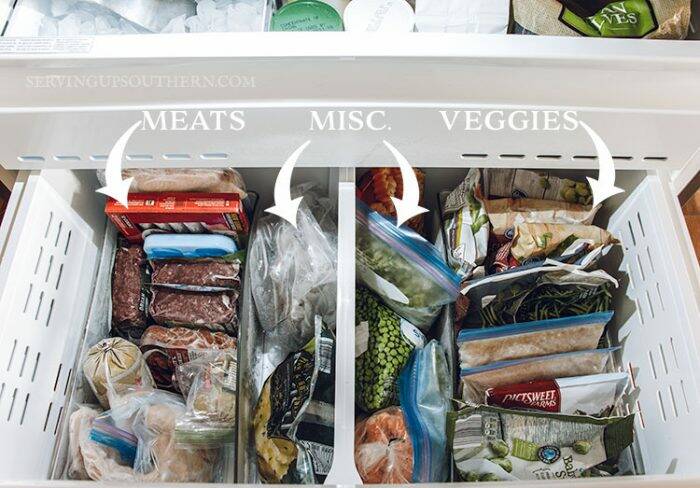 In the bottom freezer, I added one of these deep bins in each side. I used one side for meats and the other side for veggies. The bins created another compartment in the area between the bin and the center petition of the drawer.   The extra space on the veggie side is perfect for miscellaneous items like sweet potato fries, and other similar items. Now, it's filled with an overflow of veggies. On the meat side, the extra space is nice for items like a bag of ravioli noodles and, at the moment, soft-shelled crabs.
We have a chest freezer down in our cold room where access is stored. Now that I have this organized, I will just bring items up from that freezer as supplies get low in this one.
3. Organize & Maintain
It so nice to open the drawer and see everything in there, at first glance, without having to shuffle through a bunch of stuff.
It will be easy to maintain too. I can easily see when contents need to be brought up from the chest freezer or added to a grocery list for the next trip to town.
It is such a good feeling to have this done. I'll be honest, I peeked in that freezer drawer and smiled a time or two after it was done. :)
NOTE: There are many different sized bins to choose from. You will want to be sure and measure the width and depth of your freezer so that you can get the size that will work best for your drawer.
My picks for freezer organization:


Are you finding yourself in full organizing mode? Do you have any organization tips on how to organize a drawer freezer? I would love for you to share your ideas or suggestions in the comments.
pin it for later >>>