Do you need a little push to get motivated in your kitchen? Sometimes, I do! Let me show you how I go about having a clean kitchen in 15 minutes.
Do you struggle to keep a clean kitchen? Sometimes, the hardest part of getting a task done is getting past the dread of actually doing it. But, the truth is, if we have a plan in place, the task doesn't need to be one we dread diving into.
I made a printable checklist of the steps I take when I do my speed clean in the kitchen. This guide works great if you want to speed things up and get the work done in a hurry.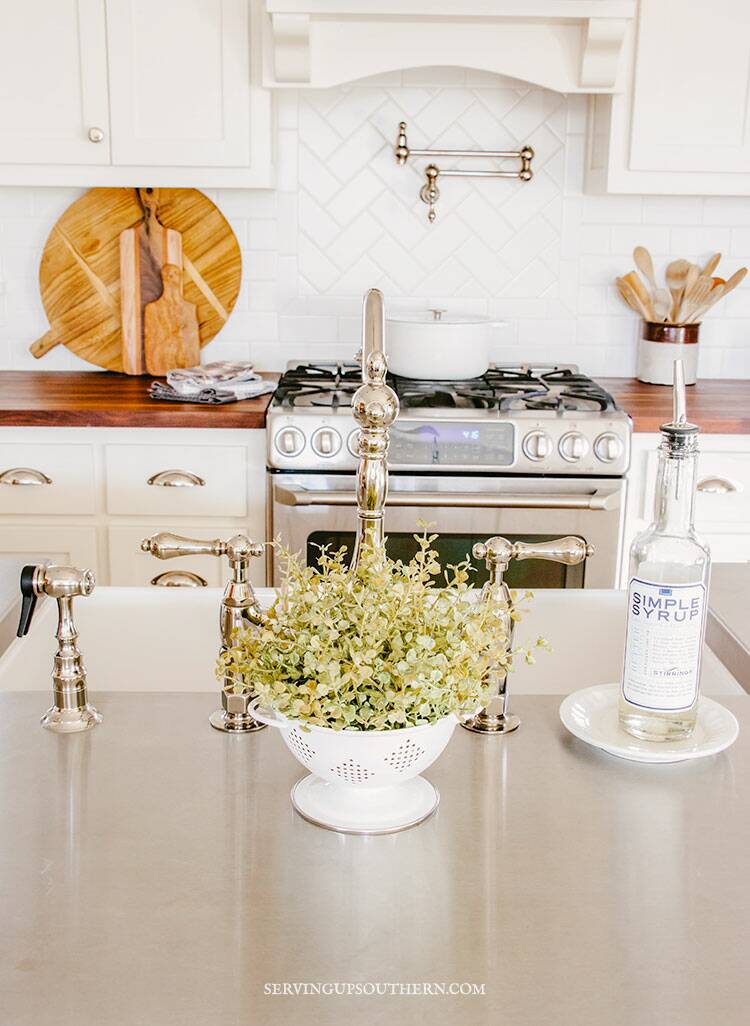 How to have a clean kitchen in 15 minutes
GATHER YOUR SUPPLIES | Gathering your supplies before you get started will help keep you from wasting time and getting distracted. It's handy to have your favorite cleaning supplies in a caddy under your kitchen sink. Go ahead and get out the broom or vacuum, so it will be close by when you're ready for it.
FILL SINK WITH HOT SOAPY WATER | Make the water as hot as you can stand it as it will cool off as you work. Put dirty dishes in the sink with heavily soiled dishes in the bottom, so they're fully submerged and able to soak.
THROW AWAY | Go around and collect any trash and throw in the trashcan.
DECLUTTER | Using a basket, gather all of the items that do NOT belong in the kitchen. Remove the basket from the kitchen. You will put these items away later. Next, put away all the things that belong in the kitchen but are out of place.
LOAD THE DISHWASHER | Put all dirty dishes from the countertops and sink in the dishwasher. If you've done your daily tasks, the dishwasher will already be unloaded.
SPRAY + WIPE | Spray and wipe down the countertops, stovetop, and tabletop.
CLEAN THE SINK | Scrub the sink so that it'll look spic & span for the next use.
QUICK SWEEP/VACUUM | Sweep or vacuum the floor concentrating on the high traffic area, under the counter ledges, and corners.
CLEAN TOWEL + DISHRAG | Putting out a fresh towel and dishrag will add significantly to the clean factor in your kitchen. Make this your last task for a fresh, clean look.
Why I like to set a timer
Setting a timer for 15 minutes will motivate you to clean quickly. If you eliminate all distractions during this speed clean, you will be surprised at what you get done in that short amount of time.
A speed clean is great for when you want to do a quick cleanup. Use this method before you head out the door or before company is due to arrive.
Keep in mind that this does not replace the need for a more thorough cleaning. This is simply a method to have a clean kitchen in a reasonably short amount of time, but it is also a great way to stay on top of your daily kitchen tasks.
Get your free 9 Easy Steps to a Clean Kitchen checklist here:
You might also like this article on speed cleaning a kitchen.
Homemaking tip…
When prepping food, clean as you go! Have a sink full of hot soapy water to put prep dishes, utensils, etc. in. Let them soak until ready to load into the dishwasher. Use the hot soapy water to wipe up any drips or spills right away. It's so much easier to wipe them now before they dry and stick to surfaces.

Here's another story from SUS:
12 Ways to Freshen Up Your Home for Fall
What about you? Do you have any favorite tips for cleaning your kitchen? I'd love for you to share them with me if you do.