I'm going to get to this creamy frosting recipe, but first I'm going to reminisce a little.  Mama Minnie was my great-grandmother on my mom's side of the family.  She lived on a large farm, on the Albemarle Sound, in North Carolina.  She became a self-sufficient widow, having lost her husband when my grandpa was only 9.  He was one of 12 children and the oldest boy.  One of my aunts and her husband stayed on at the farm after they were married to help care for Mama Minnie and take care of the farm.  Much of the income on the farm came from the watermelon fields, peach orchards, and the grape vines.  All of those fruits were sold commercially.
I use to make my way, through the breezeway, to the big 'ole kitchen at the back of that old farmhouse anticipating what sweet delights would be waiting on the sideboard.  There was always some kind of cake that took center stage to all the pies, cookies and other treats.
Back then I judged a cake by it's frosting.  Since chocolate was my favorite, I was always more than thrilled to find one back there just the way I loved it.  While this may not be the exact chocolate frosting recipe from back then, this one is center stage worthy.
There are so many variations of homemade chocolate frosting out there.  Many are good, but none I've tried ever had the "wow" factor until I came across this one.
What sets this super easy frosting recipe apart?  This recipe has the spreading consistency that the store bought products have, but without all of the added preservatives.  And…it packs a chocolate flavor that does not even compare.
You can use this to frost your favorite cake.  Or, if you happen to be looking for a cake recipe you can try my  delicious Buttermilk Chocolate Cake.
To get started you will need: 3/4 cup of cocoa, 4 cups of powdered (confectioner) sugar, 1/2 cup butter, 1 teaspoon vanilla, and 1/2 cup evaporated milk (plus a little extra for thinning).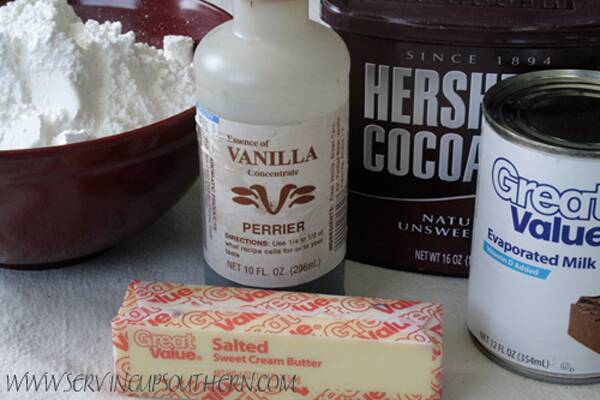 Mix the cocoa and sugar together.
Cream the butter.
 Gradually add the cocoa mixture to the butter, alternately, with the 1/2 cup of milk  until it is all blended.
Add the vanilla.  The ingredients will pull together nicely creating a smooth creamy frosting.  At this point you will slowly add more milk to get this to the spreading consistency you like.  You have to be especially careful to add very little milk at a time until it's the way you want.  Cream in between each addition of milk being careful not to add to much.  It's not as easy to thicken as it is to thin.
As you can see – this creamy chocolate frosting looks so pretty on a cake – ya just hate to have to cut into it.  Oh, but when you do…it's so worth the extra steps it takes to make it from scratch.
Creamy Chocolate Frosting
Ingredients
3/4

cup

cocoa

4

cups

powdered

confectioner sugar

1/2

cup

butter

1 stick

1

teaspoon

vanilla

1/2

cup

evaporated milk (plus extra for thinning
Instructions
Mix the cocoa and sugar.

Cream the butter. Gradually add the cocoa mixture to the creamed butter, alternately, with the 1/2 cup of milk until blended. Add the vanilla.

Carefully add very small amounts of milk at a time until desired consistency is reached. Cream well in between each addition of milk.
Disclaimer: Nutritional values (per serving) are approximates only and will vary based on cooking methods and brands of ingredients used.
© SERVING UP SOUTHERN. Content and photographs are copyright protected. Sharing of this recipe is both encouraged and appreciated. Copying and/or pasting full recipes to any blog post or social media is strictly prohibited.