A Simple (New) Metal Flower Pot Makeover / Do you have a new or old metal planter hanging around that could use an update? This simple springtime project is simple and easy to do.
If you're like me there is always something sitting around that could use a little update or even be repurposed. This time that "something" was sitting on the shelf at the store. The minute I spotted this pot in TJ Maxx I knew just what I was going to do with it. In my case, I did A Simple (New) Flower Pot Makeover because my pot was brand new.
First of all, let me just admit that I was just a little too eager to start this project and forgot to take a picture of the flower pot before I started.
I did think to take a picture of the inside of the pot so that you can see what it looked like. I scuffed the pot up a little with a sanding sponge. Then I just sprayed two coats of chalk paint about 20 minutes apart.
This is what I used for – A Simple (New) Metal Pot Makeover:
After the pot had dried for about two hours I sanded the raised lettering with the sanding sponge to expose the dark metal from underneath along with the raised ring that goes around the pot. I was planning on distressing the pot more but decided not to after I saw how it look at this stage. I love the simplicity of just the Farmers Market lettering and the ring being distressed. After I was done distressing the pot I gave it two coats of the sealer.
Mexican Heather is what I decided to plant in my pot. I love the green with the little touches of purple all over.
I love how it looks sitting on my chippy chair on the front porch.
Isn't the contrast of the green and purple perfect against the freshly painted white flower pot? Do you have any pots that could use a makeover? If so, go for it and leave us a picture in the comments. I would love to see how they turn out.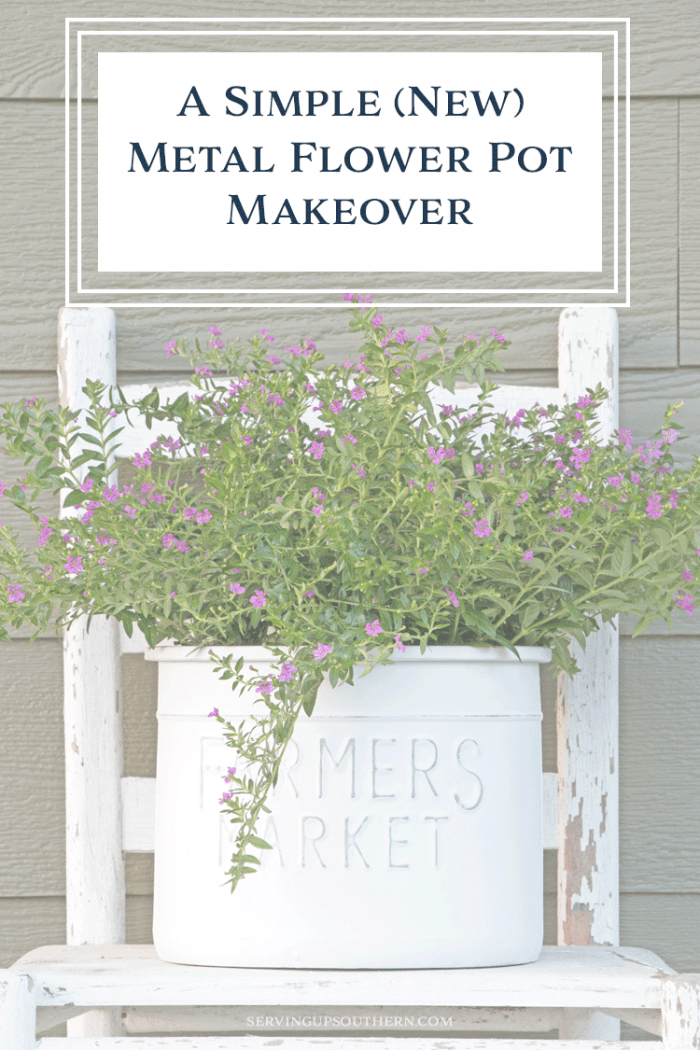 You might also like >>
How To Age New Galvanized Containers